You have /5 articles left.
Sign up for a free account or log in.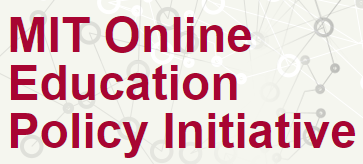 Researchers at the Massachusetts Institute of Technology tasked with examining the future of online education have returned with a simple recommendation for colleges and universities: focus on people and process, not technology.
Back in 2013, an MIT task force presented a vision of undergraduate education at the institute in which students spend half as much time on campus as they do today. Freshman year would be fully online, and instead of a senior year, students would take online continuing education courses to refresh their knowledge and add new skills. That vision leaned heavily on MIT's work with edX, the massive open online course provider it founded with Harvard University.
The buzz around the report led to the creation of the Online Education Policy Initiative, also known as OEPI, funded by the Carnegie Corporation of New York. While the 2013 task force looked specifically at MIT's future, the OEPI took a step back to look at online education in general. The OEPI released its final report earlier this month, focusing on four major online education recommendations that span research, teaching and organizational change.
"Focused attention in these areas could significantly advance our understanding of the opportunities and challenges in transforming education," the report concludes.
But the report is as much about the shortcomings of online education as it is about its potential. Most importantly, it recommends online education play a supporting role as a "dynamic digital scaffold." Online education can offer personalized pathways through course content with short lecture videos and well-timed quizzes that help students retain knowledge, the report reads, but it is most effective in a blended setting where students regularly interact with faculty members face-to-face.
"Technology will not replace the unique contributions teachers make to education through their perception, judgment, creativity, expertise, situational awareness and personality," the report reads. "But it can increase the scale at which they can operate effectively."
In fact, on four separate occasions, the report makes that same argument. Faculty members and their work are "essential and irreplaceable … in ways that a computer program can never be." In the classroom, they "[provide] context and mentoring, and [foster] reflection and discussion." Their feedback provides "invaluable input … that online tools struggle to match."
If teaching is like flying a plane, then online education is like a fly-by-wire system or a flight simulator, the report suggests. "Aided by technology, teachers can refocus their efforts on the aspects of learning that online tools cannot provide, including coaching and fostering reflection and creative thinking," the report reads.
Karen E. Willcox, professor of aeronautics and astronautics and co-chair of OEPI, said she and the other MIT researchers made a conscious decision to stress the central role of faculty members.
"It's a really important way to frame the discussion, because all too often you'll read articles about online replacing what it is that we're doing in person," Willcox said in an interview. "We try to make a strong case in the report for the value that online education can bring … talking about the ways online education can make what we do better through allowing us to do things at scale while also maintaining quality."
Willcox said she hoped the report will be used as a starting point for discussions about online education -- particularly massive open online courses. Other organizations have advocated for faculty members to be featured more prominently in those discussions, and the report attempts to "bring more volume to that voice," she said.
Bror Saxberg, a chief learning officer at Kaplan who participated on OEPI's external advisory board, said the final report's recommendations are built on "hard-learned knowledge" from MOOC experiments that relied too heavily on automation.
"It turns out that there is a real value in having people who are good at their role integrated around the technology," Saxberg said in an interview. "Don't expect that a whole program could be entirely automated. Complex reasoning, complex communication, complex persuasive writing -- those are going to need … more involvement of human instruction or coaching."
The report also lays out the case for a new type of staff member. In order for colleges to build those personalized blended learning experiences for students, the report argues, they need "learning engineers" -- people with terminal degrees in traditional academic disciplines who also have experience with design and interdisciplinary collaboration and an appetite for bleeding-edge technology.
"As they continuously work to translate the research literature into effective practice in local contexts, these learning engineers will by necessity integrate findings from different fields in their designs," the report reads. "We suggest that the development and deployment of a cadre of such learning engineers may be prerequisite to the wide introduction of the learning reforms suggested here."
The call for colleges to train more learning engineers has sparked a discussion about the role of instructional designers. Some instructional designers have argued that the term is an unnecessary rebranding of what they already do.
Penny Ralston-Berg, a senior instructional designer at Pennsylvania State University's World Campus, said in an email that it is important to distinguish between designers and technologists.
"We need to keep in mind that instructional design is a legitimate field of study -- a profession in which people use their expertise to improve the student learning experience," Ralston-Berg, chair of the Quality Matters Instructional Designers Association, wrote. "Not all designers are technology experts. And instructional designers do not require prior subject matter expertise to succeed in course design. Instructional designers need to be more than generalists in learning theory and strategy."
Ralston-Berg added that colleges would benefit from letting instructional designers experiment more and involve themselves in research and scholarship.
Willcox acknowledged that the concept of a learning engineer is something of a combination of a faculty member and an instructional designer. She said the researchers chose not to make specific recommendations in the report about how colleges can train learning engineers, leaving it up to institutions to decide for themselves how to define that role.
"What we do recognize is the critical importance of this breed of professional, this person who has deep disciplinary experience -- perhaps a Ph.D. in engineering or science -- combined with a deep understanding of technology," Willcox said. "The specific blurring of the lines between faculty and learning engineers -- that's probably something that institutions need to figure out for themselves."