You have /5 articles left.
Sign up for a free account or log in.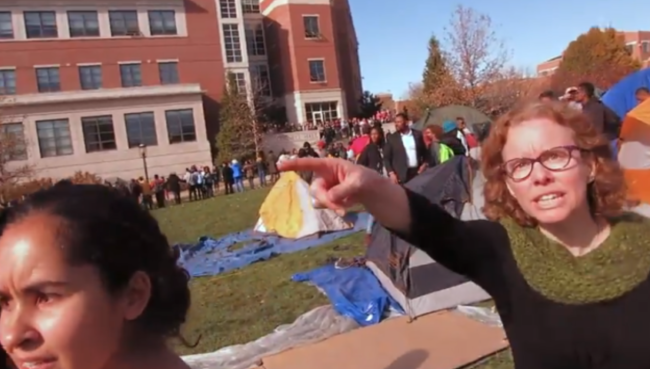 The Board of Curators of the University of Missouri System violated academic freedom in dismissing Melissa Click, a former assistant professor of communication studies at the Columbia campus, according to a new investigatory report by the American Association of University Professors. As a result, AAUP could vote to censure Mizzou's administration at the association's upcoming meeting.
"By denying Click an adjudicative hearing of record before a duly constituted faculty body and other procedural rights guaranteed under both [AAUP-recommended policy] and the University of Missouri Collected Rules and Regulations, the Board of Curators violated basic standards of academic due process," the report says. And in so doing, it "set a dangerous precedent that threatens the security of position and, consequently, the academic freedom of all faculty members."
AAUP does not argue that Click's actions toward two student journalists during an on-campus protest in the fall were protected by academic freedom. Rather, the association argues that in failing to adhere to established disciplinary procedures in her dismissal, the university compromised academic freedom for all.
"Due process exists for the purpose of protecting academic freedom, and if you set a precedent that you can simply dispense with that process, you signal to others that they do not enjoy the protection they expect," said Hans-Joerg Tiede, senior program officer in AAUP's Department of Academic Freedom, Tenure and Governance. "Even when circumstances are highly unusual, curators cannot ignore the process."
The board, meanwhile, maintains that it was acting within its legal authority in the conspicuous absence of a faculty- or campus-driven investigation into Click's conduct. In an initial response to AAUP's report, curators said that the professor's actions constituted misconduct, "which faculty and the AAUP should condemn, not blindly defend."
Tiede's term -- "highly unusual" -- is probably an apt description for Click's case. In November, during protests at Mizzou over race relations there, Click interacted with two student journalists, jostling one's camera and asking for "muscle" to remove them from a protest area. The moment was caught on camera, launching criticism even from colleagues who, like Click, where highly sympathetic to the protesters.
Facing pressure from the Missouri Legislature, and following independent criminal charges brought against Click by a local prosecutor, the curators launched their own third-party investigation into the professor's behavior.
The Columbia campus's administration initially defended Click's right to proceed with her tenure review -- ironically, on the morning of the November incident she was notified that she'd been approved for tenure, 5 to 1, by the College of Arts and Sciences' tenure committee, according to the report. But Mizzou changed its tone after a second video emerged later in the academic year showing the professor shouting an expletive at police during an earlier protest. Interim Chancellor Hank Foley called her conduct -- which the board investigation described as blocking police officers -- "appalling."
In February, during a closed-door session, curators voted 4 to 2 to dismiss her, effective immediately. The vote followed the investigation commissioned by the board and not involving a formal faculty review of Click's actions.
Part of the reason Click's case is so unusual is that it is so divisive; as professor of communication studies, she enjoyed few unqualified supporters after her altercation with students trying to document a public event. (Click has since apologized, saying she was caught up in the moment, in an attempt to protect student protesters.) At the same time, the curators' unilateral action against her has sparked faculty fears about board overreach and undue outside influence -- fears the AAUP now officially shares.
"While the investigating committee cannot exclude the possibility that a reasonably open-minded review of the case by a representative faculty body might have produced a result similar to that reached by the curators, we are not convinced that Click's [actions], even when viewed in the most unfavorable light, were adequate grounds for her dismissal," the association's report says.
Click did not immediately respond to a request for comment through her public relations firm, but she participated in AAUP's investigation. In a prior statement endorsing the inquiry, she said that the board had bowed to "conservative voices."
"Instead of disciplining me for conduct that does not 'meet expectations for a university faculty member,'" she added, "the curators are punishing me for standing with students who have drawn attention to the issue of overt racism [on campus]. … The Board of Curators is using me as a scapegoat to distract from larger campus issues, but their termination of my employment will not remedy the environment of injustice that persists."
Beyond implications for academic freedom on campus, the AAUP's report also explores the role of the state Legislature in campus affairs. In early January, for example, 100 Republican lawmakers in Missouri released letters demanding Click's immediate dismissal and questioning her research involving such popular media as 50 Shades of Grey. "While we recognize that there may be some value in pop culture studies," they wrote, Click's "behavior has the public questioning her 'research' and her unacceptable actions." Later in the year, Tom Flanigan, chair of the House of Representatives budget committee, proposed eliminating from the university budget an amount equivalent to the salaries of Click, her department chair and her dean. The House higher education appropriations committee also approved a 2 percent budget increase for all state colleges and universities except Mizzou. (Such concerns prompted 60 faculty members in March to write to the Higher Education Commission alleging "a growing pattern of state interference with the autonomous governance" at the university; a spokesperson for the accreditor this week had no immediate comment on that complaint.)
Regarding board overreach, the report notes that David L. Steelman, a curator, published an op-ed in The Washington Post in January calling for Click's dismissal and complaining that the university's sole action thus far was to "place what I consider a meaningless admonishment in her file. In my opinion, this tepid action does not reflect a particularly strong commitment to our values."
AAUP also suggests that the board contradicted Foley in suspending Click after the criminal charges were filed; just two days earlier, the report says, Foley told reporters that Click posed no immediate threat and that "good, strong processes are in place, and we'll follow them to their completion and logical outcome."
Yet AAUP does fault Foley for eventually supporting the board's dismissal, calling the reversal "troubling." According to the report, he told investigators his change of heart was motivated by a recognition that "we had to move on." The report notes that it's "not clear, however, that moving on required his acquiescence in the board's position."
The report also suggests waning faculty support for Click -- though not necessarily support for her dismissal, which AAUP maintains was summary. While many faculty members initially supported her right to remain on campus -- if not her actions -- her department chair in February informed her that he no longer supported her tenure application, and that the departmental committee was now evenly divided on its recommendation, according to the report. Days later, Click's dean also revoked support for her candidacy, AAUP says.
Yet faculty governance bodies have rallied against her dismissal by the board. Ben Trachtenberg, an associate professor of law at Mizzou and president of its Faculty Senate, said this week that AAUP's report "did not paint a pleasant picture -- it was not fun to read the institution I have such affection for described in such painstaking detail as messing up. But I do not dispute that some significant mess-ups occurred."
Trachtenberg said blame, in his view, rested with the curators, as opposed to Foley. "The board fired her without using the collectively approved process or the rules that the curators themselves have promulgated -- it's not as though we tried a hearing and it didn't work, or that it took too long. … They could have filed [a complaint] themselves."
Like Tiede, Trachtenberg said that following procedures is especially important in unusual times, and he rejected the board's reasoning that immediate action was needed to address an extraordinary situation. But unlike Tiede, Trachtenberg argued that Click's case was hardly unusual -- at least certainly not an "emergency." There was time for due process to play out, since Click was not an immediate threat, he said -- yet the board chose to proceed in an ad hoc fashion.
Trachtenberg said the process can be improved going forward, such as by allowing faculty members to bring complaints against other professors without being party to the disciplinary process; a fear of being dragged into the case was part of why even those professors who would have supported Click's termination through established channels didn't file a complaint against her.
Pam Henrickson, chair of the University of Missouri Board of Curators, said in a statement that the body continues "to stand behind our actions, which were in the best interests of the university. … As the AAUP's report acknowledges, this case did not involve a denial of Click's academic freedom. But the AAUP's report disregards the seriousness of her misconduct and reaches inconsistent and unsupported conclusions. The facts of this case could not be more clear and the board's full response to the final AAUP report will provide detailed facts that support our actions."
Henrickson said the board disagrees with AAUP's conclusion "that academic freedom is threatened" and the university will "continue to hold our faculty in high regard and to respect the policies and procedures in place to ensure academic freedom and due process."