Available City Seeks College
Red Wing, Minn., hopes to attract a four-year institution but faces stiff competition from larger, sunnier cities and a history littered with failed branch campus attractions across the country.
(Red Wing Area Higher Education Partnership)
Red Wing, Minn., is selling itself as the ideal college town.
It's a small but growing city fitting snugly against the scenic banks of the Mississippi River on Minnesota's eastern border. It's a historic river town with lightning-fast Internet service. It lies within easy driving distance of its state's largest cities, tapping into an economic corridor projected to grow on the backs of Fortune 500 companies, technology jobs and health care behemoth the Mayo Clinic.
The only problem is, Red Wing doesn't have a traditional four-year residential college.
Local business, foundation and government leaders are trying to change that. They've formed a group to entice a college or university to set up a Red Wing satellite campus in coming years, thinking such a branch could eventually grow to as many as 2,000 students. The idea is to base a curriculum on the liberal arts but focus on fields regional businesses say they need -- information technology, digital forensics, cybersecurity. The partner college would gain students and a foothold in a new market, while Red Wing would add a key economic growth engine.
Unfortunately, it's not so simple. For all of its selling points, Red Wing does not fit the typical profile of a city trying to attract a new college branch -- it's not large enough, it's not on the West Coast and it's in a cold climate.
Worse for Red Wing, even growing areas with more comfortable climates have struggled to secure long-term commitments from established higher education institutions.
Red Wing is, in a sense, sledding uphill. But the city's efforts come at a time of increased interest in branch campuses by universities and municipalities alike. Red Wing leaders also think they have a real shot at using their city's unique selling points to make a solid business case for coming -- and universities say they're looking to open in locations that can prove the numbers make sense.
The group of leaders fighting for a four-year college formed the Red Wing Area Higher Education Partnership. The partnership mailed project proposals to about 75 colleges across the country in early May. It hopes to hear back this summer or fall from a small group of institutions expressing interest. Afterward, the plan is to narrow the group, negotiate details and have a first class in town as soon as 2018.
Leaders acknowledge it's an ambitious timeline requiring many things to go right. The efforts could end up as a failure, a huge loss of time, money and reputation for everyone involved. Yet they also have high hopes.
"It was a risk," said Scott Jones, president of the Jones Family Foundation and a key leader in the Red Wing partnership. "But it was a risk worth taking."
Jones was a third-generation owner of Signal Bank, a local institution that was acquired by Associated Bank in 2002. Today, as the president of the Jones Family Foundation, he focuses on philanthropy in the Red Wing area.
Leaders arrived at the idea of attracting a new four-year residential campus to Red Wing after interviewing community members, nonprofit heads and businesses. The Jones Family Foundation also performed research finding that four-year residential colleges boost cities' economies. And it heard that the region's businesses were having a difficult time finding skilled and trained workers.
"We've got 17 Fortune 500 companies within an hour of us, and every one of them we've interviewed has said, 'We can't find the people we need in this area,'" Jones said.
The partnership is approaching colleges and universities already in Minnesota that might be able to fill its vision. Still, it wanted to do a national search, which Jones said would give it the best opportunity to find the right institution. The partnership will consider institutions with 20,000 students at their main campuses and those with a tenth as many students, he said.
No location has been set aside as a prospective campus site, but work has been done to study potential locations, Jones said. The partnership favors an institution locating in Red Wing's downtown core, and there are spots along the Mississippi River that could be attractive, Jones said.
Financial details for bringing in a new campus are very much up in the air, depending on how much interest Red Wing generates. Jones declined to give an exact dollar figure that could be on the table, only saying "significant" financial resources would be made available through philanthropic interests and the city of Red Wing.
The partnership has heard start-up costs estimated as high as $20 to $50 million, said Tom Longlet, a former Signal Bank president who is now treasurer of the Jones Family Foundation. Longlet helped lead the efforts resulting in the Red Wing Area Higher Education Partnership. He's not blind to the challenges it faces.
Downtown Red Wing does not have a giant open field ready for new campus development, Longlet said. The city has been trying to mitigate that drawback by identifying properties that would be ready to retrofit. The partnership doesn't plan to prepare facilities before it has a college signed on, either. It's hoping a university will come to the table with some financial resources for start-up costs.
Jones and Longlet know their efforts are unusual for a city of Red Wing's size -- about 16,500 people.
"I think one of our biggest hurdles is to convince people that a residential campus setting in Red Wing could be to their benefit," Longlet said. "We're trying to promote our proximity to the Twin Cities and Rochester."
Future growth in those two urban hubs -- which each lie about an hour away by car -- is a critical piece of Red Wing's pitch to colleges. In Rochester, the Mayo Clinic alone employs about 35,000 people. The Mayo Clinic has also announced a 20-year, $5.6 billion growth plan that will have it constructing a Destination Medical Center under a public-private partnership. A goal is to create 35,000 to 45,000 new jobs.
At the same time, operating in Red Wing should cost colleges less than running campuses in other major cities like Chicago, Longlet said. While that might help Red Wing's pitch by making it more lucrative, Longlet also hopes it can also translate to lower tuition costs, attracting more students.
The Sacramento Story
Red Wing will have to stand out in many ways if it's to be successful. Recent history shows college expansion trending toward major cities and the West Coast. It's also littered with aborted expansions and deals between cities and colleges that didn't quite materialize.
The Sacramento area has been home to several deals hitting roadblocks. Philadelphia's Drexel University famously announced intentions in 2008 to offer undergraduate and graduate programs in Sacramento. But those plans never fully materialized after longtime Drexel President Constantine Papadakis died in 2009. The university decided not to build an undergraduate campus in 2011, then last year said it would phase out undergraduate programs amid efforts to improve academic quality, financial aid offerings and student retention at home. Land that had been set aside for Drexel ended up being pegged instead for Britain's University of Warwick's first overseas branch.
Another effort to bring a new higher education institution into the Sacramento area hitting bumps is in a planned mixed-use development called Cordova Hills. The development, in Sacramento County, totals 2,265 acres and has been in the planning process for more than a decade. The idea of including a college there started when developers were approached by the Legionaries of Christ, a Catholic group. They wanted the development to include a campus for their new university, the University of Sacramento.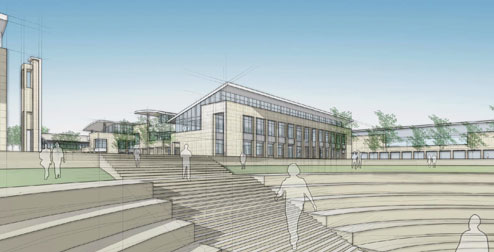 Developers worked to plan a campus with the fledgling university through 2011, when it closed. But a university remained part of the plan, said developer Ron Alvarado, who is president of Cordova Hills LLC. The land is now committed to a higher education use under a 30-year agreement.
"We have kept a vision of the university site on 224 acres," Alvarado said. "And we continue to engage with everybody and anybody who is even thinking about expanding in California."
Jonathan Brown is working with the developer to try to build a campus at Cordova Hills. Brown, a former head of the Association of Independent California Colleges and Universities, now runs a firm called Buffalo Consulting. He wants to find a university as early as possible, as the developer could break ground as soon as 2018. Initial plans sent to the county were for a campus of about 6,000 students, meaning there's capacity for a substantial build-out, Brown said.
Backers of Cordova Hills are betting on some nontraditional techniques to help them. The development is dangling the idea of a lease-purchase agreement that could assist universities looking to scale over time. Brown touted a figure of $22 per square foot for a fully serviced building.
"Some of the college presidents I've talked to have said, 'You need $200 million, and [then] I may build you a campus,'" Brown said. "It's a nice way to start a discussion, but it's not going to be a successful one."
Brown hopes to team up with an institution that isn't afraid to shake up the traditional college model. He won't rule out a for-profit operation, saying it would have to be the right group. Some for-profits have worked well in other countries, although many have not lived up to their promises in the United States, he said.
The medical field could provide a base for a Cordova Hills campus, Brown said. The Sacramento area has several major health care systems, so developers have held talks about developing a health science campus mixing research, education and start-ups. That could also tap a growing medical device industry in the area.
Flexibility will be important, Brown said. So will finding a university with the right resources.
"If you open this up in a wrong way, what happens is you get a bunch of assistant professors who say they've always wanted to start a college," Brown said. "I haven't seen a whole lot of examples where that's actually worked. I think the trick is to find the right level of either academic or other support."
If the right institution comes in, the Sacramento area can support another college or university, Brown argued. Cordova Hills is near some high-profile public institutions -- California State University at Sacramento and the University of California at Davis. The region also has community colleges. But Brown said that as a growing region, it's still underserved compared to other parts of the country.
"If you look at the demographics of Sacramento, we could stand to do two or three or four institutions relatively easily and still not meet the need," Brown said. "We're the largest standard [metropolitan area] without a major independent college."
There is precedent for attracting new universities and branch campuses in California. Notre Dame de Namur University decided in 2015 to begin offering graduate and undergraduate classes in the city of Tracy. Among more rural areas, Marymount California opened a branch in Lake County after being asked by the municipality in 2011 to submit a proposal to set up a campus in a county-owned property.
Carlsbad Still Looking
Despite the success stories, it's hard to ignore the instances that led to failures. Colleges ran into challenges finding a foothold in Arizona after a burst of ambition. Back in California, talks last year fell apart between the Rochester Institute of Technology and the city of Carlsbad.
In June RIT signed a letter of agreement to explore coming to Carlsbad, in northern San Diego County. The city helped organize meetings between the university and key business leaders. It connected RIT to area education providers as the university explored the potential of opening a branch campus offering graduate education in a city-owned building totaling nearly 130,000 square feet.
It seemed like a good fit. RIT already has branch campuses in Croatia, Dubai and Kosovo, along with a presence in China and the Dominican Republic. The university is nearing about 1,700 students in its off-campus branches, about 10 percent of its total enrollment. At the same time, Carlsbad was looking for a university that could focus on information and communications technology, life sciences, and manufacturing while collaborating with local industrial players.
But six months ago, the discussions dissolved without a deal in place. RIT met with dozens of Carlsbad-area companies in industries spanning aerospace, software, health and electronics, only to determine a sufficient market wasn't there for its education offerings, said Jeremy Haefner, the university's provost.
"There wasn't a good fit for us to build a sufficiently large number of students," Haefner said. "We chose not to go into that part of the West Coast."
The smaller details of a place can be a surprisingly large sticking point between universities and cities. Carlsbad, for instance, has a high commuter population, Haefner said. That can make it hard to get prospective graduate students back from their jobs in time for evening classes.
From an institution's perspective, branch campuses can be alluring for a number of reasons -- they can serve as a new source of enrollments, for one thing, especially for colleges and universities located in areas with declining populations, which are often looking for ways to boost student numbers through geographic expansion.
New campuses can also give institutions a chance to extend their reach, tapping into new industry networks. That in turn can create new job opportunities for graduates, generate new research possibilities and open new sources of fund-raising.
Different areas can be attractive for different reasons, Haefner said. RIT looks at competition in a region and whether existing educational providers are meeting industry needs. It gauges cost of living and the costs of running a program. And it attempts to ascertain whether it can find local professors if it can't staff all classes with its own faculty.
All of those indicators can look very different, depending on whether you're a city selling yourself or an institution looking to open. The bottom line is that the math has to work on paper before a university will enter an agreement.
"Yes, we enter into them with the expectation that a business plan makes sense for the university," Haefner said. "That would not only cover costs, but would return some of the investment that is required to support the program."
Carlsbad has now moved on to talk to other institutions. The city is aware of a key challenge that helped push RIT away -- the fact that it's seeking to set up a graduate school in an area not zoned for housing, said Steve Jacobs, a senior adviser at U3 Advisors, a real estate and economic development consulting firm hired by Carlsbad for its university recruitment project. The firm also worked with Cornell on its high-profile winning bid for a campus in New York City.
An unfamiliar name can throw a major wrench in recruitment plans. In the case of RIT, businesses around Carlsbad ended up balking at committing to funding students at an out-of-market name over ones from a university they knew.
"They had complained that UC San Diego wasn't producing enough students for them," Jacobs said. "But at the end of the day, they were comfortable with the familiar."
Carlsbad specifically searched for strong universities in declining markets, Jacobs said. The thinking was that a university would be inclined to get its foot in the door in a growing market. But Alex Feldman, a vice president at U3, said recruitment can move in fits and starts -- it will take multiple years.
Feldman has been working with the city of Chula Vista, south of San Diego, on efforts to develop a university on 375 acres of land. Chula Vista has been trying to develop a university on the site for much of 20 years, Feldman said. It was passed over in 1995 for a University of California campus that went to Merced.
Land that's now city owned can support up to 20,000 students if it were fully built out, Feldman said. Right now, Chula Vista is seeking a binational campus -- a Mexican and American university co-locating and offering bilingual education. The idea would be prepare students to work on both sides of the border.
"It's difficult, as you can imagine, to develop a university from the ground up," Feldman said. "What we're proposing is kind of a structure to recruit institutions to that campus. We're developing a new nonprofit advocacy recruitment organization called Chula Vista University Partnership that would be charged with, essentially, the recruitment effort."
Feldman and Jacobs said the economics of opening a campus shift depending on a market's size and place. Universities can open locations out of the country and subsidize them under the theory that they add prestige. They might even subsidize a domestic branch in a large or growing market under the theory that it will pay off down the road.
The same thing isn't going to happen in a secondary city or market.
"This mission is different," Jacobs said. "In terms of a U.S. school opening up another branch elsewhere in the U.S., there aren't a lot of precedents."
Northeastern University has been investing heavily in new domestic campuses of late. Under the banner of its Northeastern University Global Network, the private Boston-based institution has moved to create graduate operations in Charlotte, N.C.; Seattle; and Silicon Valley in recent years. Toward the end of last year it announced plans to open a campus in Toronto.
Before Northeastern started building out its network, it examined 100 metropolitan areas, said Philomena Mantella, senior vice president and CEO of the Northeastern University Global Network, who leads location strategy. Demographics, economic indicators and industry clusters all went under the microscope. So did areas' openness to higher education.
"We are looking where there are gaps that have already been identified," Mantella said. "All of that together kind of gives us an initial view of regions [and gives] us our short list."
Northeastern specifically chose to avoid a residential college model for its branches. It doesn't want to try to duplicate a full campus experience. Northeastern's branches serve as hubs for online and hybrid students. Charlotte serves more than 900 students. Seattle has more than 500, as does Silicon Valley.
The moves made sense to the financial community. Moody's Investor Service raised the outlook on Northeastern's A2 bond rating in January from stable to positive. The move reflected a stronger market profile and strategy contributing to revenue growth.
"As part of its global outreach, Northeastern has carefully selected leased sites (Seattle, Charlotte, Silicon Valley and Toronto) to offer a small number of targeted master's programs," Moody's wrote. "Management limits execution risk by doing significant due diligence on potential locations and degree offerings for each site and by leasing space to maintain operating flexibility."
Finding the right markets is key, Mantella said.
"We're looking for those gaps in the market and these fast-growing cities," Mantella said. "Not that there couldn't be one on the smaller side."
So pitching universities in a major city is one thing. Trying to land them in a fast-growing but underserved market is another, more difficult thing. Getting them to come to a small municipality in Minnesota could be an entirely different beast -- especially as experts agree more and more places are trying to attract universities, ramping up competition.
"It's a small cohort of schools that are doing this," said Jacobs of U3. "Cities have certain value propositions in terms of attracting students on a national level, in terms of diverse economies. The universities coming, they're going to want to know how many students they can get and the value of being there."
Back in Minnesota, Red Wing believes it has a closely tailored, winning pitch. The city has some experience dealing with higher education institutions after putting together a site visit in 2014 when Champlain College, of Burlington, Vt., expressed interest in coming to town. The college decided against a deal at the time, but the Red Wing city council showed willingness to put their money behind attracting an institution, said Kay Kuhlmann, council administrator for Red Wing.
"We acknowledge it's not something that's going to happen easily," Kuhlmann said. "We need to really present ourselves in the best case possible and make sure we show people the strategic advantage they have in Minnesota."
You may also be interested in...
Today's News from Inside Higher Ed
Inside Higher Ed's Quick Takes