You have /5 articles left.
Sign up for a free account or log in.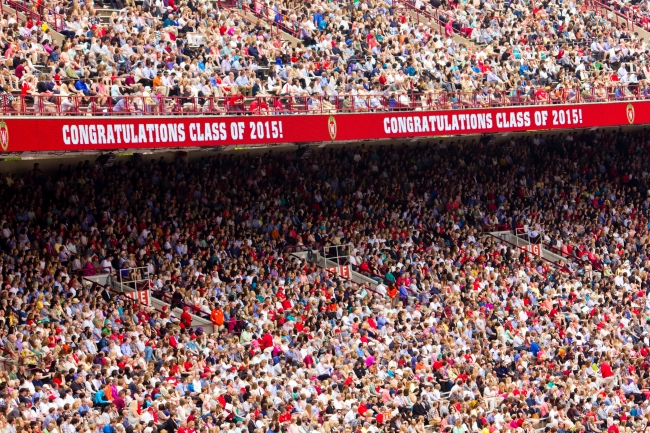 Steve Shupe / Creative Commons
Despite collective hand-wringing over their fate, there's good news for young graduates: the class of 2015 is doing pretty well.
Six months after graduation, 82 percent of the class was doing something -- whether that means working (64 percent) or going back to school (18 percent), according to a new report from the National Association of Colleges and Employers. Compared to the class of 2014, both of those numbers are slightly higher.
This year's report is based on data from 279 colleges and universities. The survey tracks about half a million graduates, and it includes data on where graduates were employed as of Dec. 30, 2015.
Still, "employed" covers a lot of ground. Yes, it includes traditional jobs with benefits and steady hours -- but it also includes a variety of part-time, temporary positions.
In reality, only 54 percent of the class found traditional full-time jobs. The rest of the graduates included in this category -- 10 percent -- are part-time employees, entrepreneurs, freelancers or postgrad fellows. Another small segment pursued service or military work.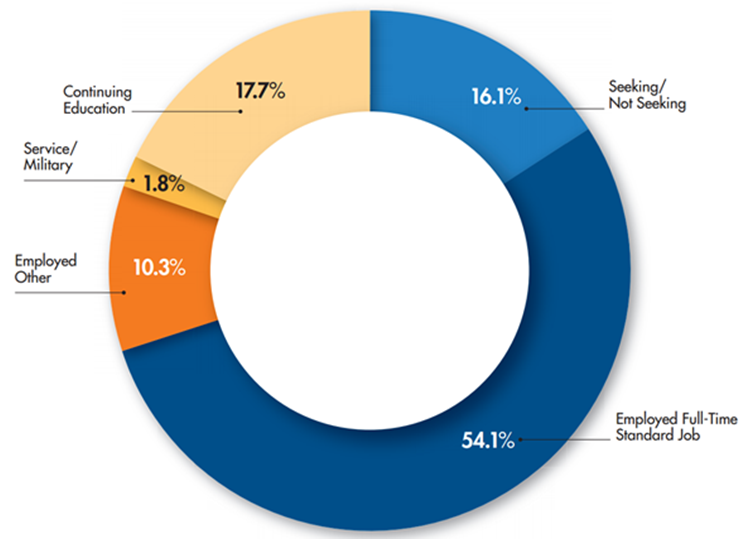 "We're trying to capture how much the economy is changing," said Edwin Koc, NACE's director of research, public policy and legislative affairs.
He's talking about the gig economy, but he's also talking about a broader shift away from traditional, predictable employment. Take computer science graduates: compared to the previous year, the proportion of computer science graduates in traditional jobs fell in 2015. But at the same time, as more of them decided to start businesses of their own, their overall employment rate went up.
Tony Carnevale, director of the Georgetown University Center on Education and the Workforce, thinks the data reflect the instability that characterizes the first few years after graduation.
"Real career traction doesn't occur until the late 20s -- and for some it's after 30," he said. "Between the ages of 23 and the ages of 25 or 26, there's a lot of noise in the data." In his own work, Carnevale uses data on recent graduates that starts two years after graduation. 
Among majors, employment rates varied considerably. Computer science graduates had the highest standard, full-time employment rates (72 percent), followed by business (66 percent) and engineering graduates (62 percent). Biology majors had the lowest rates (28 percent), just under philosophy (33 percent) and physical sciences majors (34 percent).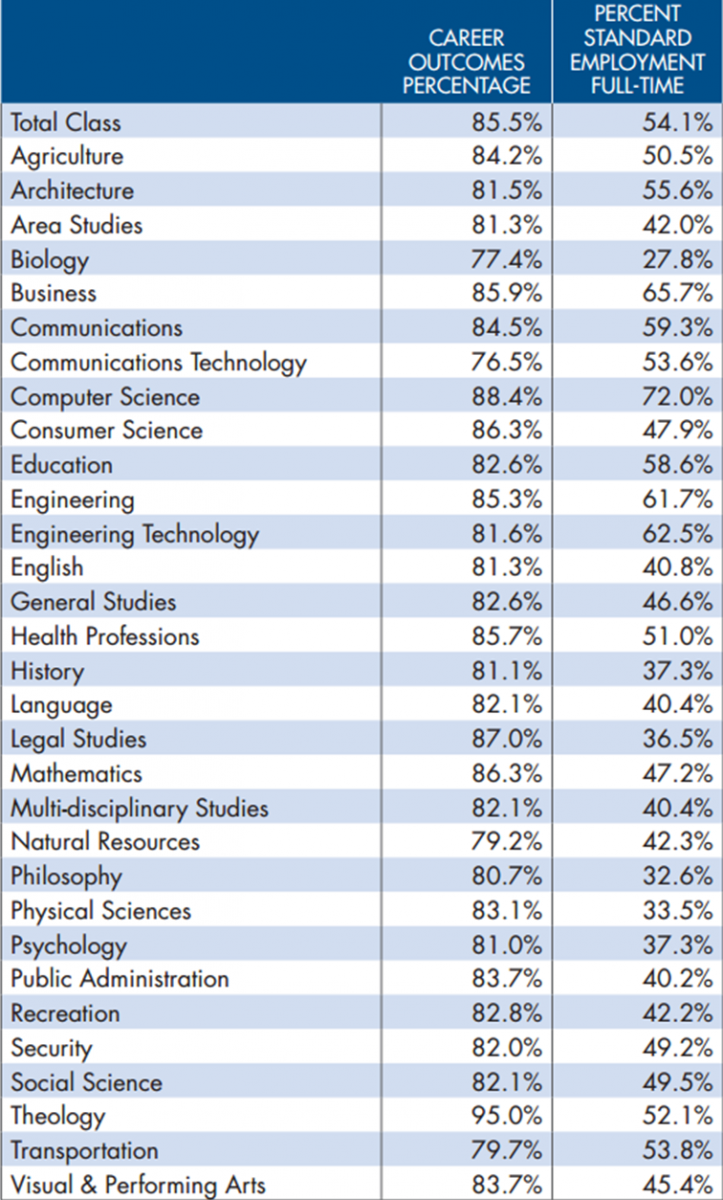 Those disparities also show up in starting salaries. At $69,214, computer science graduates were making the most money. Theology graduates, at $30,584, were making the least.
"It's the usual suspects, right?" Carnevale said. "STEM is good. Humanities is not so good."
But compared with the class of 2014, engineering and engineering technology graduates in the class of 2015 are actually doing worse: their employment numbers and starting salaries are both lower. But for many liberal arts majors -- including area studies, English, history and foreign languages -- employment rates and starting salaries rose in 2015.
Koc doesn't know why liberal arts majors would be doing better. But due to the problems in the oil and gas industry, engineering's low numbers make sense.
"The industry took such a hit starting in 2015 that they cut back on a lot of their college hires," he said. "That kind of permeated throughout the major."
While the report is focused heavily on bachelor's degrees, it includes data on all levels of higher education. For the most part, graduates' employment rates rose with their level of education. For associate degree holders, standard, full-time employment rates were lower, at 32 percent. And for master's graduates, that number is 71 percent.
The only exception was doctoral graduates: 62 percent of them were employed in full-time, standard jobs. But that makes sense, the report's authors write, because an additional 27.5 percent held other kinds of jobs -- like faculty and postdoctoral positions.
Koc thinks the data will help to establish a clear connection between a college degree and success in the job market, as well as help colleges and policy makers to better understand the specifics of a changing economy.
"If you're looking at an employment picture that's moving away from standardized employment to temporary contract work," he said, "that's a sea change in the way employment is going to be going forward."
Carnevale thinks studies like this will help move the conversations about the value of a degree forward -- especially after the stigma that higher education developed during the recession.
"When the economy goes sour, you start to get the 'forget college' columns in the newspaper," he said. "I think we're done with those stories."