You have /5 articles left.
Sign up for a free account or log in.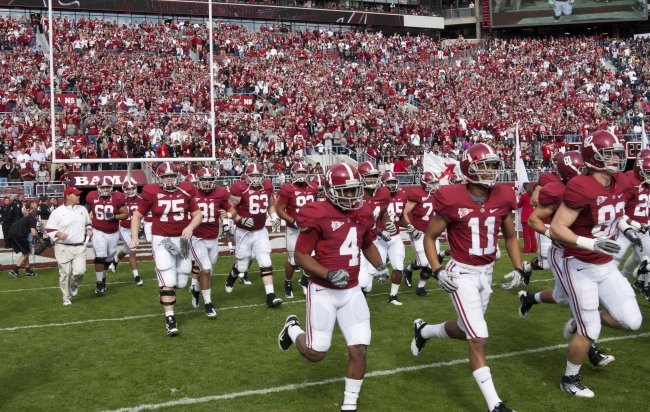 More than 130,000 people have now signed a petition demanding that the National Collegiate Athletic Association ban violent athletes from playing intercollegiate sports.
The petition comes weeks after Baylor University's Board of Regents forced the university's president to resign and fired its head football coach over allegations that they mishandled sexual assaults committed by its football players, including by a player who was accused of violent behavior at his previous college. It also comes amid a furor that helped lead the national governing body for swimming to ban a former Stanford University athlete who was recently convicted of sexual assault but sentenced to just six months in jail.
The petition was posted online 10 days ago by Darius Adams, a basketball player at Tacoma Community College whose mother, Brenda Tracy, said she was gang-raped by football players while attending a party at Oregon State University in 1998. The Oregon State players were punished with a one-game suspension and 25 hours of community service. If USA Swimming can ban athletes convicted of sexual assault, Adams asks, why can't the NCAA?
"Why are we protecting this small group of men?" Adams wrote. "Why are we allowing them to destroy people's lives? All of these victims have families and they get hurt, too. I'm still dealing with what happened to my mom. We need to do something right now, and I think it starts with the NCAA creating a policy that bans violent athletes."
The petition is not the first time in recent years that the NCAA has faced pressure to adopt such a ban. In 2014, Senator Kirsten Gillibrand, a Democrat from New York, called on the NCAA to create rules barring athletes convicted of sexual violence. "If you've been convicted of sexual assault or rape, you shouldn't be allowed to play on the team," Gillibrand said at the time.
The NCAA maintains, however, that it's not the association's place to dictate who can and cannot enroll at a member institution and participate in sports there.
"Just as with every student seeking admission to a college or university, the decision on whether or not to admit a student-athlete rests with NCAA member schools," the NCAA said in a statement at the time. "The NCAA is not empowered by its members, nor would it be appropriate, to have involvement in individual school admission practices and policies."
While it's true that the NCAA does not dictate who colleges can admit, the association does regulate when athletes are allowed to compete. Players must meet academic requirements in order to remain eligible, and there are rules mandating that athletes who transfer to other institutions must in some cases sit out a year. Athletes who are caught gambling, using performance-enhancing or other drugs, or charging money for their autographs can lose NCAA eligibility.
Earlier this month, NCAA leaders responded to the petition in a letter. Mark Emmert, the NCAA's president, and L. Jay Lemons, chair of the association's Board of Governors and president of Susquehanna University, wrote that "sexual violence on campus is a serious concern of the association and our membership." They noted that the NCAA recently published a handbook instructing colleges on how best to prevent and respond to sexual assaults involving athletes.
The handbook was created after a report released in July 2014 by Senator Claire McCaskill, a Democrat from Missouri, suggested that more than 20 percent of institutions allow their athletic departments to oversee sexual assault cases. McCaskill called the finding "borderline outrageous," and in a Senate hearing that week Emmert promised he would raise the issue with member institutions' leadership. Later that year, the NCAA released the new guidelines.
Those guidelines are not enforceable rules, however, and they do not recommend banning any athletes.
Dionne Koller, director of the Center of Sport and Law at the University of Baltimore, said if the NCAA were to change its stance and create rules banning at least convicted criminals from participating in NCAA sports, the legislation would have to be more nuanced than its rules that bar convicted felons from coaching. Those rules, which have been the subject of multiple lawsuits, place violent and nonviolent criminals in the same box.
"The relationship between athletics and education, and the fact that an athletic scholarship can be a pathway to education for many individuals, warrants an approach that properly balances the need to protect students from individuals who have exhibited violent, criminal behavior, and those who fall short of that who might legitimately deserve a second chance," Koller said. "I do think that the  climate has changed somewhat and we may see the NCAA do something on this. The Brock Turner issue on top of the Baylor scandal and others has brought to light the very serious issues of student athletes who commit sexual assaults getting a free pass or other such 'second chances' so that I think we may be at a tipping point where there is some action."
While some conferences in the last year have adopted various policies limiting the transfer of athletes who have been dismissed from teams for violent offenses, advocates like Adams worry that colleges bent on winning football and basketball games can't be trusted to make the change without at least some prodding from NCAA leadership. "These schools have proven that they are not going to do the right thing," Adams wrote in his petition.
In recent years, colleges with big-time athletic programs have done little to counter that notion.
In 2007, a former student received a six-figure settlement from the University of Georgia after she was raped by a basketball player who had previously been dismissed from a community college where he allegedly sexually assaulted two women. In 2009, the Arizona Board of Regents agreed to pay a former Arizona State University student $850,000 after she was raped by a football player the university had already expelled once for groping and exposing himself to women. The student had returned to campus at the request of a coach and then raped the woman in her dorm room.
In 2010, a University of Georgia football player named Zach Mettenberger was dismissed from the team after he pled guilty to two misdemeanor charges of sexual battery. Mettenberger then transferred to Butler Community College to play football. The following season, he transferred again to Louisiana State University, becoming starting quarterback. In 2014, Mettenberger was drafted to play for the Tennessee Titans in the National Football League.
Last year, a former Vanderbilt University football player who was charged with five counts of aggravated rape transferred to play football at Lane College. Another player allegedly involved in that same case transferred to Alcorn State University -- a team that already included a registered sex offender.
In February, the University of Oregon settled a lawsuit that alleged the university had knowingly allowed an athlete to play for its basketball team after he was previously accused of sexual assault at Providence College. The player was then suspended from Oregon after he allegedly assaulted a female student there. He has since transferred to yet another institution. Two other players who were also suspended for their alleged involvement in the Oregon assault have transferred to play basketball elsewhere.
Last season, the University of Oklahoma's football roster included a player who was charged in 2014 with punching a woman and breaking four bones in her face. The inaugural roster of a football team started last year at Hocking College, a struggling two-year technical college in Ohio, included a former high school football player who was convicted of raping a 16-year-old girl. That same year, the University of Alabama dismissed a player from its football team after he was arrested for domestic violence. The player, Jonathan Taylor, had previously been dismissed from University of Georgia's football team after being arrested for domestic violence a year earlier.
Earlier this month, Mississippi State University admitted a freshman football player who was arrested in March after being caught on video beating a woman.
Mark Nagel, a professor of sports and entertainment management at the University of South Carolina, said as more colleges recruit students accused or convicted of sexual crimes, the NCAA may feel more pressure to get involved. The association tries to shy away from issues of "crime and punishment" or other aspects of college sports that don't have a direct impact on fairness and competitive advantages, Nagel said, but its controversial intervention in the child abuse scandal at Pennsylvania State University demonstrates the NCAA is willing to cross that line if there's enough public pressure.
After Taylor's dismissal from Alabama, Georgia proposed that the Southeastern Conference, the league in which both teams are members, adopt new legislation banning colleges from accepting transfer athletes who were dismissed from a previous program for "serious misconduct," including sexual assault and domestic violence. The SEC adopted the rule in May 2015, and expanded it earlier this month to include "dating violence or stalking or conduct of a nature that creates serious concerns about the safety of others." The rule does not apply to freshmen, though Greg Sankey, the SEC's commissioner, said the league may be open to eventually amending it to do so.
The Big 12 and Pac-12 Conferences now also bar its members from accepting transfer athletes with violent pasts. The Pac-12 made the change after Oregon State University's president lobbied for the rule with the help of Adams and Tracy. While the NCAA touted the conference rule changes in its response to the petition, some in the leagues would like to see a more top-down approach.
Nick Saban, head football coach for Alabama, says the rules put the SEC at a competitive disadvantage. At a charity golf tournament last year, Saban said he was not happy with the change, but that if it had to happen, he'd like to see it done as legislation adopted by all of the Power Five leagues -- the wealthiest Division I conferences -- during the NCAA's annual meeting.
"I'm hopeful that some kind of way we'll be able to get the big five together, under the NCAA's supervision, to try to create rules that we all see in the best interest of student-athletes," Saban said. "Now, they have a responsibility and obligation to do the right thing. But what I see happening a lot is people don't get convicted of things. They're condemned as soon as they get arrested, and I'm not sure that's fair because I don't think that's what our country was really built on."
The NCAA said it will discuss the issue at its Board of Governors meeting in August, but it declined to say whether it would push the Power Five to adopt any specific rules about banning players.
"We believe that every one of our member institutions should have a plan and protocols in place to deal with these issues and will work to make certain that those plans are in place and effective," the NCAA stated.