You have /5 articles left.
Sign up for a free account or log in.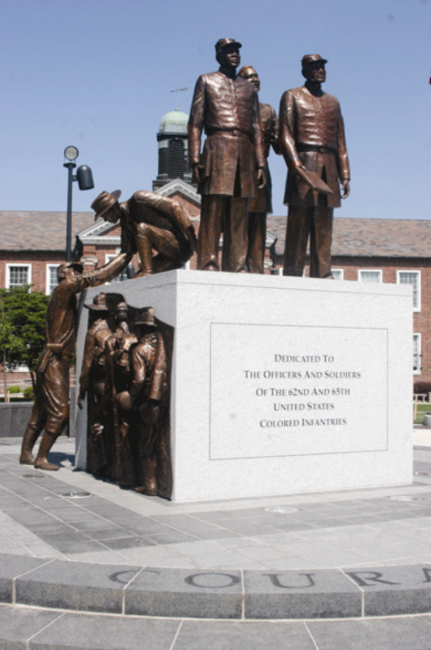 It's hard to separate Lincoln University in Missouri from its history: after the Civil War, veterans of the 62nd and 65th U.S. Colored Infantries headed back to the Midwest from Texas and Louisiana, where they had served, to establish a school for African-Americans. The Lincoln Institute, named to honor the veterans' slain commander in chief, soon began offering college courses and became part of the black land-grant system. Decades later, in 1921, the Missouri Legislature passed a bill introduced by Walthall M. Moore, its first black member, renaming the institute as Lincoln University and establishing a Board of Curators.
But now that board has separated Lincoln from its history -- specifically its history program. The body this week voted 4 to 2 in a special meeting to deactivate the program for three years.
Some on campus fear the vote was really about condemning the major to a slow death.
"We all feel like this is an ominous, dreadful thing we're headed toward -- the kind of irrevocable change that will prove destructive to the kind of institution we're supposed to be," said Bryan Salmons, president of Lincoln's Faculty Senate and chair of the joint department of English, foreign languages and journalism.
Professors say it remains unclear why history in particular was targeted -- especially at a historically black institution founded in 1866. Black-college history departments are not only known for teaching history, but for promoting a broader view of history than what was until recently taught at many predominantly white institutions.
So far, Salmons said, "every supporting rationale that's been provided and almost every reason that's been stated is palpably false." For example, he said, the university has claimed the process was a product of shared governance.
Yet no faculty committee ever recommended the suspension or shuttering of the program, he said. "This happened at the executive level and any other way of representing it is misleading."
A university spokesperson said Tuesday that the program was cut due to low numbers of graduates over five years, "low regional and national career demand," and low demand by incoming students.
This week's vote followed a yearlong review of academic programs initiated ahead of an upcoming accreditation review by the Higher Learning Commission. While a committee of faculty members handpicked by Lincoln's administration did assess programs, Salmons said, it didn't recommend cutting history.
Michael Bardot, professor of history and chair of the department of history, political science and philosophy, confirmed that the faculty review committee did not recommend the shuttering of his program.
The history department was notified earlier this summer that it was up for a three-year deactivation. But the curators' sudden meeting came as a surprise to faculty members, who thought the board would pick up curricular review matters again toward the fall. Instead, the university on Thursday posted a meeting agenda that listed the "elimination, deactivation, restructuring and maintenance of degree programs."
In a news release announcing the outcome of that meeting, the university said the bachelor of arts and bachelor of science degrees in history are on hold for three years.
"Deactivation of a program means students will not be allowed to enroll in the program, but additional time is needed to determine whether the program should be restructured or eliminated," reads the release. "These curriculum changes come after a thorough review of 11 of the university's degree programs. … The decision was made based on recommendations of a committee."
Lincoln said its accreditor requires institutions to review their degree offerings routinely. Additionally, the Missouri Department of Higher Education expects undergraduate programs to have at least 10 graduates annually and graduate programs to have at least five.
It's true that history at Lincoln graduates fewer students than that; the program's five-year annual average of graduating majors is 4.4. But Salmons said numerous other programs fail to graduate 10 majors per year. If the university applied that standard consistently, just 16 out of 39 programs would pass the test, Salmons said, based on a colleague's calculation.
Lincoln's total enrollment in fall 2015 was 2,944, including 123 graduate students.
Kevin D. Rome, university president, said in a statement, "Our students deserve academic offerings that allow them to be competitive with their peers as they move from our campus into a career."
Although eliminating or restructuring programs is a "difficult decision," he continued, "we can better use the resources from those programs to strengthen those degrees with a higher demand from the student and global standpoint. … We must make decisions like these as we look toward the future and the needs of the changing workforce."
Said Sewell, Lincoln's provost, said in a separate statement, "We have to make decisions that are in the best interest of our students, the taxpayers and the university as a whole. … We developed a process that was not only thorough, but was inclusive of the faculty and administration. We wanted all voices to be heard."
Two other degrees were eliminated at the board meeting, though none has caused the stir that history has: the associate of applied science in early childhood education, and the bachelor of music education and bachelor of science with an emphasis in sacred music.
The deans of the colleges with affected programs of study have developed a teach-out plan, according to Lincoln, based on a consideration of the "time and effort" of enrolled students.
Misty Young, a university spokeswoman, said via email that students will not be able to declare history as a major during the deactivation. 
History courses still will be offered as general education requirements, and faculty members will be needed to teach them, she said. "When possible, attempts will be made to retool faculty."
It appears the university plans to lay off some professors, however. Salmons said Sewell, the provost, said at the board meeting that the most tangible result of the move would be a $300,000 reduction in savings from faculty salaries.
Bardot said he was not immediately aware of any layoffs.
Debra Greene, a professor of history, referred questions to Sewell and said she had "no other facts" beyond confirming the deactivation.
Chemistry also was on the chopping block, according to faculty accounts. That's despite a recommendation by the faculty committee to provide it with more resources, including the hiring of new faculty. Yet it was removed from the suspension list at the end of June, after faculty backlash.
Salmons said the entire process has been unnerving but that there was something "especially repugnant about doing away with the history major at an HBCU. That would seem to be a third rail. Why would you go there? But they're doing it anyway."
Bardot said Lincoln is an open-enrollment institution and "takes that mission very seriously. It's been handed down to us by our [campus] founding fathers. I think it's impossible to understand Lincoln University without understanding the context in which it was founded." And that takes history.
Several prominent Missourians reached out to Lincoln's curators, expressing similar sentiments, before their vote.
"I have a personal bias and a professional interest in preserving historical teaching and scholarship," John Bullion, a professor of history at the University of Missouri at Columbia, wrote in an email to the board. "[But] I would like to emphasize not my professional concerns but my worries as a citizen of this country and of our state. It is no secret that the nation we all love for its promise of life, liberty and the pursuit of happiness for all is now cruelly and tragically riven by divisions of race, religion and class."
Bullion continued, "Historians have no easy cures for any of these. We do know, however, that looking for solutions will be seriously impeded, if not prevented, by absence of a knowledge of how these divisions began, how they have been perpetuated over time and how they have mutated into different forms."
To create that knowledge "and to disseminate it among undergraduates beyond the level of survey courses is absolutely in the national interest," he wrote. "To foreclose that possibility is -- let me be blunt -- watering the seeds of disunion, confrontation, hatred and violence. Thus I believe no public university should do away with history majors. That some would troubles me very much. Particularly troubling is this: that a distinguished historically black university would consider such a measure."
Lynne M. Jackson, the great-great-granddaughter of Dred Scott and founder of the Dred Scott Heritage Foundation, also reached out to Lincoln, telling Salmons in an email that she was "greatly disheartened [and] unable to understand why this major is in jeopardy." Noting that her father -- Scott's great-grandson -- attended the now-defunct law school at Lincoln, Jackson said that "the rich history that the university itself has speaks to the importance of furthering the education of our histories."
Elizabeth City State University, another historically black institution in North Carolina, planned to close its history department in 2013 after a state administrative office deemed it "low productive." It eventually reconsidered, amid similar criticism.
"Nothing is more fundamental than history to students' understanding of their roles and responsibilities as citizens of this diverse and still decidedly unequal democracy," Carol Geary Schneider, then president of the Association of American Colleges and Universities, said at the time.
The American Historical Association also criticized Elizabeth City State's original plan. James Grossman, executive director of the organization, on Tuesday said he agreed with Rome, Lincoln's president, that a college education should prepare students for a career. AHA has worked with employers through its Tuning Program and learned that they value skills learned by history majors, he said.
"A history major prepares some students for a specific job," Grossman said, and "prepares all students for a career."
Like other critics of Lincoln's plan, Grossman said that an HBCU "ought to be especially aware of the centrality of history to the intellectual vitality of any institution." Quoting the provost's statement, he asked how "'students, the taxpayers and the university as a whole' understand the role and identity of an institution that defines itself in part by its history if the institution doesn't think history is important?"
Young, Lincoln's spokeswoman, said the university does have a special commitment to history based on its heritage, "but we owe it to our founders and our students to continue to rewrite our story, so that more history can be made." It's Lincoln's goal to be "competitive in terms of the quality education we offer, while making our students competitive with alumni from other institutions as they enter and progress through their careers," she said, emphasizing that the program has not yet been eliminated -- just deactivated.