You have /5 articles left.
Sign up for a free account or log in.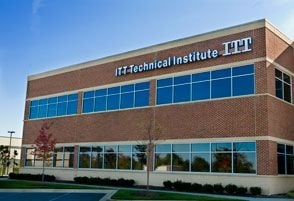 The problems at ITT Technical Institutes only continue to mount, and a hearing today from the company's accreditor could potentially put the final nail in the coffin.
The beleaguered Accrediting Council for Independent Colleges and Schools could revoke ITT Tech's accreditation, which would make it impossible for its students to be eligible for federal student aid. The for-profit institution has been facing federal and state investigations and has a need for more cash. But enrollments have been falling dramatically for years now and will continue to do so, by as much as 60 percent for new students, according to a corporate filing from the company last week.
ITT is moving to a centralized recruitment model in order to fix some of these problems and become more efficient.
That means fewer recruiters on campuses and spending less on advertising and marketing, said Nicole Elam, vice president of government relations and external affairs for ITT Educational Services, in an email, adding that ITT also isn't expecting any major news from the ACICS hearing because it is in compliance with all accreditation standards.
"The actions ITT announced recently won't affect the hearing negatively. If anything the influence will possibly be positive, because they're talking about reducing the number of students they bring in and trying to improve the outcomes and to be more circumspect in general about who they admit," said Trace Urdan, a for-profit-sector analyst for Credit Suisse. "The number of new students will go down, but the short-term cash you generate goes up."
The company will still bring in money from their currently enrolled students and those people who still choose to actively enroll at one of the more than 100 campuses across the country. ITT announced that that it is projecting new student enrollments in the last six months of this year to be 45 to 60 percent below levels from the same time period in 2015.
That projection will put ITT's enrollment far below what the company's student numbers were even 10 years ago. In 2006, with fewer than 90 campuses, ITT enrolled about 47,000 students. Last year, enrollment stood at about 45,000 students.
For the most part, ITT is in this position because of both a weak demand environment for vocational programs and the poor performance of third-party loans ITT provided to students, Urdan said.
"One of the things driving enrollment at the time was the recession," said Elizabeth Baylor, the director of postsecondary education at the Center for American Progress. "People say for-profit education is countercyclical. When the economy is doing well, few people go back to school for skills. There is a larger business cycle at work that has led to fewer people enrolling in colleges, but quite a bit was due to concern about the practices at the schools."
ITT Tech (*) - estimates

| | | | |
| --- | --- | --- | --- |
| Year | Enrollment(*) | No. of Campuses | Revenue(*) |
| 2006 | 47,000 | 87 | $757.8M |
| 2007 | 53,000 | 97 | $869.5M |
| 2008 | 62,000 | 105 | $1.015B |
| 2009 | 80,000 | 121 | $1.32B |
| 2010 | 84,000 | 130 | $1.6B |
| 2011 | 73,000 | 141 | $1.5B |
| 2012 | 61,000 | 147 | $1.29B |
| 2013 | 57,000 | 147 | $1.1B |
| 2014 | 53,000 | 144 | $962M |
| 2015 | 45,000 | 138 | $850M |
The short-term cash ITT is hoping to generate will help the company meet the regulatory obligations imposed on it by the U.S. Department of Education, Urdan said.
In June, the department told ITT to increase its letter of credit from 10 percent to 20 percent after ACICS questioned its integrity. A letter of credit is collateral the government asks colleges to set aside when officials have concerns that an institution may be unable or unwilling to pay back money it owes the government. ACICS, in turn, cited the department's decision to place ITT on heightened cash monitoring and multiple federal lawsuits as reasons why it could lose accreditation or face sanctions.
"Whether they're finding a way to survive or gracefully closing with the smallest liability possible, it looks the same. It looks like this, and on a near-term basis they have to generate cash," he said.
But cutting back on new enrollments is risky, Urdan said.
"The long-term implication of shrinking by 60 percent is you'll generate less cash, and they have large liabilities with the [Securities Exchange Commission] suit, the [Consumer Financial Protection Bureau] suit and the larger issue of ACICS in general," he said.
"Whether or not ACICS kicks them out now, it seems the writing is on the wall. It's likely the Department of Education will kick out ACICS, and when that happens ITT will have to find a new accreditor anyway. If it happens now or in a few week or months, the net result will be the same and it'll be hard for them to find someone willing to take them in." -- Trace Urdan
ACICS is facing its own set of problems. The federal panel overseeing accrediting agencies, the National Advisory Committee on Institutional Quality and Integrity, and the department have both recommended shutting down ACICS. Meanwhile, the SEC sued ITT last year, charging two of its top executives with fraud for allegedly concealing massive losses in two company-backed student loan programs. The CFPB suit is related to alleged predatory lending.
"If these problems do prove to be true and if the company is noncompliant on these issues, then they probably shouldn't be a part of Title IV program," Baylor, of the Center for American Progress, said, referring to the section of the Higher Education Act that governs student aid. "The rules are set up to protect students and taxpayers. I'm glad the department and the government, both at state and federal level, are being diligent in following the processes to make sure schools are following the rules."
There's a chance that if ITT loses the ability to receive federal funding they could continue without it. ITT is older than the Title IV program, Urdan said.
"Maybe that's possible at some point. It would be pretty impressive if they could finesse that out," he said. "But in general, if you think you're going to lose accreditation and Title IV access within 18 months, which is probably the timetable, then you're talking about slowing down, and gradually contracting is the most elegant way to do that."