You have /5 articles left.
Sign up for a free account or log in.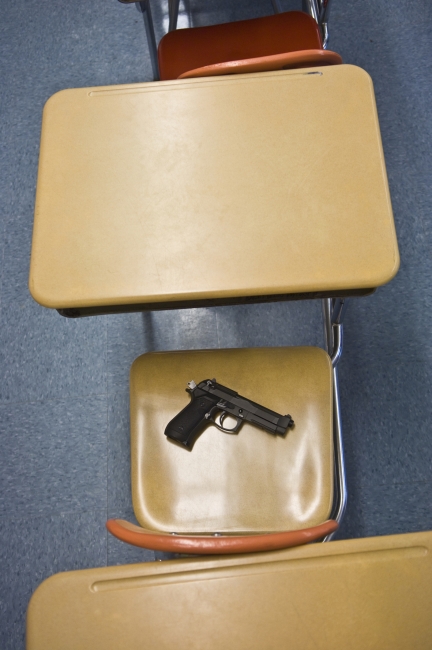 Texas' campus carry law took effect this week, despite ongoing protests by faculty members at public universities across the state who say it puts them and students at risk. One small bright spot for opponents of the law was a policy adopted first at the University of Texas at Austin and then several other campuses saying that faculty members with individual offices could ban concealed weapons from that space -- though not their classrooms.
But now a group called Students for Concealed Carry is challenging that policy, saying in a complaint to Ken Paxton, Texas attorney general, that the voluntary office ban on licensed, concealed firearms violates both the spirit and letter of the law.
"Students for Concealed Carry humbly requests that your office investigate this matter," reads the complaint, "and take appropriate action to remedy these violations."
The group sent additional letters of warning to the University of Texas System, its Board of Regents and presidents of the campuses that have adopted the voluntary office ban, including Gregory Fenves, president at Austin.
"We hereby request that enforcement of this policy cease immediately and that all references to it be stricken from official university literature and documents," reads the letter to Fenves.
Paxton, the attorney general, did not immediately respond to a request for comment. But he has offered several opinions and public statements in support of the campus carry law, including that it does not delegate authority to individual professors over when and where firearms may be carried. Paxton also called a recent lawsuit filed by three Austin professors arguing for the right to ban guns in their classrooms "frivolous."
"There is no legal justification to deny licensed, law-abiding citizens on campus the same measure of personal protection they are entitled to elsewhere in Texas," he wrote this week in a formal response to that complaint.
Gary Susswein, a spokesperson for Austin, said Thursday that the university believes its policies "are fully consistent with state law." They were developed through a "thoughtful and deliberative process" by a working group that included former Texas Supreme Court Chief Justice Wallace Jefferson, he added.
Texas' campus carry law passed last year. While it prohibits bans on guns across broad swaths of campus, it allows individual campuses to "reasonably" regulate campus carry based on specific safety or practical concerns, such as banning weapons in certain laboratories.
Austin's working group proposed several limitations on the law, including the office policy and a ban on weapons with a loaded chamber. System regents earlier this summer rejected the loaded chamber idea but approved the office ban.
The voluntary office ban has since been adopted by University of Texas campuses at San Antonio, Dallas and El Paso.
Students for Concealed Carry in their complaint to Paxton says that the office ban is fundamentally at odds with the law. They further accuse the policies' authors of "carefully" drafting them to emphasize that verbal rather than written warning be given, thus making -- in the group's view -- violations of the law harder to account for.
Austin's campus carry fact sheet for faculty, which is similar to those on other campuses, says that instructors "who are solely assigned to an office are permitted to prohibit the concealed carry of a handgun in that office" and that if they "choose to exercise this discretion, they must provide oral notice that the concealed carry of a handgun is prohibited in their offices."
Oral notice "is the only legally effective way to provide notice about the prohibition," according to policy. "The syllabus is not the medium by which students should be informed of this sort of prohibition."
Aside from its legal complaint, Students for Concealed Carry has argued that office bans won't protect professors who fear giving bad news or grades to armed students, since professors who ban students with guns from their offices may have to meet them elsewhere, where guns are permitted. The group also says that office bans will force students or even other faculty or staff members with concealed weapons to identify themselves, potentially putting them at odds with professors oppose campus carry.
Many faculty members, meanwhile, say the office ban doesn't go far enough, since it only applies to those with private offices. Adjuncts and graduate student instructors -- often less experienced as teachers and therefore arguably more vulnerable to student conflict than their tenure-line peers, critics say -- and anyone else with shared offices may not adopt a ban.