You have /5 articles left.
Sign up for a free account or log in.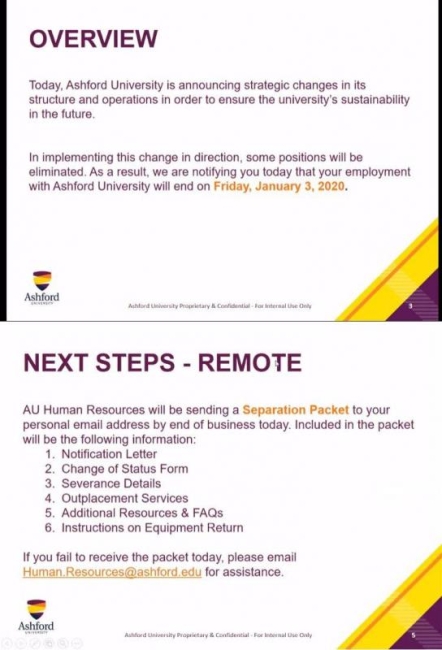 Ashford University says the U.S. Department of Veterans Affairs and two California agencies improperly pressured regulators in Iowa to drop the university's eligibility to receive Post-9/11 GI Bill benefits, a decision that kicks in next month and would affect roughly 6,250 military and veteran students.
A new court filing from the for-profit Ashford shows at least one official at the Iowa Department of Education shared that view, according to a trove of email records the Iowa agency released in response to a public records request by the university.
"It seems only VA wants to interrupt veterans and military students enrolled," Thomas Beasley, an education program consultant for the Iowa department, wrote in a May email included in the filing. "It is a power grab on VA's part that will do little more than produce a lawsuit."
Beasley holds a full-time position with the Iowa agency, said a spokeswoman for the department. He played a prominent role in the Ashford discussion, and said in another email that he was "being asked, directed, informed to withdrawal [sic] their GI Bill approval." Beasley expressed frustration with the VA, saying the agency's actions with the for-profit institution were unprecedented and would "purposely create stress, drama and havoc."
The Department of Veterans Affairs did not respond to requests for comment. But emails from the federal agency, which were included in the filing, make clear that officials there have been firm in their belief that Iowa should no longer authorize Ashford's GI Bill eligibility.
The key issue, according to the VA, is that Ashford is based in California and approved by the regional accreditor in that state.
"Bottom line up front: it is our view that the Iowa State Approving Agency does not have the authority to approve Ashford University Online effective June 30, 2016," Bill Spruce, assistant director for oversight and outreach for the VA's education service, said in a May email to Beasley. "Therefore, absent an approval from the California State Approving Agency for Veterans Education (CSAAVE), it will be VA's intention to cease paying for veterans enrolled at Ashford University for terms that begin on or after July 1, 2016."
The university vigorously contests that claim, arguing that it maintains a substantial presence in Iowa, with 150 employees, an online center it intends to keep in the state and plans to enroll students in face-to-face courses in Iowa until at least next June.
Ashford also released behind-the-scenes emails indicating that state officials in California encouraged their peers in Iowa to drop the university's GI Bill eligibility, while also saying they would reject Ashford if it attempted to apply for similar approval in California.
"California is antagonistic to online education in general and the university in particular," the university's lawyers wrote in the new court filing.
In May the Iowa Department of Education told Ashford it would not be eligible for GI Bill benefits after June. Shortly thereafter Ashford filed a lawsuit to block the department's action. Iowa later granted a stay until Sept. 18, when the eligibility is now set to expire. If the decision holds, Ashford's veteran and military students would no longer be able to use GI Bill funds to attend the university.
"Veterans are our first priority and we want to ensure that they receive educational benefits without interruption," said Staci Hupp, a spokeswoman for the Iowa Department of Education.
However, Hupp said, the department also is subject to federal and state laws. She said the final decision to suspend Ashford's eligibility was made with input from Iowa's attorney general and the VA.
"We do want to continue to work with Ashford to make sure that veterans receive the benefits they deserve," she said.
Moving West
Ashford's latest dilemma traces back to the 2005 purchase by its owner, Bridgepoint Education, of a struggling religious college in Iowa.
When it bought the Iowa campus of the Franciscan University of the Prairies, the California-based Bridgepoint also got the university's regional accreditation, then with the Higher Learning Commission. Bridgepoint used the campus anchor and accreditation to create Ashford.
The university grew quickly, mostly online, earning big profits for its publicly traded parent company. In 2012 Ashford enrolled roughly 90,000 students, all but 1,000 of them in online-only programs.
Ashford drew the ire of consumer groups and Democrats in the U.S. Congress, who claimed the physical campus was merely a prop for the fast-growing online university. That criticism led to a crackdown on for-profits' attempts to buy small colleges and their accreditation.
After a failed first attempt, Ashford in 2013 received approval to move its regional accreditation to the WASC Senior College and University Commission, which accredits colleges based in California, where most of Ashford's operations are located.
Like most for-profits with a national footprint, the university lately has struggled with slumping enrollment, having dipped to roughly 49,000 students in June.
Last year the university announced it would close its physical campus in Iowa and only offer online programs. Yet while Ashford's presence shrank in the Midwest, it still enrolls a small number of students at its physical location in Clinton, Iowa. Ashford is teaching out these in-person programs, with plans to offer classes through next June.
The university also runs an online center and other administrative functions in Clinton. Some of its 150 employees in Iowa work with veteran students and administer their educational benefits, the university said. And Ashford plans to keep those operations in Iowa past next June.
While the U.S. Department of Veterans Affairs funds the GI Bill, state agencies are tasked with approving colleges' eligibility to receive the federal benefits. Iowa's Department of Education has long handled Ashford's approval, without complaint.
"Since 2013, in every move we have made regarding our operations in Iowa and California -- from moving to a new accrediting body to transitioning our locations and seeking approval for a teach-out plan for our students in Iowa -- we did thorough due diligence and consulted with appropriate authorities in the Iowa State Approving Agency and the federal Department of Veterans Affairs," Vickie Schray, senior vice president of regulatory affairs and public policy at Bridgepoint Education, said in a written statement. "Throughout those discussions, we were given no reason to believe that these changes would jeopardize our approval to provide education benefits to our veterans."
'Regulatory Whipsaw'
The university's problems in Iowa appear to have begun last year, when officials from two California agencies wrote to the department in Iowa.
A division of the California Department of Veterans Affairs wrote to officials in Iowa to tell them the university was a California institution, according to email records in Ashford's filing. And Angela Muñoz, the state's deputy attorney general, in August wrote to the Iowa Department of Education to discuss her office's concerns about Ashford. The California AG has sought evidence about student recruiting and financial practices by Ashford and the University of the Rockies, another Bridgepoint-owned institution, as part of a wider investigation of for-profits.
The Iowa emails released by Ashford indicate that the California inquiries helped trigger a review of which state should approve the university's GI Bill eligibility. The VA got involved later, writing to Iowa officials in March to say that Ashford's "online operation moved to California and you should have conceded jurisdiction."
The VA is one of several federal agencies that participate in an interagency task force the Obama administration created last year, which is charged with coordinating efforts to oversee for-profits. State attorneys general have also participated in the task force.
The flurry of interest from California and the VA rankled Beasley. He later sent an email to a colleague saying he'd long asked the VA for guidance on Ashford and other for-profits, only to have his questions relegated to a "parking lot."
In addition, Beasley said he found it hard to believe Ashford was operating any differently from other large, online colleges. He also said he'd written to both the VA and California when Ashford began its attempt to move to WASC.
"VA informed me it was a state issue. California informed me they would never approve Ashford in their state," he wrote, adding that "no other reason was given" for the California agency's opposition to the for-profit.
Ashford in June applied for GI Bill approval with the California state approving agency. But the university later withdrew the application, saying it had no possibility of being approved.
Paul Sullivan, a deputy secretary of communications for the California Department of Veterans Affairs, said the agency, known as CalVet, in June had requested additional details from Ashford to establish the university's "compliance with the standards for approval." Later that month the university withdrew its application without providing a response to CalVet's request for more information, he said.
With Ashford having dropped its effort to get approved in California, and with Iowa standing firm in its decision, the for-profit's last option appears to be in the courts. And the clock is ticking, with three weeks left before Ashford's GI Bill eligibility expires.
"For the past several months, the university has been stuck on a regulatory whipsaw," Ashford said in its latest court filing, "while the VA and California have improperly interfered with the Iowa Department of Education's authority and placed unlawful roadblocks to the university's continuing provision of educational services to its veteran students."