You have /5 articles left.
Sign up for a free account or log in.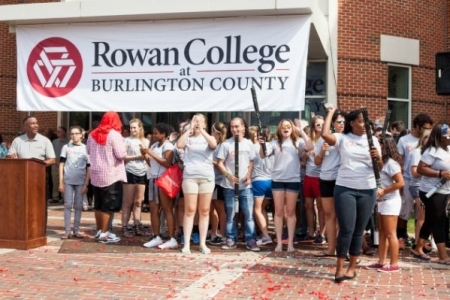 Rowan College at Burlington County
College affordability, the need for more graduates and competition for students is driving many community colleges and universities across the country to partner up and enhance their transfer programs.
But a transfer partnership in New Jersey is drawing the ire of some of the colleges' neighbors. Rowan University and Rowan College at Burlington County, a two-year institution, are starting a new program that has prompted the community college to limit any advertisements or promotion for other four-year colleges and universities on its campus. RCBC will not host transfer fairs or information tables for other four-year programs.
The exclusive deal is related to a new partnership, called 3+1, between the two institutions, which allows students to remain on the community college campus while earning a Rowan University degree. Participating students also get a 15 percent discount and are placed in guided degree pathways from the two-year institution that lead to a bachelor's degree from the university.
"We're now competing with those four-year colleges and none of this is personal," said Paul Drayton, RCBC's president. "Historically we have not, but the rules of the game have changed. We're supportive of our students who choose a different pathway. We're excited for any student who looks at any university degree program that's 2+2 and may not be Rowan and we'll help them reach their goals."
Roughly a dozen degree programs are part of the 3+1 program, with three more -- criminal justice, biology and liberal studies -- that will launch this January. About eight will be added by next fall.
But limiting how other four-year universities reach out to RCBC students, as they would at other community colleges, has some officials questioning whether the Rowan setup limits students' choices.
"It's healthy for families in Burlington County who are paying for community colleges to want their children to have more choices rather than fewer," said Mike Sepanic, associate chancellor of external relations at Rutgers University Camden. "We're in a crowded higher education market and there's always competition for students."
The Rowan partnership began last June when the two-year institution changed its name from Burlington County College to Rowan College at Burlington County. The switch reflected an agreement to guarantee admission for qualified RCBC graduates to the university. Rowan University struck a similar deal with the former Gloucester County College, which is now known as Rowan College at Gloucester County.
The agreement has helped increase the number of RCBC students who successfully transfer to the university, from 127 in 2014 to 235 in 2015 and, this year, to 319, according to data from Rowan University.
"We set out to develop a solution to the affordability challenge that would provide a high-quality, affordable pathway to a bachelor's degree," Drayton said. "We developed this partnership that enables our students at RCBC to create pathways to a bachelor's degree for approximately $25,000."
Southern New Jersey includes other community colleges, Rowan, Rutgers campuses and Stockton University. More nearby institutions are located in Philadelphia, which is just across the Delaware River -- about 15 minutes from Rutgers Camden, said Sepanic, adding that the university received 122 transfer students from RCBC this fall and 153 last year.
"The competition remains fierce. But that's healthy, and students should have those choices," Sepanic said. "We should be telling students what makes us distinctive and special."
The 3+1 model is relatively new in the state, said Drayton, which has contributed to some nervousness at other colleges.
"This is not giving credit to our students who do a tremendous amount of homework on their own," Drayton said. "The college is still working with those students … nothing else has changed. But we're now competing with four-year colleges."
Drayton said the college's transfer office will remain and that about four additional transfer partner institutions are physically located on the campus. Articulation agreements with other universities remain and students interested in other pathways that don't involve Rowan University can still get that information.
"Students and parents really care about having an affordable option for their sons and daughters," Drayton said. "All of the noise around advertising or branding, that's not the focus. Are you creating an affordable pathway for students at a time when having a college degree is more important than ever?"
The transfer information may still be there, but Karin Mormando said she's concerned about the lack of convenience RCBC is offering students. Mormando, who heads undergraduate admissions at Temple University, attended the Burlington campus before transferring to Rutgers Camden.
"As a transfer student myself, I know that level of access at a community college was important and I counted on my community college to help facilitate that," she said. "We know there's a certain level of convenience for students … I wonder at the wisdom of making it harder for students to connect with other four-year institutions as possible next steps. I have no doubt that students will find Temple, they'll find Rutgers, but RCBC is seeming to make it difficult for their students."
Teaming Up
The 3+1 or 1+3 degree program structures aren't new or unusual. They've become a favored way for colleges to work together to boost completion. For instance, Arizona State University and Maricopa Community Colleges have guided-program pathways that guarantee admission to the university. Valencia College in Orlando and the University of Central Florida also have a deep, well-documented relationship, where the university gives community college graduates preferred access and students can complete bachelor's courses at the two-year campus.
"A strategically designed 3+1 or 2+2 can have great potential advantages for students," said Davis Jenkins, senior research associate at the Community College Research Center at Columbia University's Teachers College. "We're seeing more of these across the country between community colleges and public universities in the same regions. These are positive and we see nothing wrong with community colleges steering students to universities and programs that are well designed to accommodate and help them complete."
There's an advantage for both sides in easing transfer for students, although most four-year institutions seem to be unaware of the benefit, Jenkins said. For instance, of the 25 percent of community college students who transfer, 62 percent go on to earn a bachelor's degree. And more of them -- 65 percent -- complete at a public, four-year university, according to research from CCRC.
"This is part of the education that transfer champions on four-year campuses have to do to help make their institutions more accommodating to transfer students," he said.
Transfer also works as a way for universities to recapture enrollment they've already lost.
Many students who would have gone directly to a university often start at a community college because of costs. Then there are students who would not have started at a four-year institution, but after completing a two-year degree have the skills to complete a bachelor's, Jenkins said.
The Rutgers Camden campus, for instance, has a 3+1 nursing program with Atlantic Cape Community College and they're finalizing one with Mercer County Community College.
"We're doing everything that the Rowan College of Burlington County is doing and we're doing it in a way that's smart, so students should take a look at all of their options," Sepanic said, adding that the university also offers students in the program a discount. Next fall the university is extending its Bridging the Gap program, which covers the gap in tuition and fees for Camden County College transfer students after federal and state grants. The program waives all tuition and fees for families with adjusted gross incomes of $60,000 or less.
"We're offering at least as much as, if not more, than what's being offered at Rowan College at Burlington," he said.
More of this type of partnership is blossoming. Take, for instance, the merger of Georgia State University and Georgia Perimeter College in Atlanta, where students who complete at the two-year Perimeter college can automatically enroll in a four-year program at the state university.
However, an agreement like the one between Rowan and RCBC, said Jenkins, might be disadvantageous for students who are interested in programs for which transfer pathways haven't been developed.
Drayton said Rowan did reach out to other colleges and universities across the state to create a statewide partnership that reflected the 3+1 type of program. None responded, he said.
Other universities could still try a different 3+1 option with the Burlington campus. But Drayton said Rowan University gets the opportunity to approve it or not.
"They were the only four-year, major research institution that said, 'We want to partner with you,'" he said. "There's a sense of loyalty, or understanding that Rowan University is really leading the way in how they're looking at two-year colleges, partnering with community colleges, creating seamless pathways. And, yes, others could do the same, but Rowan has the right to first refusal. But that doesn't stop those schools from going to other community colleges in the state of New Jersey and developing their own."
The other Rowan agreement -- with the Gloucester County campus -- isn't exclusive. That campus is hosting a transfer and college fair this week that will bring in about 100 different colleges and universities.
Officials at Gloucester County don't see any risk in promoting more opportunities and choices for students, Andrea Stanton, a spokeswoman for the college, said in an email.
While Rowan is encouraging of other colleges that create similar exclusive arrangements, so far no others exist and other officials around the state said they're concerned about this type of partnering.
"Clearly we don't have one perspective as a state on this and we're all scrambling to figure out how to best serve our communities," said Maureen Murphy, president of Brookdale Community College, in northern New Jersey, adding that the geographical proximity of Rowan University to the Gloucester and Burlington campuses makes sense for their type of partnership. "I'm not making a commentary about Rowan, but there could be very good reasons for a student to choose something else."
Brookdale isn't geographically close to a research university, but even if it were, Murphy said she would feel discomfort about limiting students' availability to make informed choices.
"We all have very good partnership agreements already and this is about relationships and minimizing the obstacles for students," she said. "But this is interesting to us. The community college baccalaureate movement is not new, although it hasn't taken hold here, but this is unchartered territory."