You have /5 articles left.
Sign up for a free account or log in.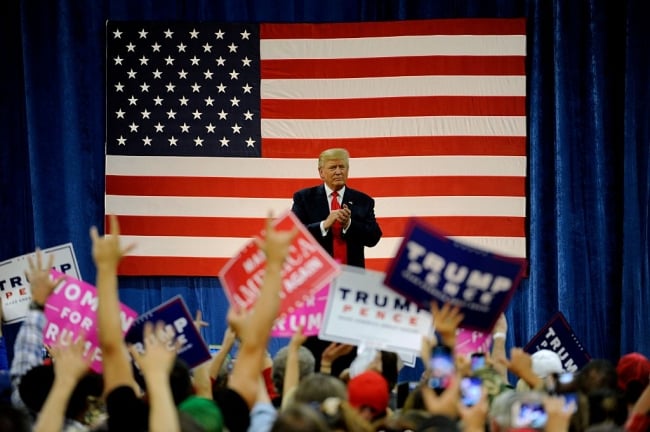 JASON CONNOLLY / AFP / Getty Images
Donald Trump stunned the pundits and confounded the pollsters on Tuesday by being elected president of the United States. Many in higher education -- including many college leaders who had long lists of objections to Hillary Clinton's plan for free public higher education -- were horrified by the prospect of a Trump presidency.
The Republican candidate regularly attacked colleges as politically correct, his comments about non-Americans in the United States worried many college leaders who depend on international students, and he rejected consensus science about climate change and other topics. His student supporters on campus -- in many cases outnumbered but active nonetheless -- set off a series of conflicts and debates about free speech with in-your-face tactics such as building fake walls to symbolize the one Trump vowed to build on the border with Mexico.
Nobody really knows what a Trump administration will be like, given how unorthodox his campaign was, his desire to shake up Washington, his lack of policy details and deep fissures between the president-elect and congressional leaders on both sides of the aisle.
UPDATE: On Wednesday morning, Molly Corbett Broad, president of the American Council on Education, issued this statement: "The American Council on Education (ACE) congratulates Donald J. Trump on his election as the nation's 45th president. I join more than 4,000 college and university presidents and other higher education leaders across the country in wishing President-elect Trump well as he prepares to embark on his term in January and address the many challenges facing our nation at home and abroad. The entire higher education community looks forward to working with the Trump administration on key issues such as expanding access to educational opportunity, increasing levels of attainment and supporting cutting-edge research and innovation."
It wasn't until mid-October that Trump devoted a significant portion of a speech to higher education. In that talk, he said he worried about graduates facing high student debt levels and endorsed income-based repayment systems (something generally backed by Democrats and Republicans alike).
In the speech, Trump vowed to force colleges to cut tuition rates. "If the federal government is going to subsidize student loans, it has a right to expect that colleges work hard to control costs and invest their resources in their students," Trump said. "If colleges refuse to take this responsibility seriously, they will be held accountable."
And he said that accountability would include ending the tax-exempt status of colleges and universities with large endowments that do not use those funds to cut tuition rates. Colleges need "to spend endowments on their students, not themselves …. They need to use that money to cut the college debt and cut tuition, and they have to do it quickly."
Many college leaders have criticized attacks on university endowments, noting that large shares of college endowments are restricted in their use, and that many of the colleges and universities that have the most generous financial aid policies are among those with the largest endowments.
Trump also said colleges could save money by eliminating the "tremendous bloat" in their administrations.
While Trump blamed colleges for rising tuitions, he also blamed the federal government. He cited a controversial 2015 study by Vanderbilt University that said it spent $150 million a year to comply with federal regulations. Trump cited the $150 million figure and said he would work to roll back regulations that lead colleges to spend in that way.
But as critics noted when the study came out, about $117 million of those costs related to federal research regulations, which are a sizable issue at a major research university such as Vanderbilt. So most of the $150 million had very little to do with what undergraduates pay.
Trump's emphasis on endowments is something he has come back to a few times. In remarks in September, he said, "Instead these universities use the money to pay their administrators, to put donors' names on their buildings, or just store the money, keep it and invest it. In fact, many universities spend more on private equity fund managers than on tuition programs …. But they should be using the money on students, for tuition, for student life and for student housing. That's what it's supposed to be for."
'Extreme Vetting'
While Trump has consistently called for making it more difficult for noncitizens to enter the United States, he has shifted a bit during the campaign on how he would do that.
In December, Trump called for a temporary ban on all Muslims entering the U.S., citing the "great hatred towards Americans by large segments of the Muslim population." (A national cochair for Trump's campaign, Sam Clovis, told Inside Higher Ed in December that the proposed ban would indeed apply to Muslim international students.) He appeared to back away from that position a bit in the months that followed.
Then in August, he proposed putting in place an ideological test for admission to the United States and temporarily suspending visa processing from regions "that have a history of exporting terrorism."
He said at the time that the U.S. should admit only "those who share our values and respect our people."
"In the Cold War we had an ideological screening test," said Trump. "The time is overdue to develop a new screening test for the threats we face today. I call it extreme vetting. I call it extreme, extreme vetting."
"In addition to screening out all members of the sympathizers of terrorist groups, we must also screen out any who have hostile attitudes toward our country or its principles or who believe that sharia law should supplant American law. Those who do not believe in our Constitution or who support bigotry and hatred will not be admitted for immigration into our country. Only those who we expect to flourish in our country and to embrace a tolerant American society should be issued visas."
He also said that he would ask the Departments of Homeland Security and State to "identify a list of regions where adequate screening cannot take place. There are many such regions. We will stop processing visas from those areas until such time as it is deemed safe to resume based on new circumstances or new procedures."
Many in international education expressed concerns at the time that such a policy could make it extremely difficult for students from Muslim nations to get visas. Others worried that a Trump victory would send such students seeking a Western-style education to Canada, Australia or other countries not seen as hostile.
In a statement that was unusually public for academic administrators (who typically try to avoid even the appearance of endorsing a candidate), 10 college and university presidents joined with foreign policy and international education experts last month to call for the next president (candidates were not named) to support diversity, diplomacy and an international outlook for the United States.
The statement -- widely seen as backing Clinton over Trump -- was coordinated by NAFSA: Association of International Educators. Marlene M. Johnson, executive director and CEO of the organization, said via email Tuesday night that "there is so much at stake for all of our citizens as well as for the international community in how we choose to move forward now that the campaign season is over." She said that the priorities of those who promote international exchange would be unchanged: "To actively advocate for U.S. policies that create a more welcoming and globally engaged United States."
The Trump Chalkings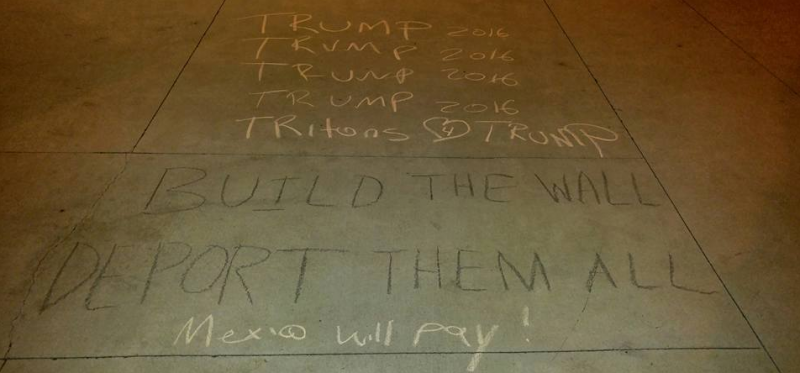 Many colleges have also debated free speech issues that have come up because of the Trump campaign. Student supporters of Trump used chalk messages -- just as supporters of other candidates have done -- on campus walkways. Many minority students viewed these expressions as hostile, as sometimes they went beyond just expressing support for Trump. Consider the photo above, of a chalking at the University of California, San Diego, that expressed support for Trump, and also said "Build the Wall. Deport Them All."
At the University of Michigan, chalkings in March said, "Trump 2016," but also "Stop Islam."
Trump held many rallies at public university campuses, which are of course ideal venues for large rallies. Numerous times universities were criticized for allowing him to hold these events, although officials repeatedly noted that, as public institutions, they could not impose political tests on which candidates to permit to hold rallies. And at some events Trump held on public university campuses, students who opposed him said they were harassed or threatened.
At the University of Illinois at Chicago in March, a large Donald Trump rally was called off as it was about to start, with organizers saying that threats of violence required that action. Before the decision was announced, hundreds of anti-Trump protesters had entered the university arena where the event was being held while thousands of protesters were outside. Press reports indicated that there were numerous scuffles between pro- and anti-Trump attendees. Many of the protesters also were angry at the removal of some of the anti-Trump attendees from the rally.
Anti-Trump students and others shouted, "We stopped Trump," after the rally was called off, and shared anti-Trump signs in person and online. Many of the anti-Trump students suggested that it was the threat of protest, not violence, that led Trump to change his plans.
Young Voters
An analysis of polling data by the Center for Information & Research on Civic Learning and Engagement at Tufts University found that young voters, those aged 18-29, backed Clinton over Trump. And the center noted that this continues a pattern from Britain's Brexit vote, in which young people voted to stay in the European Union but older voters wanted to leave. (The age group analyzed includes many students, as well as young adults who are not students.)
In this year's U.S. election, the analysis found, Clinton won 55 percent of the young adult vote, compared to 37 percent for Trump. But Trump beat Clinton among white people in the 18-29 age group, 48 percent to 43 percent. Among African-Americans, the split was 83 percent to 9 percent (for Clinton) and among Latinos in that age group, the split was 70 percent to 24 percent.
The group also found that more young people (around 8 percent) backed third-party candidates this year than was the case four years ago when President Obama was running for re-election.
What's Next?
Judging from social media Tuesday night as Clinton seemed to move from likely winner to likely loser, many academics are in despair.
But John R. Thelin, university research professor at the University of Kentucky, and author of A History of American Higher Education (Johns Hopkins University Press), said via email that academe will survive a Trump administration.
"If Donald Trump wins the presidency, the losses for higher education will not be as dire as feared by higher ed advocates," Thelin said. "The strengths and weaknesses of U.S. higher education are deep and, hence, impervious to any single candidate or election."
Added Thelin, "Donald Trump is very proud of his degree from the University of Pennsylvania's Wharton School. For all his bombast, he knows that our colleges and universities are good and significant."