You have /5 articles left.
Sign up for a free account or log in.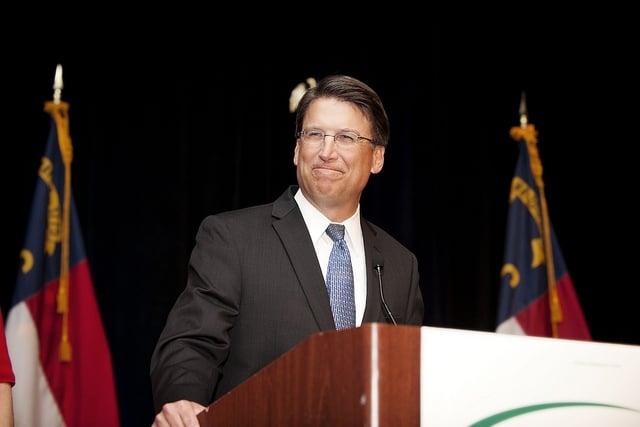 University of North Carolina system faculty members joined waves of objectors late last week as Republican legislative leaders moved to bolster their power over state operations in the wake of their party losing the governorship.
Faculty members specifically pushed back against legislation stripping the power to appoint some local state university campus trustees from North Carolina's governor and giving it to the state's most powerful lawmakers. The change could draw sanctions from the university's accreditor, the Southern Association of Colleges and Schools Commission on Colleges, and it could violate the governance standards of several national organizations, faculty worried.
There is not yet a definitive indication of whether the changes would run afoul of accreditors, however. SACS has sanctioned other colleges over governance issues recently, notably placing the University of Louisville on probation earlier this month after Kentucky's governor ousted the institution's president and tried to overhaul its board. But the circumstances are different in North Carolina.
The changes questioned by faculty members were part of a larger series of legislative moves reducing incoming Democratic Governor Roy Cooper's appointment powers and power of election regulation. Bills to make the changes were filed during a special session Wednesday, less than two weeks after incumbent Republican Governor Pat McCrory conceded a narrow governor's race. Leaders rapidly moved the bills to votes Friday.
They passed despite the presence of protestors that at points disrupted proceedings. McCrory signed one bill revamping the state board of elections Friday. He had not said whether he would sign or veto the bill that included changes to university trustees, House Bill 17.
Republicans have said the changes are intended to shift responsibilities from a too-powerful governorship back to lawmakers. But Cooper, the state's current attorney general, has discussed suing lawmakers and blasted them for quickly moving bills into law "in the dark of night."
Faculty members singled out a provision of House Bill 17 as threatening governance integrity within the UNC System. The provision would change the appointment process for trustees at the 16 university campuses within the system, which have 13-member boards.
North Carolina's governor had appointed four members of each institution's board, the system's Board of Governors had appointed eight, and the remaining member was a student government representative. But the bill shifts appointment power for the four governor-appointed trustees to the Legislature. It would have the Speaker of the state House of Representatives appointing two trustees at each system institution and the president pro tempore of the Senate appointing two. Similar changes would be put in place for trustees of the North Carolina School of Science and Mathematics, a public high school that is part of the UNC System.
Existing governor-appointed trustees would complete their current terms under the bill.
The UNC Board of Governors is charged with the general determination, control, supervision, management and governance of the system. It delegates local control over many institutional functions to the local university trustees.
The system Board of Governors has 32 voting members elected by the North Carolina General Assembly. That's raised faculty concerns that the new law would effectively place all trustee appointment power with the Legislature. Legislators would indirectly control institutions' eight Board of Governors-appointed trustees through their power to name Board of Governors members, they said. Then leaders would be gaining the power to directly appoint the four remaining nonstudent trustees.
In accreditors' terms, the concern is that the Legislature is exerting "undue political influence" in campus trustee selection, according to a letter written by Stephen Leonard, a professor of political science at UNC Chapel Hill and the past chairman of the UNC System's Faculty Assembly. He listed accreditation standards that could be violated regarding governing board authority, conflicts of interest, external influence, faculty role in governance and academic freedom.
"These actions are also in possible violation of joint American Council on Education (ACE), Association of Governing Boards (AGB) and American Association of University Professors (AAUP) governance standards," Leonard wrote in the letter, which he sent to McCrory and Cooper Friday.
"A loss of accreditation could mean that UNC students lose access to federal loans and grants, that our students and graduates may have difficulty transferring academic credits to other accredited institutions, and that many if not most UNC institutions may face bankruptcy and closing," Leonard continued. "In addition, the reputational damage to the university and its institutions would be immeasurable. Loss of accreditation would further compromise the already-significant difficulties of staff and faculty retention and recruitment, and further undermine the quality of instruction, research and service the university community performs for the people of this state."
Leonard has objected to state lawmakers' actions in the past, recently questioning an environmental public policy laboratory they established at Chapel Hill and legislation they passed to sharply cut tuition at some state universities.
Tensions between leaders and faculty members within the UNC System have been high for some time, spiking when well-thought-of system leader Thomas Ross was ousted in 2015. After a highly contentious search process, Ross was replaced by Margaret Spellings, who had been education secretary under President George W. Bush.
Spellings issued a statement on the legislation to change trustee selection Friday.
"We've always enjoyed strong relationships and good counsel from our Boards of Trustees," she said. "We expect that to continue going forward."
Meanwhile, the AAUP is primarily concerned that trustees be qualified for the role, said Hans-Joerg Tiede, associate secretary at the association. It matters less whether they are appointed by governors or legislators, he said.
One of a university governing board's functions is to insulate that university from political pressure, Tiede said. But the circumstances surrounding the change in North Carolina are cause for concern, he said.
"What's happening right here suggests that the process is being politicized," Tiede said. "That's certainly an unwelcome development."
The UNC Faculty Assembly's current chair, Gabriel Lugo, has heard concerns about House Bill 17. Lugo, an associate professor in the Department of Mathematics and Statistics at UNC Wilmington, first sent a memo to the Faculty Assembly that referenced the Legislature completely controlling the boards of trustees' composition and potential violations of SACS regulations on governing boards being free from influence from external bodies. Then on Saturday he sent a letter to McCrory, copies of which also went to Spellings, Board of Governors Chair W. Louis Bissette Jr. and UNC chancellors.
"We have carefully assessed the implications of this and other previous actions of General Assembly, and the cumulative effect is that we are at the threshold of being cited for violations of SACS accreditation standards in the core areas of governance," said the letter, which urged McCrory to not sign or veto the bill. "Were this to happen, the consequences would be disastrous for the UNC System and for the state, and this is a risk we must not take."
Republicans have not cast the changes as trying to exert more control over higher education.
"I think to be candid with you, that you will see the General Assembly look to reassert its constitutional authority in areas that may have been previously delegated to the executive branch," House Rules Committee Chairman David Lewis said last week, according to The News & Observer of Raleigh.
Other changes in House Bill 17 would require confirmation hearings for the governor's cabinet appointments and cut down the number of employees serving at the governor's pleasure.
The bill McCrory has signed, Senate Bill 4, ended the governor's party's control over election boards by dividing them evenly between parties and makes other elections and court changes.