Not Immune From Consolidation Talk
Two Roman Catholic universities ask if they can do a better job of serving the Miami area together.
At first glance, Barry University and St. Thomas University might seem to be better positioned for the future than many other small private institutions.
The two Roman Catholic universities are both located to the north of the city of Miami in fast-growing Miami-Dade County. They both enroll large numbers of Hispanic students at a time when projections suggest growth among numbers of Hispanic high school graduates in Florida.
But the two institutions in South Florida aren't immune from the pressures pushing small nonprofit colleges and universities to change.
Early this month, word circulated that Barry and St. Thomas are exploring a "strategic alliance." The process is still in its early stages, so the details of what such an alliance would look like aren't clear. In theory, it could run the gamut from sharing back-office tasks to a full merger.
What is clear is that the two universities, which are located about eight miles apart, have been up against many similar challenges in recent years. They've faced enrollment strains and pressures on net prices in a competitive market for students. They've also dealt with financial stresses, sometimes prompting midyear adjustments to their annual budgets.
University officials reject the idea that budget challenges forced them to explore an affiliation. Instead, they point to broad trends sweeping across small private institutions and a call from the universities' Roman Catholic supporters to explore a change.
Barry University is sponsored by the Dominican Sisters of Adrian, Mich. St. Thomas is sponsored by the Archdiocese of Miami. The two organizations asked the universities to start talking, and several weeks ago, the universities' boards approved the move.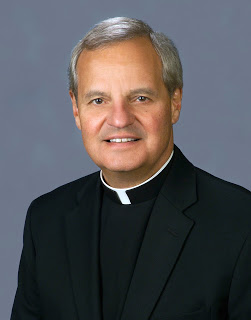 The next step is to hire a consultant to start discussions. But there is no firm timeline, according to university representatives.
"It's really not about finances at all," said Monsignor Franklyn M. Casale, St. Thomas University's president (left). "It's about creating whatever kind of synergies we can create in order to strengthen the institutions to a point where we can be seen as leading Catholic institutions -- whatever form that takes."
No organizational changes are on or off the table at this point, said Sara B. Herald, Barry's vice president of institutional advancement and external affairs. She said she could think of many forms a strategic alliance could take that would not be a full merger.
"I'm a lawyer, and I'll tell you there are a lot of different ways it could unfold," she said. "A merger is one of maybe 60 to 70 options I could think of."
The discussions take place at a time when private Catholic institutions are facing steep competition from public universities in Florida that sharply undercut their tuition rates. Many out-of-state institutions are also increasingly recruiting in Florida as they see drops in the pool of high school students they can recruit closer to home, according to Herald.
At the same time, Catholic institutions are less able to rely on highly educated priests and nuns to teach classes on low-cost stipends, because the number of priests and nuns is dropping, Herald said.
Further, Catholic institutions enroll a large number of students who don't have the resources to pay full tuition. And the institutions don't have large endowments -- Barry's was reported at $36.6 million and St. Thomas's at $24.2 million in the latest survey from the National Association of College and University Business Officers and the nonprofit asset-management firm Commonfund.
That leaves the institutions stuck between upward pressure on expenses and downward pressure on prices.
"This is about an environment in which you have sort of the perfect storm," Herald said. "You can't keep raising the price and expect people to be able to pay for it. That's true nationwide. You have a declining population of traditional college-aged students."
Barry University has attempted to break out of that situation recently, in part by shifting financial assistance more toward highly qualified students. It expected some decline in enrollment as its tuition discount rates fell but missed an enrollment target for transfer students and students in its graduate and professional programs last year.
The university's total enrollment dropped from 9,030 in the fall of 2013 to 8,518 in 2014 and 7,971 in 2015, according to federal data. In 2015 it enrolled 3,776 undergraduates and 4,195 graduate students. Most of its undergraduates -- 84 percent -- attended full time.
Barry University reported that 27 percent of its students in 2015 were Hispanic, 25 percent were black non-Hispanic, and 7 percent were international. About 90 percent of full-time undergraduates received some form of financial aid.
Meanwhile, 61 percent of Barry University's full-time undergraduate freshmen received federal Pell Grants in 2014-15. Federal Pell Grants are typically considered a proxy for students from low-income families.
The financial situation at Barry has come under local scrutiny lately, with The Miami Herald reporting on steps the university is taking to close an $8.6 million budget gap this year. The university reported more than $210 million in annual revenue on its most recently available federal tax forms.
Cuts being put in place include a hiring freeze, the elimination of about 25 staff positions and a temporary reduction in retirement-plan matching. The university is also consolidating an adult-education delivery site about 20 miles away in Davie, Fla., which is one of numerous locations it lists around Florida and in the Bahamas.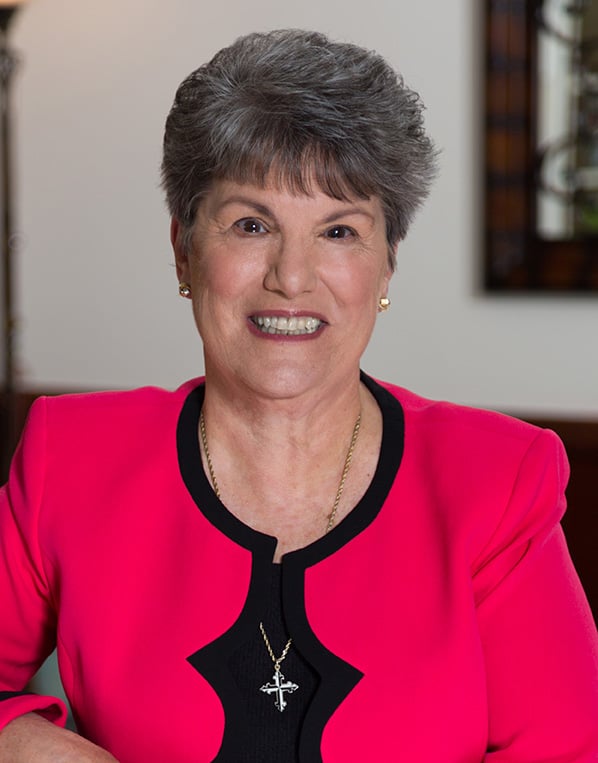 Barry University President Sister Linda Bevilacqua (left) recently sent an email discussing strategies being considered, which include re-examining tuition discounts. That letter called discussions about reducing expenditures "distressful," saying "the decisions to do so are agonizing when they involve colleagues with whom we work," according to The Miami Herald.
Fitch Ratings has previously noted Barry's difficulties. In October the ratings agency affirmed a BBB rating on $67.3 million of revenue and refunding bonds, keeping the bonds on the lower end of investment grade. But Fitch revised the bonds' outlook from stable to negative, noting declining enrollment and a revenue shortfall for the year ending in June 2016.
Historically, Barry University's enrollment has fallen short of expectations, Fitch noted.
The university relies on tuition for more than 90 percent of its total revenue but has been unable to lower its tuition discount rate. Fitch said its tuition discount rate was expected to hit 29.8 percent for the 2016 fiscal year, up from 25.6 percent in 2015 and above its 2014 discount rate, which was 27 percent.
St. Thomas, in contrast, is a smaller institution, with 4,662 students as of the fall of 2016. Most of those students, 2,752, were undergraduates. Officials noted that many of the institutions' students are dually enrolled at area Catholic high schools. The overall enrollment is down from 4,918 in 2015.
The university's undergraduate students are 61 percent Hispanic/Latino and 9 percent black or African-American, according to federal data. Pell Grants went to 44 percent of full-time freshman undergraduates in 2014-15. The university says more than 90 percent of its students currently receive some type of financial assistance.
St. Thomas has collected around $60 million in revenue annually in recent years. It posted surpluses of more than $3 million in the years ending in June 2016 and 2015. It reported a deficit of $332,842 the previous year.
Currently, St. Thomas is in the midst of some belt-tightening, including voluntary separation plans offered to interested staff and faculty members, according to Hilda Fernandez, vice president of university advancement and marketing and communications. But she said its finances are strong.
"The university has never had to borrow money," she said. "At the end of the day, the university has reserves, and it's not borrowing money to operate. By far, it's doing well. What it's not doing is sitting still."
St. Thomas discounts tuition, with aid packages for students averaging about $11,000 to $12,000 against its quoted undergraduate tuition of $28,800 per year for full-time undergraduates, Fernandez said. That's about a 40 percent discount rate.
Talks with Barry University aren't the only major changes on tap at St. Thomas. Monsignor Casale, who has been the university's president for more than two decades, plans to retire in January 2018. It's a natural time to discuss strategic direction, Fernandez said.
Monsignor Casale acknowledged that the South Florida market is competitive for students. But he argued that St. Thomas and Barry provide better access for students and a focus on service they cannot find elsewhere.
"We have a different student-to-faculty ratio," he said, referring to the university's advertised 14 to one student-to-faculty ratio, which is lower than those at area public institutions. "There's a much more personalized environment at both institutions than there are at other institutions."
Faculty members want to be a part of the talks between St. Thomas and Barry, according to Craig E. Reese, a professor of accounting and taxation who is a member of the Faculty Forum at St. Thomas and chairs the department of accounting, business administration and finance in its school of business. But so far, any affiliation talks appear to have been at the executive and board levels, he said.
St. Thomas's efforts to balance the budget left some faculty positions unfilled. It currently has about seven fewer faculty members than it did last year, Reese said.
Reese thinks a merger could be a logical outcome of the engagement with Barry University. But he added that it is not likely to take place within the next year or two. The institutions involved -- including the church -- move slowly, he said. The work of consolidating duplicate programs would take time.
For instance, both Barry University and St. Thomas University have law schools. The Barry University School of Law is in Orlando, while the St. Thomas University School of Law is located on its campus.
There are reasons to believe that the two universities can find common ground. The two institutions' presidents have discussed collaborations for years. They also have a history of partnering. Before they became coeducational -- Barry was founded as a women's college and St. Thomas as a men's college -- they shared classes and hosted events jointly.
"We tell the students clearly: we're open for business," Reese said. "We're not closing down. What we're going to have to do is rationalize what the two Catholic institutions do. We should not be in direct competition."
Some think a full merger is unlikely, however. Ed Moore, president of the Independent Colleges and Universities of Florida, believes the two institutions are looking for ways to share background and back-office operations.
"I think they're both looking for efficiencies, shared services," he said. "If you can do them less expensively, then certainly that's the best thing to do."
Barry and St. Thomas are important to South Florida but face challenges, Moore said.
"They're located in some areas that need the access from these institutions," he said. "They admit somebody knowing full well that they can't pay, and that's what they're up against."
The talks between Barry and St. Thomas come at a time when other Roman Catholic universities have reconsidered their position or been forced to make concessions to finances. Aquinas College in Nashville, Tenn., recently said it was making deep cuts to focus on training Dominican sisters as teachers. St. Joseph's College, in Rensselaer, Ind., said in February said it had to suspend nearly all operations after the spring semester because of a funding crunch.
Like any other tuition-dependent institution, most Catholic colleges or universities are going to face problems if they encounter dropping enrollments over multiple years, said Michael James, director of the Institute for Administrators in Catholic Higher Education at Boston College.
"These are front-and-center issues," James said. "Over the last decade that I've directed the program, we're seeing an increased number of participants that want to talk about and engage the questions we're presenting around mission -- but with a lens of how does this bolster our competitiveness, and how do these become part of our strategic sustainability plans?"
Catholic universities can be uniquely qualified to forge collaborative models between institutions because they have shared characteristics and missions, James said. But institutions are also reflecting about their individual missions and responsibilities, he added. In many cases, they are thinking about what they can do to provide resources and access to the growing Hispanic population in the United States.
"How do they serve those student populations that are increasingly not being served well?" James said. "I think Catholic colleges are sort of asking that question very honestly."
You may also be interested in...
Today's News from Inside Higher Ed
Inside Higher Ed's Quick Takes