You have /5 articles left.
Sign up for a free account or log in.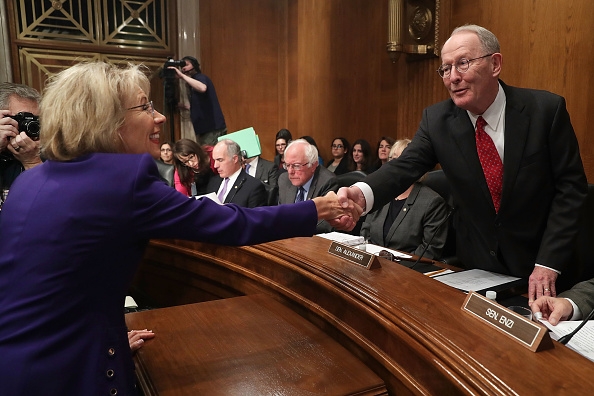 GOP lawmakers have been clear since November's election about plans to dismantle several Obama administration higher education regulations, including two major rules aimed at the for-profit college sector.
U.S. Representative Virginia Foxx, a North Carolina Republican, said shortly after Donald Trump's election, "You'll see us do everything we can to roll back" those regulations. As chairwoman of the House education committee, Foxx is well placed to oversee those efforts.
But the number of regulations targeted for repeal through the little-known Congressional Review Act has been modest so far. And GOP members now are saying a CRA resolution is off the table for borrower defense, the rule issued last year to clarify how defrauded borrowers can seek discharges of their student loans. What that likely means, observers said, is another round of negotiated rule making for the regulation as well as for the gainful-employment rule, which was designed to crack down on vocational programs that graduate students with poor prospects of paying down student loan debt.
A lengthy rule-negotiation process could mean the new administration would need to devote a considerable amount of energy and resources to unwinding the Obama regulations on higher education.
In the meantime, both defenders and critics of the rules expect more deadlines in implementing the regulations could be pushed back. An announcement this month from the U.S. Department of Education that it will delay deadlines for programs to appeal debt-to-income ratios under gainful employment drew an outcry from consumer advocate groups. Those advocates called the move a red flag that the department under Betsy DeVos, Trump's education secretary, is protecting the interests of predatory colleges over students. Democrats including Massachusetts Senator Elizabeth Warren wrote to DeVos seeking an explanation for the delays.
Those delays, however, could say as much about the lack of political leadership in the department as a clear strategy to undermine accountability measures, observers said.
A host of political positions at the department requiring the Senate's approval have yet to be filled, including the general counsel, assistant secretary and deputy assistant secretary positions. A GOP lobbyist with college clients said institutions throughout higher education are in the dark about decision making in the department.
"They're all scratching their heads wondering what the department's going to do on all kinds of issues," the lobbyist said. "I would say it's somewhat inaccurate to say that only for-profits care about either one of these issues. It's just not true."
There is limited appetite among Republicans in Congress to move swiftly on legislation that would appear to weaken protection for students and consumers. Instead, for leadership on matters of regulation, they've looked to the Education Department, which has appeared rudderless without serious political infrastructure in place, observers said.
Ben Miller, an education policy researcher at the Center for American Progress and a former official in Obama's Education Department, said that for years the Republican approach to the regulations has not advanced beyond doing away with them entirely.
"The risk that runs is, much like health care, the dog catches the car and needs to actually have an idea what to do," he said. "It's a challenge when the entire agenda has just been undo what the other guy did."
One complication of a Congressional Review Act resolution is that it would tie the hands of the Trump Education Department so that it couldn't craft new regulations without statutory authorization from Congress. Meanwhile, thousands of loan-discharge claims from students who attended Corinthian Colleges, ITT Technical Institute and other defunct for-profits demand action from the department.
"We all want strong accountability and for students to make informed decisions about their education," Foxx said in a statement. "Unfortunately, misguided regulations like the Obama administration's gainful-employment and borrower-defense rules won't serve the best interests of students, institutions or taxpayers. We will continue to work with the current administration to determine the best way to address these and other harmful regulations -- whether it be through responsible rule making, reauthorization of the Higher Education Act or other legislative action."
Steve Gunderson, president and CEO of Career Education Colleges and Universities, the for-profit sector's primary trade group, said he would rather see action from Congress on borrower defense than go through another negotiated rule-making process. But CECU doesn't believe eliminating the rule entirely through CRA is appropriate, either. The group is instead drafting its own legislative language to circulate to members for a possible overhaul of the rule.
"I'm not very confident in the negotiated rule-making process as we have seen recently. I think this is way too important to be done in that process," he said. "That needs to be done by the Congress as part of reauthorization [of the Higher Education Act]."
Meanwhile, Congress is being pressured by student and consumer advocate groups to preserve or even strengthen the gainful-employment and borrower-defense regulations.
Veterans' groups in February asked Congress to leave the regulations in place. A group of 20 state attorneys general sent a letter to lawmakers and DeVos the same month saying that rolling back regulations would signal "open season" on students for bad actors in the for-profit college sector. And last week, a coalition of more than 50 consumer groups sent a letter to Congress urging that the regulations be "strengthened, not scaled back."
Some consumer advocates also have cried foul over the roles at the department of Taylor Hansen, a former CECU government affairs director, and Rob Eitel, a Bridgepoint Education attorney. Warren weighed in on those hires in a letter to DeVos. Gunderson said Hansen's influence at the department, where he was working on K-12 education issues before resigning earlier this month, was being unfairly portrayed in news coverage.
While conservatives in Congress see serious flaws with the regulations, there is a sentiment among many that gainful employment and borrower defense should be re-examined rather than tossed out entirely. And the preferred route in Congress at the moment appears to be going through the department.
The Rule-Making Process
There are several routes Republicans in Congress and the administration could conceivably take to target the Obama administration regulations.
Lawmakers could defund implementation of a rule like gainful employment; the department could opt not to enforce the rules; or DeVos could provide notice that she plans to pursue a new round of negotiated rule making. Those first two options would leave the rules on the books and keep open the possibility of another administration aggressively enforcing them later. Negotiated rule making would allow the department to make sustainable changes to the regulations but would require the involvement of a number of higher ed stakeholders.
"It is a long, time-consuming process," said Pauline Abernathy, executive vice president of the Institute for College Access and Success.
But rule making could also empower the department itself to craft the language it wants. That's because if the negotiators picked to represent various interests cannot reach consensus on the language of a proposed rule, it would be up to department staff to craft the language.
The last time the department overhauled existing regulations through the negotiated rule-making process, it eliminated so-called safe harbors -- exceptions in the law that allowed college recruiters to receive incentive compensation. That process took a full year and wrapped up in October 2010.
"My observation has been the more controversial the proposed rule, the longer the process could take," said Rebecca Natow, a senior research associate at the Community College Research Center at Columbia University's Teachers College.
To the extent that there is broad opposition to attempts to weaken the regulations through negotiated rule making, Natow said the process is designed to reflect that through the inclusion of consumer groups or other supporters of a strong rule.
Marc Jerome, president of Monroe College, a New York-based for-profit, said the overriding principle for gainful-employment regulations should be providing students with accurate information to compare programs.
Many critics of the rule issued by the Obama administration, including Jerome, have said it should provide information on debt-to-earnings ratios for all programs, not just vocational programs or those based at for-profits. He said competitors for many of Monroe's programs are based at nonprofit or public institutions not covered by the rule.
A new rule, he said, should be designed to encourage institutions to change their practices to get better results.
"If there was more of a focus on improving outcomes and less of a focus on punitive actions, then the rule-making process could be improved," Jerome said.
Implementation of Current Rules
Parts of the regulations in question have already gone into effect. The department released data in January showing that 10 percent of evaluated vocational programs failed to meet gainful-employment criteria and risked losing access to federal financial aid. The bulk of those failing programs announced by the department were at for-profit institutions. And although the full borrower-defense rule isn't set to go into effect until July, a new standard application for borrowers seeking relief has already been released by the department.
Natow said the department does have authority to exercise a certain amount of discretion in how it enforces regulations, with the delay of appeals deadlines for gainful employment being one example. DeVos may use that authority in particular when it comes to accountability measures in the regulations.
Barmak Nassirian, director of federal relations and policy analysis at the American Association of State Colleges and Universities, said the delayed deadlines, along with the rescinding of guidance barring collection fees from defaulted borrowers who start repaying loans quickly, were alarming.
"It's true the department is running on a sort of skeletal political framework," Nassirian said. "But somebody made the decision."
A negotiated rule-making process would lead to a weaker set of regulations, he said. But the administration would still have to establish a framework for handling thousands of pending discharge claims as well as those yet to be filed.
"That reality isn't going to cease to exist just because a different administration is in place," Nassirian said. "They still have to produce something that passes the laugh test."