You have /5 articles left.
Sign up for a free account or log in.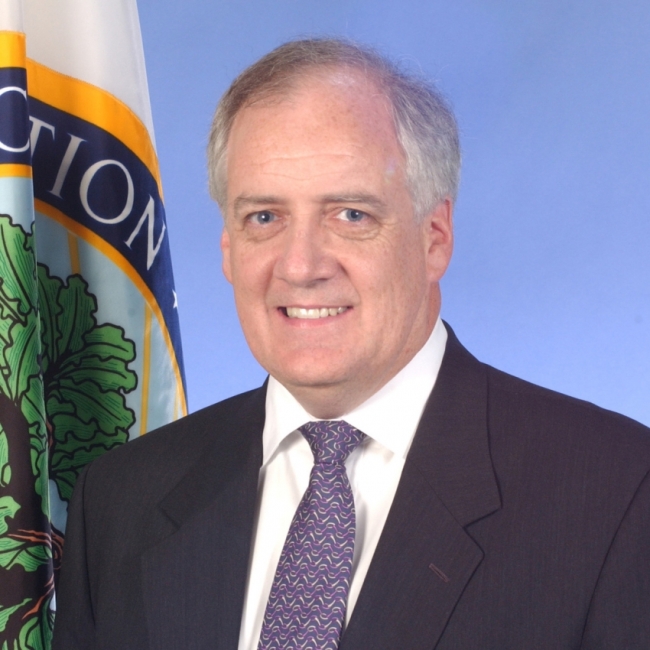 Recent personnel choices at the Department of Education have received scrutiny for connections to private industry and personal ideologies at odds with the mission of their office. But the appointment of James Manning, a career public official, has drawn a different sort of reaction.
Manning was named acting under secretary of education last week, one of nine hires officially announced by the department. The details of his role are not entirely clear, but former officials who have worked under Republican and Democratic administrations described Manning as an administrator with a broad skill set and a deep understanding of the workings of the student financial aid system. Even critics of recent steps taken by Education Secretary Betsy DeVos on student loan servicing said it was important to have an expert on the complex federal loan program in place at the department.
David Bergeron, a former acting assistant secretary for postsecondary education at the department in the Obama administration, worked for Manning at the Education Department under then Secretary Margaret Spellings. Manning's career moves after leaving government don't appear to be those of someone interested in advancing the interests of the private sector, Bergeron said. Before joining the Trump transition team, Manning last served in the department under Obama as the acting chief operating officer of federal student aid. Rather than join the private sector or lobby his former agency after retiring, Manning joined a nonprofit in Boston that provided mentoring to disadvantaged youth.
"He was perhaps the kindest and most supportive boss I ever had in my tenure in government," he said of Manning.
Bergeron said Manning has both a deep knowledge of the department's bureaucracy and a student-focused outlook. Jeff Andrade, a Republican consultant who has worked in the Department of Education and on Capitol Hill, said Manning has been involved in previous transitions and understands what it takes to get the department up to speed.
"He's got a lot of hands-on knowledge about how the student aid office works," Andrade said. "In terms of who they had on the bench, he's probably the best-qualified person they had for that role."
Vickie Schray, executive vice president for regulatory affairs and public policy at Bridgepoint Education, said Manning's appointment sends a message that the department understands the importance of the Office of Federal Student Aid. Schray, who previously served as acting deputy assistant secretary for the federal Office of Postsecondary Education, said Manning's familiarity with many of the career employees means he knows whom he can rely on.
"Someone like Jim Manning, who knows the people, knows the organization, knows the work, really is a terrific person to help bridge the gap during a transition," she said.
Observers of the department say it is critical to have leaders in place to manage the agency's operations -- especially those involving financial aid -- regardless of the ideological disposition of the department's leadership. The competent management of those programs affects about 42 million Americans with student loans.
David Baime, senior vice president for government relations and policy analysis at the American Association of Community Colleges, said with few political appointees in place who are familiar with student aid programs, Manning's role is encouraging.
"Administering student aid is a very unglamorous job in a lot of ways, but it's a very important job given the impact it has on students," he said.
"You can have any particular policy orientation about the wisdom of existing programs. To the extent that they're on the books, they need to be administered competently," said Barmak Nassirian, director of federal relations and policy analysis at the American Association of State Colleges and Universities. "People expect to be billed correctly, they need payments processed in a timely fashion, they need phone calls answered."
The failure of Corinthian Colleges occurred when there were "few experienced hands on deck" to police the for-profit chain, said Rohit Chopra, a former Consumer Financial Protection Bureau student loans ombudsman and Department of Education special adviser who has been critical of the Obama administration's oversight of higher ed.
"Bringing aboard talent who can really police the schools and the loan servicers is good for the whole system," Chopra said. "It's not just about issue expertise. It's also about relative priorities."
The department declined a request to interview Manning for this article, and DeVos has offered few comments on officially announced hires. Even as they praised Manning's temperament and his knowledge of student aid programs, consumer protection advocates say the steps taken by the department so far suggest the concerns of private industry are playing a large hand in crafting its agenda.
And some who know Manning said recent steps taken by the department on student loan policy appear inconsistent with what they know of his values. That was especially true with respect to the department's recent decision to withdraw protections for borrowers that were issued in the final months of the Obama administration, Bergeron said. While those protections -- part of servicing contract guidelines drafted by former Secretary John B. King Jr. and Under Secretary Ted Mitchell -- had yet to go into effect, the decision was swiftly criticized by Democrats, consumer groups and financial aid organizations. The department rescinded the guidelines after a push by industry groups to have Congress reconsider the ambitious set of new requirements for servicers.
"Maybe there's a next step we just haven't seen yet," Bergeron said. "Right now it just feels like that action isn't consistent with his student-focused values."
He said he hoped to see Manning's influence reflected in alternative guidelines yet to be issued by the department.
Clare McCann, another former Obama administration official and now a senior policy analyst with New America's Education Policy program, said those new guidelines would be a "devil in the details" moment.
"I suspect you'll probably see more influence from Manning and other top politicals in whatever new guidance they decide to give to FSA on servicing," she said.
When Manning was acting assistant secretary for civil rights from 2004-05 during the Bush administration, that office issued a clarification of federal antidiscrimination law that advocates for gender equity said weakened equitable opportunities in college athletics. That clarification was later withdrawn by the Obama administration in 2010.
With the exception of Pell Grant restoration for students who attended closed schools (a process started under former Secretary King), the actions on student loan policy taken by DeVos so far have been nearly uniformly criticized by student aid advocates, congressional Democrats and state attorneys general.
Last month, the Department of Education pushed back deadlines for colleges to submit appeals or make public disclosures under gainful-employment regulations implemented last year. Later, it withdrew guidelines prohibiting debt collectors from charging high fees to borrowers if they agreed to quickly rehabilitate past-due student loans. The withdrawal this month of the guidelines for awarding of new servicing contracts confirmed a pattern for many skeptics of the department.
"On the surface it seems like a big giveaway to the student loan industry," Chopra said.
Republicans say that it's not surprising the department under DeVos would chart its own course on making improvements to student loan servicing rather than stick with complex guidance issued by the previous administration on its way out the door.
McCann, the former Obama official, said many of the problems with loan servicing that the guidance from King sought to address were nonpartisan. Alternative guidance from the department would reflect how the department may tackle those problems and, possibly, the influence of administrators like Manning.
"That will really be the devil in the details moment in terms of whether this is really terrible news for borrowers or we see them use the re-compete as an opportunity to improve servicing," she said.