You have /5 articles left.
Sign up for a free account or log in.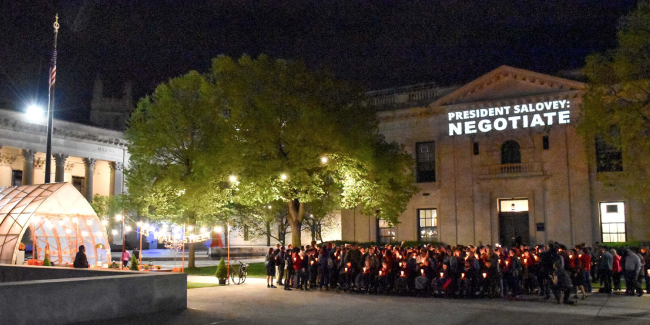 Would-be graduate student unions celebrated the National Labor Relations Board's decision last summer saying that they could organize for elections at private institutions. The board has historically flip-flopped on the issue but hadn't previously recognized the right of graduate students on private campuses to bargain collectively since 2004.
Nearly a year since the board's 3 to 1 vote, however, definitive union successes have been few. Some elections have proved inconclusive, while others have failed or been canceled. And contract negotiations have stalled even where elections showed strong support for unionization.
Some union advocates have accused institutions of killing time until the Trump administration appoints new -- presumably anti-union -- members to empty seats on the NLRB. But administrators and their allies say they're carefully exercising their legal rights -- including those to appeals -- as part of a process with major implications for higher education.
Hunger Strike at Yale
"It's quite apparent to us that they are simply running out the clock until, hopefully, new appointees to the NLRB overturn this entire precedent," said Charles Decker, a Ph.D. candidate in political science at Yale University and one of eight graduate students protesters currently on a hunger strike there.
Decker and his cohorts, who have been fasting for over a week, want to call public attention to the fact that Yale has yet to engage in contract negotiations with them. That's following a February election in which graduate assistants in eight of nine voting departments elected to join a union affiliated with Unite Here.
"We've been organization for a union for years, and we've basically tried everything that we know of to get the administration to sit down with us," Decker said. Yet even after an NLRB-certified election, "they continue to use every legal delay tactic they can."
Sympathetic graduate students and other allies held a vigil with the fasters Tuesday, asking Yale to negotiate. But others on campus have mocked the protest, including the Yale College Republicans, who hosted a barbecue next to the fasters' encampment last week.
Yale, meanwhile, says it's rightfully challenging Unite Here's unusual "micro-unit," department-specific union strategy in which just several hundred out of several thousand graduate students were eligible to vote.
Peter Salovey, Yale's president, said in a statement Wednesday that the university appealed the election with the NLRB because "we are deeply troubled by the undemocratic method of department-by-department unionization," resulting in 228 of the 2,600 Ph.D. students in the graduate school casting votes.
"I strongly support the value of free expression on this important question, as on all other questions," said Salovey, expressing concern for the fasting students, who are drinking water and being monitored by medical personnel. "But threats of self-harm have no place in rational debate when an established dispute resolution process still exists. Respect for law and legal process, civil argument and persuasion: these are the hallmarks of airing and resolving disagreements at a university."
Administrative Opposition Elsewhere
Yale's union strategy is unique, but other private institutions have appealed the outcomes of more traditional union elections. Graduate students at Columbia University -- who were the subject of the NLRB's major August decision -- for example, voted in December to form a union affiliated with the United Auto Workers. The university appealed that election based on reports of irregularities and inconsistencies at polling sites, but those claims were rejected by a regional NLRB office as immaterial to the overwhelming result in favor of unionization: 1,602 for and 623 opposed. Still, the university has appealed that decision to the full national board. Graduate students protested and rallied for recognition.
It's unclear when an NLRB decision will come, and what shape it will take. Pro-union board member Kent Y. Hirozawa left the board soon after the graduate employee decision, at the end of his term. The five-person board now has two empty seats, and President Trump recently appointed the only dissenting voice to the major Columbia decision, Philip Miscimarra, as board chair. Trump's administration has been slow in making other political appointments, but two new, anti-union members could flip the board in favor of administrations and managers -- and reverse the Columbia precedent altogether.
Joseph Ambash, a managing partner with Fisher Phillips in Boston who successfully argued against graduate student unions before the board in the 2004 case, concerning Brown University, said there's a "general understanding among management labor attorneys and, obviously, many employers around the country that a new NLRB majority will seek to reconsider a host of decisions," including Columbia. Indeed, he said, "there's significant hope that the NLRB will correct the excesses of the past NLRB."
Asked whether administrations that have opposed union bids are "running out the clock" for friendlier board appointments, however, Ambash said he doubted it. Every employer is entitled to seek legal review of elections, and "all of these things take time and all of these things are entirely appropriate."
Ambash is among those who have criticized the Columbia decision for its unexpectedly broad take on student employees; while union elections thus far have tended to involve graduate teaching assistants, the decision paved a path for graduate research assistants and even undergraduate university employees to form unions.
Failed Bids
The first proposed undergraduate union involved resident advisers at George Washington University who wanted to affiliate with Service Employees International Union. But the union called off a planned vote this week. SEIU also withdrew a petition regarding a graduate student union at Duke University in March, after vote counting for an election was delayed over a number of challenged ballots; some were identified by both the union and the administration as those from students who were no longer enrolled or not enrolled in Ph.D. programs, who were not within the bargaining unit, or whose duties made them ineligible to vote.
The preliminary tally, not counting those disputed votes, was 398 for and 691 against unionization. Duke's organizing committee said in a statement that the decision to withdraw was "not a decision to quit fighting -- rather, it is a recognition that the source of our strength is not lawyers or litigation, but our collective knowledge, power and experience as graduate student workers."
Recent graduate assistant union elections at Harvard and Cornell Universities also proved inconclusive. Students at Cornell, who want to affiliate with the American Federation of Teachers, are awaiting an official determination from the American Arbitration Association. Students at Harvard, who seek representation by the UAW, recently were granted a second election by a local NLRB official over the closeness of their vote: 1,272 for and 1,456 against, with 314 contested ballots. But Harvard's administration on Wednesday appealed that decision to a regional NLRB office.
"Students were highly engaged, and after nearly two years of organizing on campus," Harvard said in a statement, "thousands voted in the November election — a majority in opposition to unionization."
Some Success, and New Hopes for Negotiations
In better news for graduate student unions -- at least for now -- American University has said it doesn't intend to appeal the results of a March election by teaching assistants to affiliate with SEIU. Loyola University expressed disappointment with its graduate assistants' recent vote to affiliate with SEIU, but said it still planned to negotiate. Brandeis University, which has opposed graduate student unionization, also said this week that it looks forward to collective bargaining with its newly SEIU-affiliated teaching assistants.
William Herbert, director of the National Center for the Study of Collective Bargaining in Higher Education and the Professions at Hunter College of the City University of New York, said it's "difficult to discern a clear pattern" in union bid outcomes since the Columbia decision. Asked if administrations might be holding out for Trump appointees to the NLRB, Herbert said any answer would be speculative.
When and if negotiations begin on a number of campuses, they're likely to involve a number of unconventional union issues. Graduate student workers at Columbia, for example, have said they want their institution contractually declared a sanctuary campus, among other protections for international students -- such as secured pay and funding during absences due to visa renewal delays. Decker, at Yale, said he and other students are seeking access to adequate mental-health care and attention to racial equity concerns.
Decker said he's been trying to address recruitment and retention concerns among minority graduate students with the administration for some time, "delivering petitions and filing grievances and giving speeches. Every time they speak up, they pretend they can't hear me or that I'm not there, and it's quite clear to me that I'm invisible. The only way to make sure they hear me is through formal negotiations and actually getting a seat at the table."
More from Labor & Unionization