You have /5 articles left.
Sign up for a free account or log in.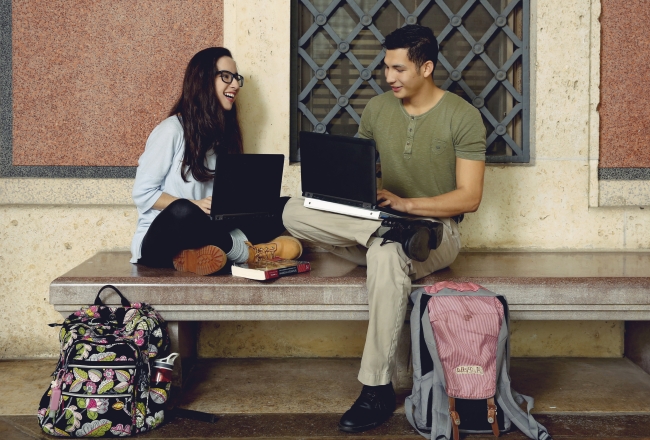 Michael & Susan Dell Foundation
An unusually structured new grant from the Michael and Susan Dell Foundation seeks to help eight colleges design a better pathway for community college students to earn four-year degrees.
The foundation is funding the nonprofit Education Design Lab to lead a one-year "design challenge" for four pairs of community colleges and four-year institutions to develop customized sets of proven interventions to get more transfer students to graduation.
The lab will choose the four sets of partner colleges from proposals submitted before August. The winners, who will have their costs covered by the foundation, must commit to a 30 percent increase in the number of entering community college students who earn bachelor's degrees within six years of their start at the two-year institution.
"It's really important to have, as one of the criteria for participation, a both urgent and bold desire on the part of the university and the community college to make a transformative difference, not just an incremental one," said Kathleen deLaski, Education Design Lab's founder and president.
Graduation data back up deLaski's assertion that transfer barriers are an urgent problem.
Roughly 80 percent of incoming community college students begin with the goal of eventually earning a four-year degree. Yet just 14 percent do so within six years, according to research from the Community College Research Center at Columbia University's Teachers College, the Aspen Institute and the National Student Clearinghouse Research Center. (About 38 percent earn either an associate or a bachelor's degree, the study found.)
In addition, many students who transfer from community colleges to four-year institutions struggle to bring their college credits with them. Four-year colleges often do not count transfer credits toward majors or reject them outright, which can be expensive and discouraging to students.
"Students and policy makers are really pissed off that the system is so inefficient," said Davis Jenkins, a senior research associate at CCRC who has contributed to the center's transfer research and to a "transfer playbook" CCRC and Aspen released last year.
The low four-year-degree completion numbers for community college transfer students helped convince the Michael and Susan Dell Foundation's leaders to create the challenge grant, said Todd Penner, a portfolio director for the foundation who oversees its college success portfolio, which includes a four-year scholarship for lower-income students.
"When you look at the magnitude of that problem and the gap between expectations and reality," Penner said, "there's a huge need, a huge opportunity here."
The goal of the grant is for participating colleges to create "seamless" transfer pathways.
The eight selected institutions will work with the Education Design Lab on those pathways for a year, with a planned start time for a cohort of students in fall 2018. The process will include three national gatherings and three campus design sessions for up to 30 college officials. In addition, each team will get a coach and access to national experts on transfer pathways and related issues.
The foundation will pick up all those costs. It also will pay for outside evaluators to monitor progress throughout the process. That includes a final measure of how the colleges stack up on the goal of increasing the number of entering community college students who earn a four-year degree by 30 percent.
To be considered for the project, partner colleges must have an established transfer articulation agreement in place as well as a track record for innovation, the lab said. But deLaski said the grants will be aimed more at "aspirational" partnerships than at institutions that are at the forefront of community college transfer, such as Florida's Valencia College and the University of Central Florida, which is widely considered to be one of the nation's strongest transfer partnerships.
Likely areas of emphasis during the design work, deLaski said, will include reverse transfer agreements, the guided pathways approach, apprenticeships and developmental education in STEM fields.
"There is a lot of good work out there -- lots of established practices," she said. "We're excited about helping this group think about the learner in a more holistic way."
Penner acknowledges that a 30 percent degree-attainment bump may not happen for some of the participating institutions. But he said there should be lots of indirect benefits from the work, which will be shared publicly in the hope that it will be replicable and scalable for many colleges. Likewise, he's confident that the transfer project will make a difference on participating campuses.
"Even if they get half the target, it still would be a substantial number of students," said Penner.