You have /5 articles left.
Sign up for a free account or log in.
Edward W. Said, the late professor of English at Columbia University and noted literary critic credited with helping found postcolonial studies, was a prominent advocate for the Palestinian people. So it makes sense that finalists for the new Edward Said Professorship in Middle East Studies at California State University at Fresno might be interested in Palestinian issues; indeed, the job ad circulated this fall listed preferred qualifications as including "active scholarship in the candidate's area of expertise with a special focus on Edward Said's intellectual legacy."
Despite settling on a group of finalists for the position who met that criterion and others, Fresno State has canceled the job search for this year, saying it will try again in 2018. The university cites unspecified procedural errors in the current search. But some scholars are crying foul -- saying the move was influenced, in part, by pressure from individuals and groups dissatisfied with candidates' Middle Eastern backgrounds and Palestinian research interests.
Beyond carrying out Said's legacy on campus, the eventual assistant professor was to help lead the Middle Eastern studies program. And the program's leadership was thrust further into question this month when the current director resigned in protest of the canceled search. In a resignation letter released for public circulation, Vida Samiian, a professor of linguistics and former dean of the College of Arts and Humanities, called procedural justifications for the cancellation "pretext" for discrimination against the candidates.
"By closing the search, the administration carried out the vicious and discriminatory attacks launched by Israel advocacy groups against the search committee and the four finalists who were of Middle Eastern and Palestinian ethnicity," Samiian's letter said. It asked why the administration waited until the end of the search, after the anthropology department already had unanimously voted to house a finalist, to raise procedural concerns -- namely how search committee members were selected -- and halt it.
Concerns of any real consequence should have been raised much earlier in the process, Samiian wrote, and dealt with accordingly. Instead, she says, they were used to stifle a process that had become politically contentious for the administration -- and rather than stand up for academic freedom, it buckled.
"To understand what really happened, we have to look at the facts," Samiian said. "These finalists were, appropriately, Middle Eastern Americans, and their research focused on the region, in particular Palestine. [It] was then that a documented campaign of harassment and intimidation of search committee members began by Israel advocacy groups to influence and derail the outcome of the search and, if possible, prevent it from moving forward."
Samiian detailed a handful of interactions between search committee members and -- less than outside groups -- other unnamed colleagues on campus. One allegedly asked before finalists' on-campus lectures, "Why should I come to listen to a talk about Palestine and Lebanon?" In another instance, Samiian said, a colleague wrote to a committee member, "I wonder if you know how concerned the Jewish community is on campus and outside about the finalists for the Middle East search. Could you share with me the deliberations of the search committee?"
Another committee member allegedly was harassed by a retired professor who criticized the ideological orientation of some of the finalists. Samiian said the retired professor referenced the Canary Mission website, which lists supposedly anti-Israel and anti-Jewish academics, including those involved in the boycott, divestment and sanctions movement.
Guessing that the administration had received additional communications, Samiian said, "Such comments and interferences are attacks on academic freedom, integrity of the search process and the principles of nondiscriminatory practice that we uphold in the academy. These were reported to the administration, but instead of addressing the discriminatory nature of these attacks, the administration carried out the request of the attackers and decided to close the search."
Lynnette Zelezny, Fresno State's provost and vice president for academic affairs, said in an emailed statement Tuesday that the search was called off "because of critical procedural errors in the search process," which is governed by policy adopted by the Academic Senate.
"When the university administration became aware of these procedural issues, the search was canceled to ensure a fair decision," she said. "The search will reopen in the spring of 2018. Applicants currently in the search process will be invited to reapply."
A university spokesperson said no additional details were available as to how the search strayed from policy.
The chair of the search committee, Partow Hooshmandrad, professor of music and Iranian studies, did not immediately respond to a request for comment.
A member of the committee who did not want to be named, given the confidential nature of the process, said members were told that next year's search will be limited to scholars of English and philosophy only. A university spokesperson said that, to her knowledge, a home department for the scholar has not yet been selected. But if the search is to be narrowed by discipline, it will eliminate a number of social scientists who study contemporary Palestinian issues.
Randa Jarrar, a Palestinian-American professor of English and Middle Eastern studies at Fresno State, shared via email a letter she'd sent administrators, asking them to stand up for academic freedom as their predecessors had in controversies of the past.
"Please, consider reinstituting this search and completing it with the current hiring committee," she wrote. "Please, do not allow censorship to win. Please, continue CSU's tradition and show students and faculty of all backgrounds that you do not condone racial profiling of candidates, that you support freedom of expression and that we at CSU allow all views to be heard. Any other outcome will be unfair to the finalists in the search, will alienate faculty like myself and will severely damage our campus's reputation across the world."
Middle East studies scholars outside Fresno State weighed in on the controversy on social media, with some comparing it to the Steven Salaita case at the University of Illinois. Salaita, whose tenured professorship was canceled over concerns about the tone of his anti-Israel tweets, apparently agreed.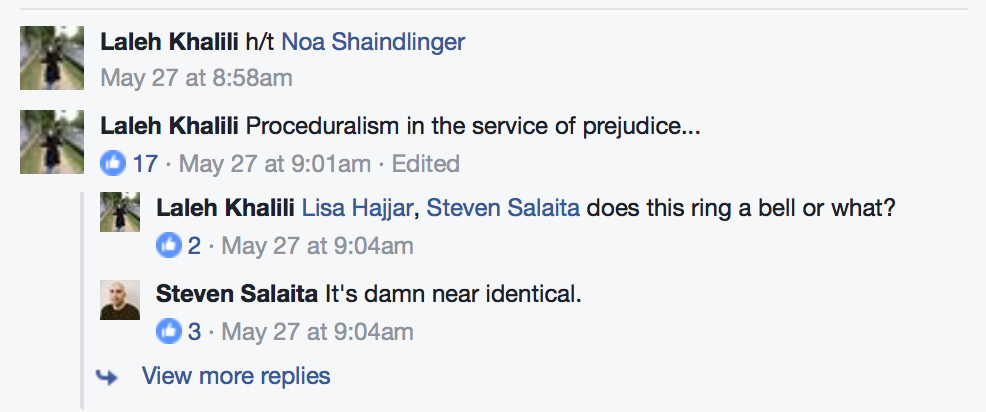 Laurie Brand, Robert Grandford Wright Professor and Professor of International Relations and Middle East Studies at the University of Southern California and chair of the Middle Eastern Studies Association's Committee on Academic Freedom, said the committee's North American wing is looking into the case, "both gathering any relevant written materials and trying to talk to people involved."
Other scholars started a petition "in defense of Palestinian scholarship" at Fresno State, urging it "in the strongest terms to immediately reinstate the search, apologize to the Middle Eastern studies program, and publicly state [its] commitment to upholding academic freedom."
Madhusudan Katti, an associate professor of leadership in public science at North Carolina State University who until last year worked at Fresno State and was a member of its Academic Senate's Executive Committee, on Twitter shared his concerns about academic freedom at his former campus. He said via email that he knew Samiian to stand up for faculty rights, and linked the stalled search to another recent flap over academic freedom at Fresno State. In that case, a non-tenure-track professor of history had his classes canceled after he tweeted that President Trump "must hang." That professor has since taken paid leave.
"The situation disturbs me because of the apprehension we all seem to increasingly feel in universities about a growing climate of intolerance where our academic freedom is under threat," Katti said. "This is not unique to Fresno State, and I know that especially when it comes to scholars questioning policies of the state of Israel, they often face vehement pushback on many campuses in the U.S."
The Canary Mission did not immediately respond to a request for comment on social media. Samiian did not return requests for comment.
More from Academic Freedom