You have /5 articles left.
Sign up for a free account or log in.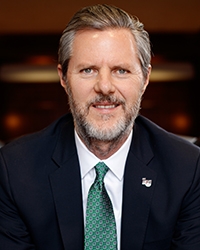 In the months since Liberty University President Jerry Falwell Jr. said in January that he would be leading a presidential task force on higher education, the announcement went unacknowledged by the White House and the Department of Education, and few details have been forthcoming.
Now it appears that a Falwell-led task force won't be materializing at all. Politico reported Thursday that multiple sources said there is no task force and no plan to launch one.
Falwell, one of President Trump's earliest supporters, had promised that the task force would deal with federal regulation of colleges and universities as well as accreditors. He said he announced the enterprise after getting the green light from Steve Bannon, Trump's chief strategist. Many higher education leaders, including some who are critical of the Trump administration and not particularly close to Falwell, have praised the idea of simplifying or eliminating some regulations of the sector.
In a statement through the university, Falwell indicated that he would still be involved in a White House task force dealing with education.
"The White House contacted me last week and asked me to be a part of a group of 15 college presidents to address education issues," he said. "This is a White House task force and not a Department of Education task force."
Trump last month gave the commencement address at the Liberty campus in Lynchburg, Va. But his speech notably left out any mention of a task force.
While no announcements of the Falwell task force have been forthcoming, the department appears poised to conduct an  in-house review of regulatory policies. In February, the White House issued an executive order directing all federal agencies to set up a "regulatory reform task force" to identify rules for potential elimination.
Asked by Senator Lamar Alexander during a Senate subcommittee hearing this week about her plans to pursue regulatory reform of higher ed, Education Secretary Betsy DeVos said the department is on its way to carrying out recommendations of a 2015 report produced by the bipartisan-appointed Congressional Task Force on Federal Regulation of Higher Education. DeVos added that the recommendations in that report, which was produced by a panel of 16 college presidents, "coincide" with the aims of the president's executive order.
A department spokesman said the department is unaware of the White House making any announcement of a Falwell-led task force and would therefore have no comment to make.