You have /5 articles left.
Sign up for a free account or log in.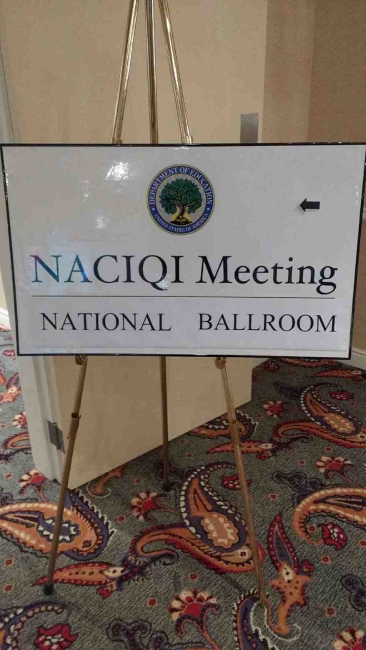 WASHINGTON -- The Southern Association of Colleges and Schools and the Distance Education Accrediting Commission just happened to be the two agencies whose turn it was to appear before the federal panel on accreditation that met here Tuesday.
It hardly mattered, though, as the discussion before the National Advisory Committee on Institutional Quality and Integrity had relatively little to do with the two agencies' actual performance or perceived failings (with a couple of exceptions, including how the Southern accreditor responded to academic wrongdoing at the University of North Carolina at Chapel Hill).
Rather, members of the panel mostly raised systemic issues that reflected the general view that accreditors are not doing enough to push colleges to graduate more students and improve their postgraduation outcomes.
With the Education Department's acting under secretary on Tuesday passing up a chance to signal what the Trump administration's incomplete, interim team of leaders wants to do about higher education quality assurance, the committee's questions are all that tea-leaf readers have to go on right now in gauging what the executive branch, at least, has in mind for accreditation.
The federal accreditation panel, known as NACIQI (nuh-SEE-kee), has for more than a decade now been a surprisingly important locus of federal higher education policy making. Ever since then Education Secretary Margaret Spellings decided in the mid-2000s to use the process by which the federal government recognizes the peer-governed quality improvement agencies to try to drive change in higher education, the twice-yearly meetings at which NACIQI assesses the performance of accreditors have often signaled the priorities of the powers that be in Washington.
Under President Obama, the panel, echoing an Education Department that contemplated creating a rating system to hold colleges accountable, ramped up pressure on accreditors to assess colleges based on student outcomes, to general dismay from higher education leaders.
The first NACIQI meeting of the Trump era was in February, less than a month after the new president was sworn in, and most of the work had been done by the Obama administration. None of the panel's members (who are on staggered six-year terms, appointed by the executive branch and Congress) are Trump appointees.
Many accreditation watchers looked to Tuesday's meeting as the first that might show some impact from the new administration, which has made noises about deregulating higher education and other sectors. The meeting featured introductory remarks from Jim Manning, the acting under secretary -- but he offered only brief platitudes about the importance of the committee's work for the nation's students and said Education Secretary Betsy DeVos "values this body's collective knowledge."
If colleges and accreditors were hoping that NACIQI members themselves might ride the deregulation wave and pull back, they were disappointed.
The Education Department staff gave the first accreditor up for review, the Distance Education Accrediting Commission, a clean bill of health and proposed giving it five full years of recognition. But that didn't stop several of the panel's members from raising a series of concerns, echoing several third-party comments and a critique by the Center for American Progress.
Most of the heat came from two members who have been the steadiest critics of accreditors in recent years, Anne D. Neal of the American Council of Trustees and Alumni and Simon J. Boehme, a student member of the advisory committee.
Neal blasted the accrediting commission for setting too low a bar for when to give increased scrutiny to colleges with low graduation rates, accusing the agency of setting its own standard far below the average federal graduation rate. Officials from DEAC made the case that she was inappropriately judging its members, most of which have many more part-time and adult students than the full-time, first-time students on which the federal graduation rate is based, triggering a commonly heard discussion in higher education policy circles about the inadequacy of much federal data about student and college outcomes.
Boehme noted that the distance education commission accredited institutions with "among the highest number of complaints" from veterans and military service members. While DEAC officials did not dispute the fact that five of its accredited members had been identified as such by federal agencies, they noted that the actual numbers were not high: "There were two complaints out of 10,183 students with the GI Bill at Columbia Southern [University]," Leah Matthews, the commission's executive director, said in response to Boehme.
The Southern association, the second largest of the regional accrediting agencies, was next up, and several members of the panel (including its chairman, Arthur Keiser of Keiser University) recused themselves because SACS accredits their institutions.
The Education Department staff's assessment of SACS found mostly minor procedural flaws, but committee members (again, mostly Neal and Boehme) pressed much harder.
Listing SACS-accredited institutions with poor graduation rates (echoing a 2015 Wall Street Journal article that called accreditors the watchdogs that "rarely bite"), Neal said she worried that the "federal government is pouring millions of dollars into colleges and universities that are not performing," and that accreditors like SACS may not be a "reliable authority on educational quality." Boehme made much the same point about SACS institutions with poor student loan repayment rates.
Those persistent advocates for accreditors to set firm floors in holding colleges accountable were joined in this line of questioning from a surprising source: John Etchemendy, the former provost at Stanford University, which itself has a history of bristling at efforts by accreditors to hold colleges like it accountable.
Etchemendy, now a member of the federal advisory panel, said he was "on Anne's side on the importance of something like bright lines" on certain metrics. "Perhaps we should be demanding [certain] graduation rates -- not necessarily the same for every institution, but maybe the same for different types of institutions," Etchemendy said. "If an institution is not achieving that, then perhaps the institution needs to work harder with those students to help them get through. We have an obligation not to bring in students who are going to fail."
Members of the audience responded to Etchemendy's comments with various iterations of "Easy for him to say given that Stanford accepts fewer than 5 percent of its applicants."
And several panel members bristled at the idea that setting minimum standards would be a panacea -- if it were even allowed, which it isn't under current law. Not only is there no legal requirement that accreditors set minimum standards, said Ralph S. Wolff, former president of the Western Association of Schools and Colleges' senior college commission, but current law "prohibits accrediting agencies from defining specifically what standards should be."
Wolff said he believed accreditors were dealing with a shifting landscape in which expectations for them were being ramped up while the laws and regulations that govern them lag. "This is an area where the quality of the conversation needs to be moved forward at a greater level of depth than a singular 'bright line,'" he said.
Belle S. Wheelan, the SACS president who is sometimes combative in such settings, said she and other accreditors were increasingly accepting responsibility for student outcomes -- and weren't waiting for the laws and regulations to change.
She noted that SACS and the other regional accrediting agencies agreed late last year to apply special scrutiny to those institutions with low graduation rates. "This is not something on which regional accreditors have focused, but we have begun to wholeheartedly, so that the tax dollars that both you and I pay for students to attend will benefit those students," Wheelan said.