You have /5 articles left.
Sign up for a free account or log in.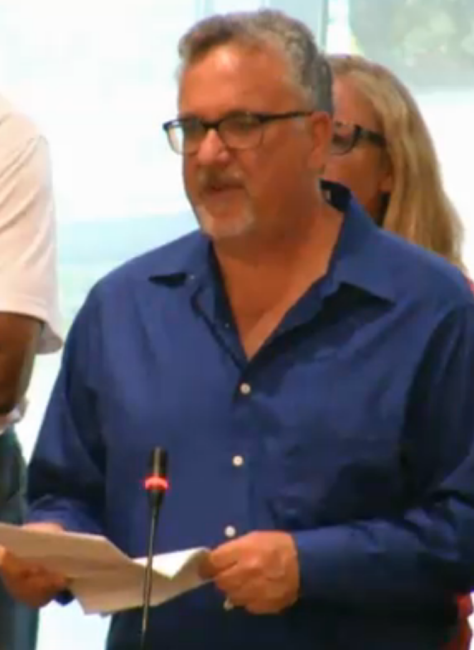 California State University, Fullerton, has reinstated a part-time faculty member it terminated this year after he was accused of hitting a student at a political rally. Various news websites and right-wing blogs reported that Eric Canin, a longtime instructor of anthropology, swung at the undergraduate during a Campus Republicans counterprotest of a pro-Palestinian event. But Canin and his supporters denied that he touched anyone, and the alleged blow was not included in cellphone video footage circulating online.
An earlier campus investigation found that Canin had grabbed a student's sign, struck another student and violated a university policy against harassing speakers -- though, again, there was no student video of the alleged assault, just before and after it was said to have occurred. Cal State's tenure-line and non-tenure-track faculty union, the California Faculty Association, challenged the university's decision to fire Canin, and an independent arbitrator was eventually assigned to the case. (That's after a uniformed police officer hand delivered Canin his termination letter at home, he said.)
The arbitrator decided that Canin should be reinstated but still subject to a two-month unpaid suspension for a momentary lapse in judgment -- namely attempting to grab a sign. (He continues to deny that charge.) But the arbitrator found no evidence that Canin engaged in a fight or tried to hurt anyone. Contrary to a university claim, the arbitrator also found that Canin was not claiming to speak for Cal State when he identified himself as a professor to the protesters.
Canin spoke publicly about his case for the first time Tuesday, at a meeting of CSU's Board of Trustees and in a subsequent interview with Inside Higher Ed. He and other professors asked the board to safeguard academic freedom and faculty rights in what Canin called "a heated political climate."
"My colleagues and I are trying to focus on teaching and research and our students," he told the board, but "now, more than ever, we are teaching in a time of fear. This must change … You need to protect your employees from these unfair assaults on our freedom to teach and our students' right to learn."
Canin was referring to a number of recent calls for the dismissal of and threats against faculty members engaged in work and conversations on contentious topics. His case echoes, somewhat, that of Johnny Eric Williams, an associate professor of sociology at Trinity College in Connecticut; Williams was first put on involuntary leave for his online comments about race but then cleared of wrongdoing, following a university investigation.
Canin's case differs from Williams's, of course, in that he does not have tenure, and adjuncts elsewhere have been terminated -- permanently -- for controversial comments.
Reached via telephone, Canin said his case speaks to the political moment in that a group of students created the "alternative fact" that he hit one of them. Colleges and universities must double down on their mission to educate students and promote rational, nuanced discussions, he said, rejecting suggestions by some that he pursue legal action against them (Canin was put in a headlock by a student). He also warned against simple left-right, conservative-liberal explanations for the recent campus culture wars, saying the real threat was authoritarianism of any kind.
"When the incident happened, nobody really stopped, especially the students, to ask themselves whether what they said happened actually happened," he said. "The College Republicans put it online, and soon Breitbart had it and The Washington Times and other right-wing media, without a shred of evidence. It's a simple yet sophisticated use of media … and this is not an isolated incident."
What Happened
The Fullerton incident happened in early February, when political tensions on many campuses were high in light of President Trump's recent inauguration. Canin, on campus to teach a class, was walking beside the Republicans and stumbled over a bike rack. Some of what occurred remains in dispute, but witnesses recalled Canin heckling the protesters, them laughing at him after his tumble, Canin attempting to grab a protester's sign, arms flailing and a protester being hit in the face with an open hand. Canin was restrained by a College Republicans protester. The student who was allegedly struck declined to press charges and said he was not hurt. Canin has said that if he was grabbing at anything, it was to break his fall.
Throughout arbitration, the university argued that the preponderance of evidence, including student testimony, showed Canin had engaged in unprofessional conduct. But the faculty association argued the university failed to meet its burden of proof of intentional misconduct -- especially to terminate a teacher of 20 years who colleagues said was dedicated to students and nonviolent protest. Moreover, CalFac argued, the university could not have conducted a fair investigation since it sent out a tweet condemning violence the day after the incident.
The arbitrator's decision is final and binding, as stipulated under the union contract. The president of Fullerton's College Republicans did not immediately respond to a request for comment.
Fullerton said in a statement Tuesday that it had been pursuing Canin's termination and noted that the arbitrator "concurred with the university's investigation in finding that Canin acted improperly."
The university "will continue to vigorously support the free and open exchange of ideas on our campus," it said, adding that it's "unacceptable to respond with violence to speech with which we disagree."
At the board meeting, Jennifer Eagan, a professor of philosophy at Cal State, East Bay, and president of CalFac, said she and her colleagues were proud to support Canin "in a troubling world where the truth is called fake and the right is targeting colleges, universities and university professors."
Most professors are far from being "fictional heroes" in the style of Indiana Jones, she said, but they do "take the risk to tell the truth that some people don't want to hear." They take "unpopular positions on principle and with evidence," she said, citing climate scientists and librarians who fight for access to information as examples.
Academic freedom is central to all of that work, Eagan said, expressing disappointment with Fullerton for rushing "to terminate a faculty member without properly weighing the evidence." There are forces mobilizing "not only against the faculty," she said, "but against truth, and the very principles of the university."
Canin will return to teaching in the fall.