Sikh Scholar Harassed Over Photo of Another Man in Turban
Conservative website used photo of someone else raising both middle fingers to Trump Tower.
Simran Jeet Singh, an assistant professor of religion at Trinity University in Texas and senior religion fellow for the Sikh Coalition, faced a torrent of hate messages on social media this week after Campus Reform ran a story claiming he'd once tweeted a picture of himself raising both middle fingers to Trump Tower in New York City. The thrust of the piece was that Singh was a problematic pick for leader of an upcoming Trinity webinar on "navigating hate and xenophobia in modern America," as someone who'd flipped President Trump's building the double bird and otherwise criticized him on social media.
Also problematic, however, is that Singh isn't the man in the picture: Campus Reform assumed that another man in a traditional Sikh turban was him. Singh did share the photo, but it's his brother, not him.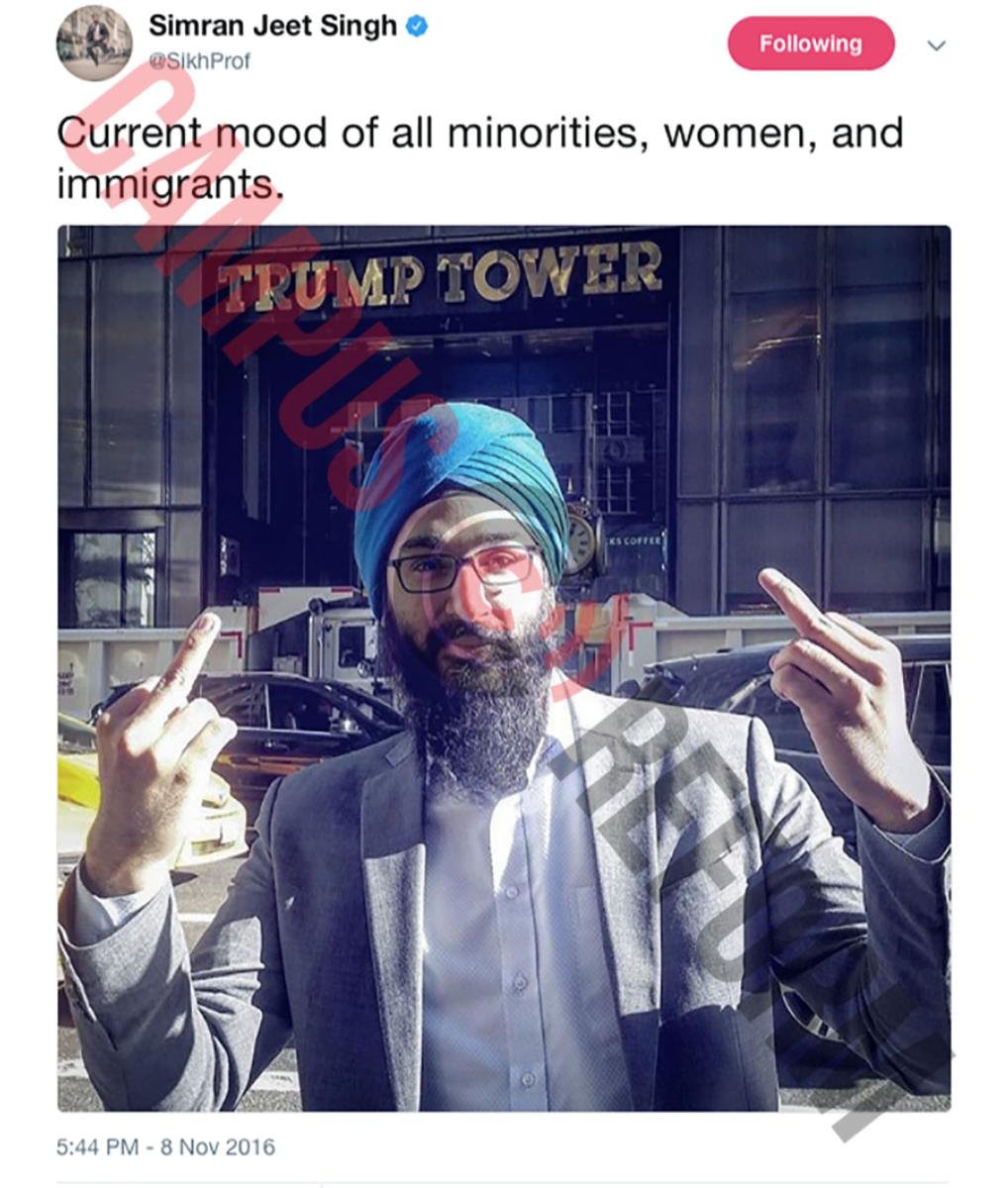 The image that is not the professor, as shown on Campus Reform, is at right.
The website reached out to Singh for comment, but he told Inside Higher Ed that he did not respond for fear that it would not be "constructive." A number of other scholars who have been threatened and otherwise targeted online recently link the harassment to reports about them on Campus Reform or other right-wing websites. Some of those scholars also allege such sites purposely sensationalize or misrepresent their statements on race or other controversial topics.
Campus Reform revised the story after Singh noted the error, but, again, not before he faced tweets, emails and Facebook posts calling him a "goat-humping" "raghead" who should go "back home" and worse. Singh said he hadn't faced any physical threats yet, but that he was aware there's a "real possibility of violence, especially in our current political context. Hate incidents are surging, and people who look like me are particularly vulnerable."
Trinity told Campus Reform that Singh is an award-winning professor who's been noted "for the work that he is doing to end racism and Islamophobia in the world. He has been the focus of a lot of hate and a lot of racist remarks and comments, and we've not had any complaints from our students about Professor Singh and the other things that he's been doing on our campus."
Singh said discussions about academic freedom and free speech on campus are becoming "increasingly contentious" and so raise concerns about the "balance of encouraging critical thinking and frankly acknowledging that hateful rhetoric has real, material consequences, which we are witnessing in the increased violence targeting Muslims and immigrants around the country." With that in mind, he said he was grateful to Trinity for having his "back in every single moment like this, and I wish that other universities would do the same for their educators."
Sterling C. Beard, editor in chief of Campus Reform, said the website is working to confirm the identity of the person in the photo, and noted that Singh did not respond to its original request for comment.
"None of this, of course, changes the fact that a professor who is lecturing on hate declared [on Twitter] that 'all Trump supporters tacitly condone racism,' told the president to 'kiss all of our asses' and [shared] a picture of a man flipping the bird to Trump Tower. We have no need to misrepresent his views, as we have no need to misrepresent any professors' views. They speak quite plainly for themselves."
Beard said that Trinity students who support Trump should be forewarned of Singh's "distaste" for them.
Calling Campus Reform's headline, "Prof Who Hates Trump Supporters to Lecture on 'Navigating Hate,'" irresponsible, Singh said he doesn't hate Trump supporters, "nor have I ever said that I do." Addressing accusations that he's "teaching hate," Singh said he's attempting to "demonstrate injustice, to explain functions of systemic oppression and to insist that we do not ignore the very real violence of our current political climate. This is not teaching hate. This is teaching from the heart, with love and justice and service all wrapped up together."