You have /5 articles left.
Sign up for a free account or log in.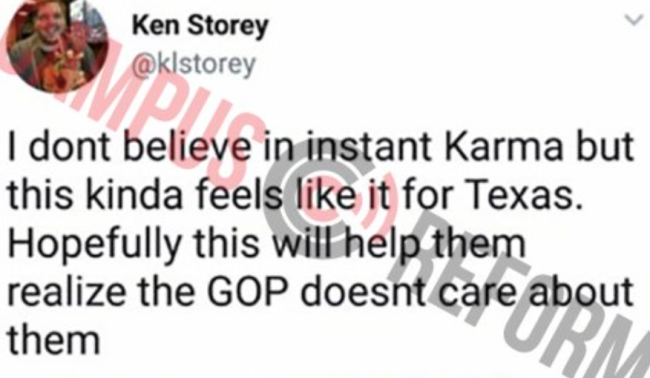 Reverse karma or flagrant violation of academic freedom? It depends on how you look at the University of Tampa's termination of an instructor who said that Hurricane Harvey was payback for Texans' support for President Trump.
"I don't believe in instant Karma but this kinda feels like it for Texas," the visiting assistant professor of sociology, Kenneth Storey, wrote on Facebook Sunday. "Hopefully this will help them realize the GOP doesn't care about them."
In response to some immediate criticism from a follower, Storey wrote that "the good people there need to do more to stop the evil their state pushes. I'm only blaming those who support the GOP there." Of Florida, he added, "those who voted for him here deserve it as well."
Storey later deleted the tweets, but the right-wing website Campus Reform published screen shots of them. Storey's critics grew in number and pitch and called on social media and elsewhere for Tampa to fire him.
On Tuesday, Tampa released a statement saying Storey "has been relieved of his duties," and that his classes will be covered by other sociology professors.
Tweets on Storey's private account do "not reflect [Tampa's] community views or values. We condemn the comments and the sentiment behind them, and understand the pain this irresponsible act has caused," the statement reads. "As Floridians, we are well aware of the destruction and suffering associated with tropical weather. Our thoughts and prayers are with all impacted" by Harvey.
Storey did not immediately respond to a request for comment. According to his social media, he's been teaching at Tampa for six years. He also teaches at Hillsborough Community College, and his job there is still safe. For reference, Hillsborough is a public institution while Tampa is not.
Hillsborough also released a statement on the matter Tuesday saying, in part, that as the "comments were posted on a private social media account unaffiliated with HCC and not on behalf of HCC or in Storey's capacity as an HCC adjunct instructor, we are limited in our ability to take action. We have, however, addressed the matter with the instructor and reinforced the ideals by which HCC operates as a public institution of higher education … We abhor and strongly condemn the intolerance conveyed towards those suffering in Houston as expressed in Storey's post."
The American Association of University Professors declined to comment on whether it had been contacted on behalf of Storey. But Hans-Joerg Tiede, associate secretary for academic freedom, tenure and governance at AAUP, said that widely followed, association-backed procedures for dismissal during the course of a faculty appointment don't change based on tenure status.
"We would expect a visiting faculty member, a tenure-track faculty member or a tenured faculty [member] to receive a faculty hearing prior to a dismissal," he said, noting that AAUP last year censured the University of Missouri at Columbia for unilaterally terminating Melissa Click, a former assistant professor of communications there.
A spokesperson for Tampa said faculty members were involved in the decision to terminate Storey, but he declined to elaborate, saying it was a private personnel matter. Tiede said the short timeline between Storey's tweet and his dismissal made a hearing before a faculty body unlikely.
Ari Cohn, a program director for the Foundation for Individual Rights in Education, called Tampa's action "an assault on the expressive rights of faculty members."
The university "promises faculty members academic freedom, including the very explicit right to speak as a private citizen," Cohn said. "Storey did just that, tweeting about contemporary politics in relation to contemporary events. He did it in a way that many people found distasteful, but it was well within his rights."
For the record, Tampa's Faculty Policies and Procedures Handbook includes the AAUP's Statement of Principles on Academic Freedom and Tenure. It says, in part, that "College and university teachers are citizens, members of a learned profession, and officers of an educational institution. When they speak or write as citizens, they should be free from institutional censorship or discipline, but their special position in the community imposes special obligations."
As scholars and educational officers, it says, "they should remember that the public may judge their profession and their institution by their utterances. Hence they should at all times be accurate, should exercise appropriate restraint, should show respect for the opinions of others, and should make every effort to indicate that they are not speaking for the institution."
Citing similar controversies in which untenured professors elsewhere have recently lost their positions for public comments about controversial matters, Cohn said they point to a trend: "Some outrage mob pops up on the internet and decides that it's offended." And administrations are increasingly capitulating to their demands, he said.
Yet institutions err in thinking that firing a professor will spare them from a public relations disaster, since piling a free speech debate on top of a faculty controversy only adds fuel to the fire, he said. "It burns longer."
Cohn instead advised institutions to use their own rights to free expression to distance themselves from professors' public comments, if necessary, while affirming faculty members' rights to the same -- something like the Hillsborough statement.
That's also how Clemson University recently handled public complaints about Bart Knijnenburg, an assistant professor of human-centered computing who on Facebook called Republicans "racist scum" for their direct or indirect support for Trump. "I admire anyone who stands up against white supremacy," Knijnenburg wrote. "Violent or nonviolent. This needs to stop, by any means necessary. #PunchNazis."
In a joint statement about Knijnenburg, James P. Clements, Clemson's president, and Amy Lawton-Rauh, Faculty Senate president and associate professor of genetics and biochemistry, said, "Situations like this can severely test our belief in the guarantees of free speech provided by the Constitution."
Speech "that may be protected by law," they wrote, "but which is hateful, mean-spirited or casts aspersions on an entire group of persons is not consistent with our values or how we should strive to conduct ourselves at Clemson."
Cohn said that such statements not only preserve a sense of academic freedom but also "teach students that the best way to respond to speech you don't like is through more speech."
Like it or not, he added, faculty members are hired to engage with the public in challenging ways.
Cohn attributed some of the difference in Clemson's and Tampa's responses to similar incidents to the fact that Clemson is public and therefore vulnerable to First Amendment violation lawsuits. Tampa is more protected from such claims.
The most important thing for faculty members to keep in mind in the current political climate, Cohn said, is that "it's really important for them to stand up for each other's rights. If you agree with your colleagues' right to free expression and the Twitter mob is assembling to get them fired, stick up for their right to speak their mind."
One day, he added, "you will be the person who offends someone and the Twitter mob will come for you."