You have /5 articles left.
Sign up for a free account or log in.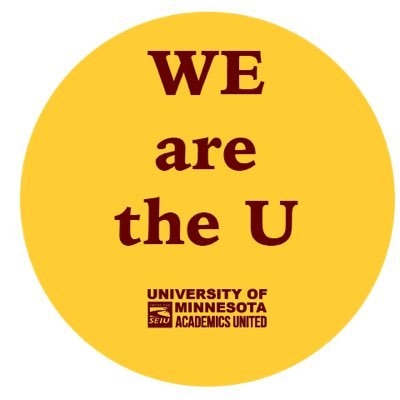 Non-tenure-track faculty members at the University of Minnesota Twin Cities may not vote to join a union along with their tenure-track and tenured colleagues, a state appeals court said Tuesday. That's despite an earlier decision from state mediators saying that adjuncts now have enough in common with tenure-line professors to bargain collectively alongside them.
The university praised the appeals court's decision. But the would-be union, which is affiliated with Service Employees International Union, immediately criticized the opinion and the university position it reflects.
"At a time when tenure-track positions are decreasing in number, and contingent faculty positions and upper-level administrative jobs are increasing," the union steering committee said in a statement, "the university administration's efforts to fight against the faculty coming together to improve working and teaching conditions fly in the face of its stated mission to provide a quality undergraduate education for its students."
Calling the university's arguments against a shared unit "anachronistic," and a "deliberate misinterpretation of what campus faculty do," the committee said they're based on a "fundamental disavowal of the value of our contingent colleagues' teaching, research and service to our campus community."
There is disagreement among adjunct faculty advocates as to costs and benefits of being in a general faculty union. Some say adjuncts fare better in terms of pay and benefits when they and their tenure-line colleagues present a united front during contract negotiations, while others say unions historically defer to the interests of tenured professors. Those in the latter group tend to note that on many campuses, adjuncts are supervised by tenured professors.
The Minnesota decision is nevertheless a blow to adjuncts' unified message that their work is as essential to educating students as that of their tenured colleagues. It also contrasts with some other states' laws on the matter; the California Faculty Association, for example, represents all faculty members across the California State University system, on the tenure track and off.
Existing Minnesota labor law puts academic professionals and instructors in two different bargaining units. So last year, SEIU submitted a petition to the state Bureau of Mediation Services saying that Twin Cities' adjuncts' on-campus roles had changed so much over time that they merit placement in the same bargaining unit with ranked instructors, which by law also includes research fellows.
The bureau held a pretrial hearing and found that lecturers, senior lecturers, teaching specialists and senior teaching specialists weren't ever definitively assigned to a collective bargaining unit. After another, 13-day hearing, the bureau determined that non-tenure-track faculty members shared enough of a community of interest with tenure-line instructors to be included in their unit. But the university appealed, saying that the non-tenure-track professors lacked the "rank" associated with placement in the instructors' unit.
The appeals court first disagreed with the mediation bureau in finding that adjuncts were already legally classifed as "academic professional and administrative staff" not included in an instructional, supervisory, clerical or technical bargaining unit.
Moreover, it found, "their classifications had not been significantly modified" over time. That's despite witness testimony that the university employs increasing numbers of adjuncts and a 2005 policy statement from the university's Board of Regents that academic professionals "may be engaged in teaching, research, service and a wide variety of other" university functions. (The statement updated an earlier regents policy limiting academic professionals to those not engaged in full-time teaching and scholarship, or those "assigned to duties enhancing the research, teaching and service functions" of the university.)
"To show a substantial modification in occupational content, SEIU was required to demonstrate not just a growth in numbers, but a significant change in the occupational duties performed by these employees," reads the three-judge panel's opinion, written by Judge Lucinda Jesson. 
While at least one professor testified that academic professionals who are not faculty in the legal sense are "teaching some advanced courses and participating in faculty meetings," Jesson said, "he indicated that the main difference had been in their use and hiring on indefinitely-renewable contracts, rather than in their assigned duties."
Other witnesses also pointed to "significant growth" in the hiring of adjuncts by the university, she said, but "increased use of these professionals as a budget tool to alleviate funding issues at the university does not change the nature of their job duties."
The MN Academics United steering team said in its statement that it's disappointed in the decision. The previous bureau decision, it said, "was the more accurate assessment of faculty labor on our campus" and one reached after a "thorough and thoughtful process including meetings of the parties, lengthy hearings and extensive legal arguments."
The committee stands "firm in our belief that contingent faculty and tenure-track faculty necessarily share a community of interest," members said. "The university administration's position is driven by backwards priorities that value administrative prerogatives over intellectual excellence and student learning."
The union did not rule out an appeal to the Minnesota Supreme Court and said it will continue to advocate for students and colleagues.
Kathy Brown, vice president of human resources at the university, said in a statement that the ruling essentially means lecturers and teaching specialists won't be able to vote with tenured and tenure-track faculty in an upcoming union election.
"We are pleased with the Court of Appeals decision because it is consistent with the state law's definition of our faculty bargaining unit," she added.