You have /5 articles left.
Sign up for a free account or log in.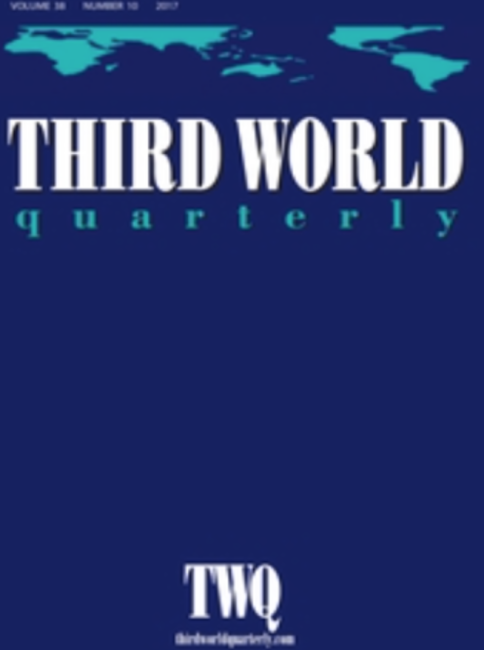 Bruce Gilley's eyebrow-raising essay in favor of colonialism has been scrubbed from the scholarly record, but not for any of the reasons cited by its critics. (Among them: that it was historically inaccurate, that it ignored the vast literature on colonialism and colonial-era atrocities, that it was rejected by three peer reviewers, and that Gilley himself requested it be pulled.)
Rather, the article has been withdrawn because the editor of Third World Quarterly, the journal in which it appeared, has received credible threats of violence. That's according to a note posted online by journal's publisher, Taylor & Francis.
"Following a number of complaints, Taylor & Francis conducted a thorough investigation into the peer-review process on this article," the note reads. "Whilst this clearly demonstrated the essay had undergone double-blind peer review, in line with the journal's editorial policy, the journal editor has subsequently received serious and credible threats of personal violence."
The threats are linked with the publication of Gilley's piece, the statement says, and as the publisher, "we must take this seriously. Taylor & Francis has a strong and supportive duty of care to all our academic editorial teams, and this is why we are withdrawing this essay."
Third World Quarterly published Gilley's essay, "The Case for Colonialism," last month, prompting near-immediate criticism. Detractors charged that Gilley, an associate professor of political science at Portland State University, had selectively -- or at least insufficiently -- engaged the literature on colonialism to support his claims that those societies that have embraced their colonial legacies have fared better than those that haven't. Critics also rejected Gilley's argument for a limited return to colonialism in some instances.
"Aside from being wrong on the facts, articles like these merely perpetuate dubious justifications for U.S. military interventionism and long-term nation-building projects in distant lands with populations that resent foreign occupation," wrote Sahar Khan, a visiting research fellow in the libertarian Cato Institute's defense and foreign policy department, for example. "We should expect more from scholarly journals."
Some 15 members of Third World Quarterly's editorial board -- nearly half the body -- resigned amid the controversy, saying that in addition to the article's content, they objected to the publication process. Three separate peer reviewers had rejected the article, they said, so it remained unclear to them why the piece had eventually been published as an opinion-style essay anyway.
The journal's London-based editor, Shahid Qadir, said that the essay, like all articles, did in fact go through double-blind peer review. Yet soon even Gilley asked for the article to be withdrawn, saying in a statement, "I regret the pain and anger that it has caused for many people."
Taylor & Francis later said it was reviewing the matter in a "rigorous, methodical and measured way," according to guidelines established by the international Committee on Publication Ethics. Those guidelines don't prescribe one particular editorial process but do emphasize transparency in procedures. Through weeks of controversy, the publisher had not removed the article. Now that's changed.
Taylor & Francis did not immediately respond to a request for comment Sunday, but its most recent statement about the essay's withdrawal suggests that review process is complete. Yet the rationale for pulling the article has some concerned, since it seemingly legitimizes threats as a way of getting controversial journal articles withdrawn.
John K. Wilson, an independent scholar of academic freedom and co-editor of the American Association of University Professors' "Academe" blog, told Inside Higher Ed that academic misconduct within an article itself is the only reason to remove it from the scholarly record.
"There's a real danger when we give into death threats, whether it's canceling speakers or censoring publications," he said. "The obvious danger is to free expression. But it also creates a greater incentive to threaten, if people know that they can accomplish their goals by making a threat." People are actually less safe as a result of giving in to threats, he added.
Qadir, who, like Gilley, did not respond to requests for comment, is far from the only academic to face death threats for their speech or actions in recent months. Of that trend, Wilson said that colleges, universities and police departments "need to make a much more concerted effort to identify people who make actual death threats and prosecute them."
Death threats cause "serious trauma to the people who are the victims of them, and they have a severe chilling effect on free expression," Wilson added, "and colleges ought to devote serious resources to punishing them rather than spending hundreds of thousands of dollars on security every time a controversial figure comes on campus."
Peter Wood, president of the conservative National Association of Scholars, wrote in a post for Minding the Campus that more people have read Gilley's article as a result of the controversy than ever would have without it. Nevertheless, he said, the problem "lies in the successful deployment of professional opprobrium and actual threats of murder to kill the article. That success was ultimately aimed at ensuring that other scholars who dissent from the contemporary orthodoxy of anti-colonialism will keep their mouths shut."
He added, "It is further aimed at ensuring that generations of students will see no whisper of dissent from this orthodoxy in the published literature, and hear no hint of it from their instructors."
Calling many presidents who have responded to similar controversies concerning scholars on their campuses "feckless," Wood wrote that presidents tend to "offer a false equivalence between the right of a faculty member to say something 'controversial' and the spurious 'right' of other faculty members to threaten and intimidate that person. There is no such right."
In the context of academe, he added, "disagreement must be grounded in arguments and evidence, not in menace."
Calling on Portland State to implore Taylor & Francis to restore the article, Wood also suggested that deans and provosts match the names of potential faculty hires against the list of thousands of signatories to petitions against Gilley's essay.
"Signing such petitions, after all, is a public declaration of hostility to the very principles that the university say are 'bedrock,'" he wrote. "A candidate's name on such a petition at least raises a question of whether such a person is to be relied on to uphold the standards of a free intellectual community."
Responding to Wood in a blog post for "Academe," Wilson called his latter suggestion an "extraordinarily alarming and disturbing call for a blacklist … Professors should be judged on their academic credentials, not their political views (including whether or not they support someone's view of academic freedom)."
Farhana Sultana, an associate professor of geography at Syracuse University who helped organize one of the petitions for retraction, said via email she, too, has faced "considerable attacks and abuse for my involvement in this debate, so I empathize with the concerns regarding safety, and I fully condemn all threats of violence, targeted harassment and online bullying."
She added, "To reiterate, [the] aim of the petition was about upholding rigorous academic scholarly standards, integrity and ethics by the journal; it had nothing to do with curtailing the author's right to free speech. It should also not be associated with any threats to the journal's editor in chief or anyone else."
More from Books & Publishing