You have /5 articles left.
Sign up for a free account or log in.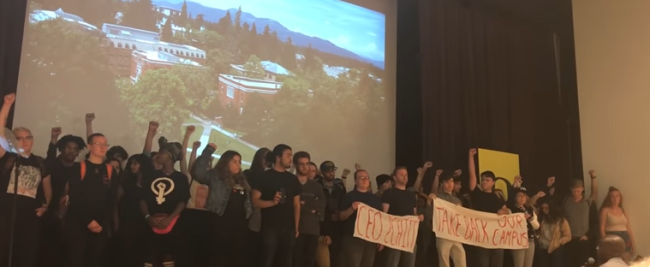 The University of Oregon is the latest higher education institution to have a major speech interrupted by protesters, with students -- including one with a megaphone and others with banners -- shutting down the State of the University speech Friday.
More than 1,600 miles away, officials at the University of Wisconsin are preparing to shift the balance of power if their university is faced with similar circumstances.
"Nothing about us, without us," video shows the students chanting. Signs read "Take back our campus" and "CEO Schill," a reference to university President Michael Schill.
The scene was similar to Virginia Tech's State of the University speech earlier this month, where the president was interrupted by students protesting against the university's employment of a graduate student accused of being a white supremacist. At the end of September, College of William & Mary students shouted down a speaker from the American Civil Liberties Union.
The students at Oregon did not have a cohesive message, The Oregonian reported, but rather expressed a wide array of grievances, including issues with tuition.
"We are no official, established group here at the University of Oregon, we are simply the students," Charlie Landeros, a student and organizer of the protest, told reporters Friday. "We're here because we believe that the university inherently belongs to the students, and over the years, the university has been taken away from us. We say no more."
The university said the protests crossed a line.
"The students are here exercising their right to free speech," university spokesman Tobin Klinger told The Oregonian. "It's unfortunate that the demonstration got to the point where it actually violated university policy in terms of demonstrations that hinder the university's ability to do its work and function -- and this was a formal function."
Protesters at Virginia Tech were escorted out by university security, which allowed the speech to go on. At Oregon, Schill -- who was to announce a $50 million anonymous gift -- had to take his speech to an online video after protesters effectively shut the event down.
The same day, however, the University of Wisconsin System Board of Regents passed a Republican-backed policy aimed at punishing students who disrupt campus speakers. Although the policy at the University of Wisconsin is aimed more at shielding outside speakers invited to campus, rather than university addresses, it's an escalation in the students-versus-administration battles of free speech that have dominated media coverage of higher education for the last year.
The policy at Wisconsin leaves no doubt that the board there wants to see significant punishments for students who disrupt speeches: students found to be "disrupting the expressive rights of others" twice are to be suspended, and those who are found to have disrupted a speech a third time are to be expelled.
Offending students are those who engage in "violent or other disorderly misconduct that materially and substantially disrupts the free expression of others."
Politically conservative students have complained in recent years about their speakers being heckled and interrupted during campus speeches. In some cases, speeches have been shut down before they even happen, with universities citing safety concerns.
Protesters, however, have argued that they also have free speech rights, including the right to protest. On top of that, some of the speakers invited -- such as Milo Yiannopoulos or Ben Shapiro -- have expressed blatantly bigoted, and some say dangerous, views, which fall far outside the mainstream. Protesters have said that those views do not deserve to be heard.
"Perhaps the most important thing we can do as a university is to teach students how to engage and listen to those with whom they differ," Wisconsin System President Ray Cross told the regents, according to the Associated Press. "If we don't show students how to do this, who will? Without civil discourse and a willingness to listen and engage with different voices, all we are doing is reinforcing our existing values."
Some, however, argued that the policy further suppresses free speech by punishing protests, and have accused the board of trying to win the favor of Republican lawmakers. The policy mirrors a GOP-backed bill in the statehouse.
Tony Evers, a Democrat running against incumbent Republican governor, Scott Walker, cast the only no vote against the policy, saying that it could put restrictions on protests that he said could be protected under the First Amendment. Walker, the AP noted, appointed all but two of the board's 18 members.
"This policy will chill and suppress free speech on this campus and all campuses," Evers said. Other Democratic leaders opposed the measure on the grounds that it was too broad and not defined narrowly enough.
It's not clear if protesters at William & Mary, Virginia Tech and Oregon have been, or will be, punished by their respective universities. Klinger, of Oregon, told Inside Higher Ed that it was too early to tell what, if any, punishment might be handed out, and the university was still reviewing the incident. William & Mary students were found to be in violation of the student code of conduct, though officials last week declined to specify what, if any, punishment there would be. A Virginia Tech spokesman said students were not punished since they left the speech when asked to do so. But Wisconsin's policy could pave the way for other boards to adopt similar policies.
"Who's going to show up to a protest if they think they could be potentially expelled?" Democratic State Representative Chris Taylor, whose district includes the University of Wisconsin, told reporters at a Thursday news conference on the policy.