You have /5 articles left.
Sign up for a free account or log in.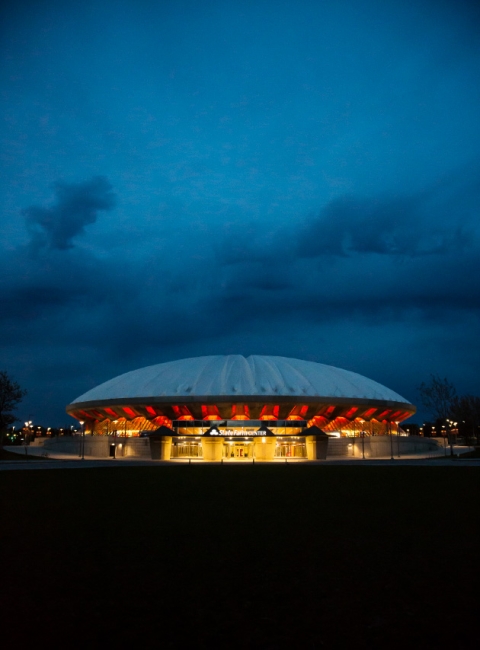 University of Illinois at Urbana-Champaign
It's a popular time to try to raise a few billion dollars.
Over the last few weeks, several public flagship research universities have announced multibillion-dollar fund-raising campaigns running into 2022. Another private research university said it is trying to raise $1 billion. Even some institutions without the size and reach to set targets in the billions of dollars are stretching their goals to record levels.
In the competitive world of higher education fund-raising, there is likely an element of one-upmanship at play in some of the cases. Often one university will try to raise at least a little bit more than its competitors did in their last campaigns, leading to an upward march in announced fund-raising goals. Plus, universities are always hungry for more money for a myriad of priorities.
But the recent spate of lofty announced goals is also likely being driven by other factors. Colleges and universities have gotten more serious about planning for major fund-raising campaigns over the years. Supply and demand have ratcheted up as well, with recent gains in the stock market leaving donors feeling flush and ready to give at the same time as many public universities are seeking ways to make up for stagnant or falling state support.
Combined, those factors have contributed to some eye-popping campaign targets.
The University of Florida on Friday launched the public phase of an effort to raise $3 billion by the fall of 2022. The same day, the University of Illinois at Urbana-Champaign publicly kicked off its campaign to raise $2.25 billion by the end of the same year. Those two announcements came a week after the University of North Carolina at Chapel Hill revealed that it is attempting to raise $4.25 billion over the next four years. While private universities have long sought and achieved billion-dollar totals, such lofty ambitions have been much rarer in public higher education.
At the end of September, the University of Wisconsin-Milwaukee announced a $200 million goal for its fund-raising campaign. That's twice the size of the goal for its last campaign, which aimed for $100 million but ultimately raised $125 million in 2008. The private Colorado College on Saturday launched a $435 million fund-raising campaign that will be the largest in its 143-year history.
Even some that aren't shooting for record-setting fund-raising are still talking about numbers with plenty of zeros at the end. Another private research university, Rensselaer Polytechnic Institute in upstate New York, kicked off a campaign on Friday that has a smaller goal than a $1.4 billion effort completed in 2008. Still, RPI is shooting for a gaudy $1 billion.
Experts warn against attributing the recent glut of big-dollar goals to current conditions.
"It's hard to point to a causal factor," said David Bass, senior director of research at the Council for Advancement and Support of Education. "What you're seeing with these announcements is the culmination of years, literally, of very careful planning, analysis and consensus building."
That includes planning for a particular campaign, as colleges and universities spend years conducting market research, reaching out to wealthy donors and operating in silent phases before they ever publicly announce fund-raising campaigns. It also includes prior campaigns themselves.
A single public fund-raising campaign is not just about raising money immediately, Bass said. It is also about cultivating donors for future campaigns.
"What you're seeing is not what's going on right now but is the compounded returns of previous campaigns and sustained investment in fund-raising," he said.
Even so, current conditions can have an impact on campaigns that are being announced. The wealthiest donors, those whose gifts are key to these campaigns, tend to be more willing to give when the stock market and the economy are strong. So if the last year's stock market surge has helped donors forget the angst they felt in the years after the Great Recession, fund-raising is likely benefiting.
As a result, some colleges and universities might announce their campaigns earlier. Or they might be able to announce larger goals than they originally planned.
"Anecdotally, I've heard a lot about it, and it's not surprising," said Ann E. Kaplan, director of the Voluntary Support of Education Survey and data miner for the Council for Aid to Education. "Now that the stock market has not only recovered but has started performing quite well, it probably would speed you toward the end of your silent phase and toward announcing."
The Council for Aid to Education tracks payments of gifts but not fund-raising campaign announcements. New batches of large gifts could indicate a departure from recent trends CAE has tracked -- it found a slowdown in the growth of charitable giving to colleges and universities in the fiscal year ending in June 2016. Giving to colleges and universities grew 1.7 percent, to $41 billion, that year, a much lower growth rate than 7.6 percent between 2014 and 2015. (The organization is still gathering data for the most recent fiscal year ending in June 2017.)
More recently, numerous examples of large gifts to both public and private institutions have surfaced. On the private side, the University of Chicago announced a $75 million gift to its Booth School of Business. Oglethorpe University in Atlanta announced a $50 million gift that is the largest in its history. Kenyon College in Ohio announced a $75 million gift, also the largest in its history. Boston University is receiving a $115 million gift for interdisciplinary research.
Among public institutions, the University of Hawaii recently received a cash and real-estate donation valued at $117 million, and the University of Maryland at College Park announced a $220 million gift from a foundation. The University of California, Irvine, announced a $200 million gift, although it has been criticized as giving sway to donors who advocate for junk science. (University officials have responded that the gift will fund evidence-based teaching and treatment.)
Announcements of large individual gifts aren't the same thing as announcements of fund-raising campaign goals. But fund-raising campaign announcements often contain announcements of large gifts. And proliferating large gifts might reflect big-money donors becoming more comfortable opening their wallets.
Take the University of Wisconsin Milwaukee's campaign as an example. The university started planning its campaign in 2012, according to Patricia Borger, vice chancellor for development and alumni relations. It changed its campaign based on economic conditions and prospective donor responses.
"We'd always thought about taking it public in 2017," Borger said. "The big change for us is when we went public, we also could announce bigger goals."
The university's original working goal was $175 million, but it raised the goal to the announced $200 million. It is already 85 percent of the way to its goal, meaning it has raised about $170 million from more than 17,000 donors. Proceeds from the campaign will go to student success initiatives like scholarships, research efforts at an institution recently named a top-tier research university, and community engagement efforts.
A strong stock market can also help universities raise money because it means donors have a greater interest in avoiding taxes on stocks that have appreciated in value.
"They don't have to pay capital gains that they would incur if they sold, and they would also get a charitable deduction to the extent permissible by law," Borger said. "I just came from a donor meeting where somebody said, 'My former company stock has done really well, and so we'll be using that to make our gift.'"
Demographics could also be favoring higher ed philanthropy, said Tim Seiler, a fellow in philanthropic fund-raising at the Indiana University-Purdue University Indianapolis Lilly Family School of Philanthropy and a former vice president of the Indiana University Foundation.
"On a general level, you've got a pretty big population of baby boomers who have reached the age where they have to do the required minimum distribution from their IRAs, and that is just a sweet way to make a charitable contribution," Seiler said. Retirees can often receive a tax benefit by directly rolling over their IRA distributions as donations.
Meanwhile, many public universities are facing flat or declining state funding. All public universities need to try to move their financial model toward more private support, said the University of North Carolina at Chapel Hill's vice chancellor for university development, David Routh.
"Let me be very clear: we are one of the fortunate ones in that we get a substantial amount of state support," Routh said. "That's been very helpful, and we're very grateful for that from the people of North Carolina. But it has been cut in the last several years."
UNC is billing its $4.25 billion campaign as the largest in the Southeast and second-largest among public institutions in the country, behind a $5 billion University of Washington campaign. It's substantially larger than the university's last campaign, which wrapped up a decade ago, raising $2.38 billion from 194,000 donors.
No two campaigns are alike, according to Joe Mandernach, senior associate vice president and chief development officer at the University of Florida.
The university had its campaign launch date set well in advance of this weekend, Mandernach said in an email. But the timing turned out to be excellent.
"UF has benefited from strong public and private support in recent years," he said. "We're enjoying a strong, palpable sense of momentum on campus, one that our prospects and donors recognize. I sense our campaign is primarily about using private support to leverage public and other resources, to have gifts serve as a catalyst for UF's continued national and international rise."
The University of Florida's $3 billion goal is nearly twice the $1.72 billion it raised during its last campaign ending in 2012. The new campaign raised $1.3 billion through 500,000 gifts during a three-year quiet phase, meaning it is about 43 percent of the way to its goal.
That's about the same point the University of Illinois at Urbana-Champaign had reached when it announced its campaign -- the university had raised $1.01 billion, or 45 percent, of its $2.25 billion goal. It is the fourth capital campaign in the University of Illinois System's history but the first specific to a campus.
Colleges and universities want to announce campaigns after they have already raised a substantial sum of money toward their goals, said Brian Gawor, vice president for research at consulting firm Ruffalo Noel Levitz's fund-raising management division. Then they can strike a balance between having more donors to curate but already receiving commitments from large, transformational donors.
"Campaigns are about reaching the right donors at the right time with the potential giving opportunity that is right for them," he said. "In these billion-dollar campaigns, there will be hundreds of examples where that was done between the donor and the institution."
Experts generally agreed that colleges and universities have been spending more time in silent phases before announcing their campaigns, and that campaigns have been growing longer and larger. Institutions are also relying heavily on wealthy donors as the country's wealth distribution tilts more toward the top.
Not every campaign makes its goal on time, of course. About 38 percent of institutions reported extending their campaigns beyond their original end dates, according to a 2015 survey from the Council for Advancement and Support of Education, the most recent that is available.
In another notable fund-raising campaign development this year, the University of Southern California announced in February that it reached a massive $6 billion fund-raising goal nearly a year and a half ahead of schedule. USC said it would be extending the campaign for five additional years.