You have /5 articles left.
Sign up for a free account or log in.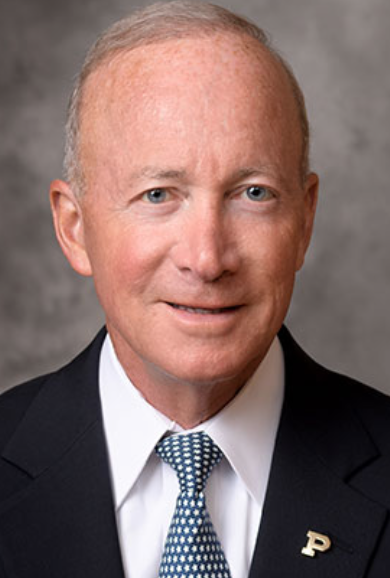 Purdue University President Mitch Daniels is facing criticism for his response to a request that he investigate a series of white supremacist messages on campus. In particular, a group of faculty members have accused Daniels of drawing a false equivalency between neo-Nazis and antifascist activists, and of personally attacking a professor who's been critical of him in the past. The group says Daniels's tone recalls President Trump's initial comment that there was violence "on many sides" of the August protests in Charlottesville, Va., that left a woman protesting the assembled white supremacists dead.
Purdue declined comment on the professors' specific accusations against Daniels but pointed to his past statements condemning racism, anti-Semitism, bigotry and violence. Daniels also has said there is no evidence that anyone affiliated with Purdue was involved in placing white supremacist fliers that have appeared on campus in the past year.
In an op-ed in the local Journal & Courier this week, six professors said the campus branch of the Campus Antifascist Network -- a nascent national movement to fight white nationalist activity on college campuses -- reported to Daniels seven documented instances of Nazi propaganda at Purdue since November. In the first such instance, a person or people sympathetic to the white nationalist group American Vanguard posted fliers denouncing "white guilt" and "cultural Marxism" around campus. More recently, in September, desks in an Honors College classroom were reportedly arranged to resemble a swastika. The antifascist network also sent Daniels what it called "documented evidence of support by people at Purdue" for Identity Evropa, another anti-Semitic white supremacist group whose fliers have appeared on campus. The evidence in question is screen shots of texts from a supposed student expressing affiliation with the group.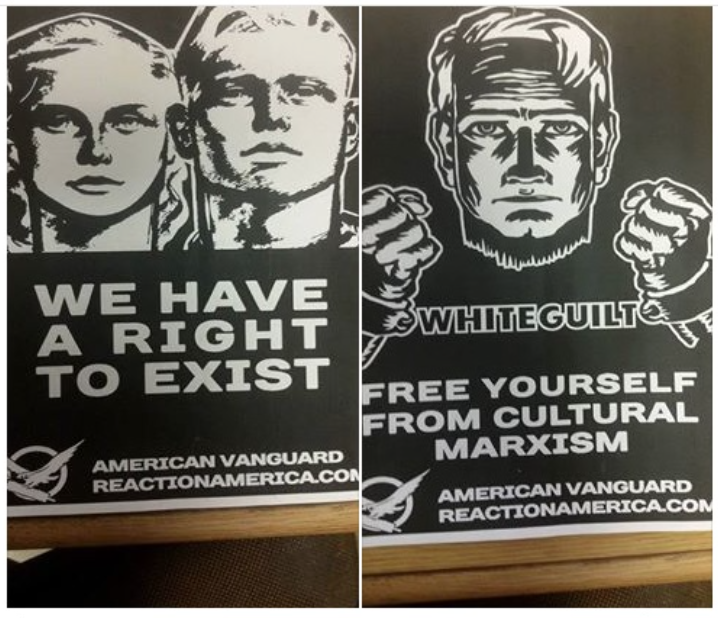 At other colleges and universities, many white supremacist poster campaigns have been the work of off-campus groups. So Daniels's assertion that no one at Purdue is involved isn't necessarily odd. But many faculty members at Purdue have previously asked Daniels to more strongly condemn any suspected white supremacist activity on campus, and his standard response has been to denounce hate and bigotry while refusing to -- in his words -- give specific hate groups the attention they are seeking.
So instead of investigating any Purdue ties to Identity Evropa, the professors wrote in their op-ed, Daniels "chose to: (a) reassert the principle of 'free speech' for Nazis; and (b) target a faculty member with a long record of antiracist work in a polemic closely resembling that of the U.S. president when the latter blamed 'both sides' for the tragedy at Charlottesville."
The professors were referring to an email exchange between Daniels and a leader of the Campus Antifascist Network, Bill Mullen, a professor of American studies who has previously been critical of the nontraditional president. The exchange began with the antifascist network's request earlier this month that Purdue investigate and issue a report on white supremacy on campus.
In a subsequent email to Mullen, which Purdue shared with Inside Higher Ed, Daniels cited the university's free speech policy, approved in 2015, saying, "We may condemn but we don't silence individuals in the university community, regardless how offensive or preposterous their remarks or writings may be."
By contrast, Daniels said, "we distinguish between words and conduct and would act swiftly to expel from Purdue's community anyone -- faculty, staff or student -- who resorts to physical intimidation or violence."
In recent days, Daniels continued, "I have spent considerable time replying to multiple messages from citizens who find your various pronouncements abhorrent and unacceptable and demand that you be sanctioned or expelled from the university entirely. In particular, your defense of the so-called antifa organization, a group that has not only advocated but practiced violence, gave deep offense and embarrassment to many."
For reference, the Campus Antifascist Network has said it does not advocate violence but would encourage self-defense against ethnonationalists, especially for the most vulnerable people on campus. While its name is clearly inspired by the antifascist movement, the national campus group is not part of antifa, a group that in some cases espouses violence to fight facism.
Daniels also said he'd previously defended Mullen's own right to express views that were "widely interpreted as racist, in the form of that oldest of bigotries, anti-Semitism. On each occasion, I have given the simple answer I am giving to you. In an honest moment you know that Purdue is a community deeply committed to tolerance and inclusion."
Describing Daniels's stance as "deeply frightening," the op-ed's signatories -- including Mullen's wife, Tithi Bhattacharya, a professor of history -- said Daniels "has deliberately chosen to champion freedom, a precious value and right, in the most narrow and circumscribed way possible -- as free speech alone … What good is the right to free speech if it is severed from the right to work and exist freely without the threat of racist violence?"
They added, "We face a clear choice here at Purdue: resist the Nazis or allow their politics to flourish."
Mullen said Wednesday that Daniels's assertion that he'd defended antifa "is an attempt to deflect the discussion away from his inaction on white supremacy at Purdue."
As for Daniels's comment about anti-Semitism, Mullen called it an "undocumented smear." Mullen said he is "an open advocate for Palestinian human rights" and a faculty adviser for Students for Justice in Palestine at Purdue, and that Daniels is trying to "stigmatize this work as anti-Semitic."
It's "really ironic that [Daniels] ignores a request from a group of people protesting a swastika on campus in order to make spurious allegations against the protesters," he added.
A spokesperson for Purdue highlighted an August statement from Daniels and Provost Jay Akridge saying, in part, that "racism, anti-Semitism, bigotry and violence like that demonstrated in Charlottesville are the antithesis of [Purdue's] values and have no place on our campus."
More recently, Daniels released a statement saying there is "zero evidence that any member of the Purdue community is involved in these leaflets, and there is nothing new to say about the situation. We reiterate our past statements and our disinclination to do exactly what these despicable people want most, which is to give them attention their minuscule numbers and their abhorrent views do not merit."
More from Academic Freedom