You have /5 articles left.
Sign up for a free account or log in.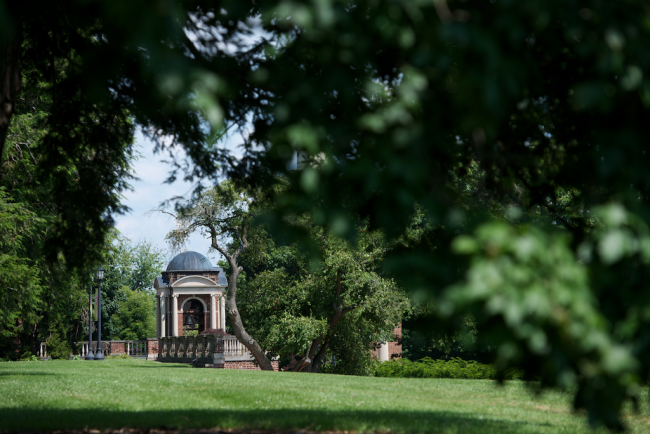 Sweet Briar College is eliminating more than 10 percent of its faculty, including tenured faculty positions, as it puts in place a new core curriculum and restructures academic programs.
The small private women's liberal arts college, which was nearly closed under a previous administration in 2015, published details on its curricular and academic changes Friday. Sweet Briar will cut by almost half the number of majors it offers starting in the next academic year, from 33 to 17. It will shift its core curriculum away from traditional general education courses and toward classes administrators say are better fits for the latest trends in students' academic interests and careers -- in areas like design thinking, sustainable systems, leadership, persuasion and making decisions in a data-driven world.
Sweet Briar's official news release on the new curriculum and restructuring laid out in detail changes that were announced months ago, explaining that the new curriculum is intended to focus on women's leadership. It said five new faculty members will be hired over the next two years to support the new curriculum. But the release did not mention the elimination of any faculty jobs.
Nonetheless, numerous professors were told Friday that their jobs will be terminated at the end of this academic year, in June. The news quickly spread among alumnae groups and on social media, sparking several long discussions.
Roughly a dozen faculty members' positions will be eliminated, the college's administration confirmed to Inside Higher Ed Monday. They include tenured professors, tenure-track faculty members and instructors teaching under contract. A total of 10 tenured and tenure-track faculty members are being affected.
Additionally, several faculty members have retired or resigned recently. It was not immediately clear how many have done so.
The departures represent a significant portion of Sweet Briar's faculty. The college currently has 68 full-time-equivalent faculty members.
Administrators followed internal guidelines specified in its faculty handbook, Sweet Briar President Meredith Woo said in a telephone interview. Positions can be eliminated in the event of the elimination or significant reorganization of academic programs.
"This was based on our own guidelines on academic restructuring and not financial exigency," she said.
The changes illustrate just how difficult it can be for small private institutions to put in place significant changes. At times of intense financial and enrollment pressures, leaders often face difficult decisions about strategic direction and whether changes to programs are needed. The decisions they make can become painful as news travels fast in tight-knit communities.
Woo did not have numbers in mind when planning Sweet Briar's restructuring, she said. Faculty lines were not a primary line of consideration, either. Sweet Briar's leadership wanted to determine the most effective curriculum for its goals, which include meeting student demand and being one of the most innovative institutions delivering a liberal arts education, Woo said.
"The real story I want to emphasize is that we're investing in the core and in areas of excellence and what we think is really effective," she said.
Still, several current and former Sweet Briar employees wondered about the changes. Current and former faculty and staff members asked to remain anonymous Monday, citing severance agreements or the need to find future employment. Yet they consistently said they were surprised at the timing, nature or depth of cuts taking place.
They pointed out that the faculty changes decimate Sweet Briar's existing modern languages faculty, even though the college plans to have a modern languages program in the future. Anthropology, sociology and comparative religion faculty members are also being wiped out, sources said. So is most of the English department, with the exception of creative writing.
As one faculty member put it, "almost all programs dealing with lived human experience have been cut."
While some faculty members described surprise that the cuts took place at all, others said they had been waiting for bad news after learning of staff layoffs earlier this year.
Sweet Briar will provide severance packages as needed, Woo said. The college's president also said almost no students were declared majors in the areas that are being eliminated. Today's students are clear about the types of subjects they want to study, Woo said. They are more interested in subjects such as creative writing, persuasive writing, global literature and contemporary literature than they are in studying Beowulf, she said.
Sweet Briar's current enrollment is about 280 students. About 80 of those are first-year students -- down from 95 reported earlier this year. The college's enrollment has yet to recover since its former board attempted to close it in 2015. It enrolled 561 in 2014-15.
When the college's former board decided to close the campus, it pointed to falling enrollment, rising tuition discount rates and difficulties convincing students to come to a women's college in rural Virginia. But alumnae fought the move and won the right to reopen the college under new leadership. Sweet Briar has been heavily reliant on fund-raising to meet budgets since then. Of its $26 million expense budget this year, about 36 percent comes from student revenue.
The college operated under President Phillip Stone for about two years before Woo took over this year. This fall, the college announced a tuition reset and plans for the new core curriculum built around women's leadership.
Faculty leaders worked on the new curriculum throughout the fall semester, according to the college. The new core was approved by the faculty Dec. 8, and it will replace general-education requirements beginning in the 2018-19 academic year. Sweet Briar is promising current students who have declared majors a pathway to complete those programs.
"The faculty leadership and so many faculty have asked for these kinds of changes the whole time I've been here," Woo said. "This notion that this comes out of the blue is not true. I think that, obviously, for faculty members that are affected, this may feel odd. But on the other hand, they have known for a very long time the situation with student demand. So I think we are handling this as best we can given the sentiment of various constituencies."
Many of the faculty members losing their positions had stayed with Sweet Briar through its near closure in 2015. Response to the cuts from faculty members, alumnae and others concerned with Sweet Briar was quick.
Eric Caldwell, an assistant professor of English who was said to be among those losing his job at the end of the academic year, posted on Facebook that he and his family had moved to campus after Sweet Briar almost closed in order to contribute to the stability of the college. He called his time there a "privilege, really a gift," before writing that some faculty members will land on their feet and some will not.
"But it is imperative also to remember those members of the faculty, staff and, yes, the administration, who remain," he wrote. "I have seen such herculean feats of endurance and selfless dedication in the last three years that it pains me that others' burdens will grow as a result of our departure. They deserve a win, not more burdens. For their sake, and the sake of our students -- and past students, whom no one ever forgets, you know -- it is my dearest wish that the community will rally."
Commenters on his post staked out a range of positions, including disappointment, sadness and the belief that faculty members deserve more. Elsewhere, one Facebook user asserted that she would support Woo, acknowledging tough decisions but writing that her top priority was keeping Sweet Briar open. Another described the college's leadership as engaging in "utter underhanded cruelty," arguing it is close to Christmas and too late in the hiring cycle for faculty members to find new employment.
"After everything they have gone though in the last few years, after choosing to stay after the previous board abandoned them, you choose THIS path?!!" she wrote.
Woo said Sweet Briar's curriculum will be balanced across the humanities, sciences and social sciences. She disagreed with the idea that something negative is happening to humanities.
She also shared some of her long-term goals for Sweet Briar. They include reducing the fund-raising responsibility on alumnae by the 2019 fiscal year. The target is to have 38 percent of a $25 million expense budget coming from student revenue in 2019. Another goal is 125 new students enrolling next year. Afterward, she wants to increase enrollment by about 25 percent per year.
She also aims to move the college's student-to-faculty ratio to a more sustainable level. The goal is between eight and 10 students for every faculty member. The level is about four students per faculty member today.
The five new faculty hires announced for the next two years will likely come in economics, history and modern languages, Woo said. Faculty members will help to determine their particular expertise.
Sweet Briar's new management team and strategic plan were key considerations in a recent upgrade on its debt. S&P Global Ratings last week upgraded Sweet Briar's debt by one notch, although it is still considered highly speculative.