You have /5 articles left.
Sign up for a free account or log in.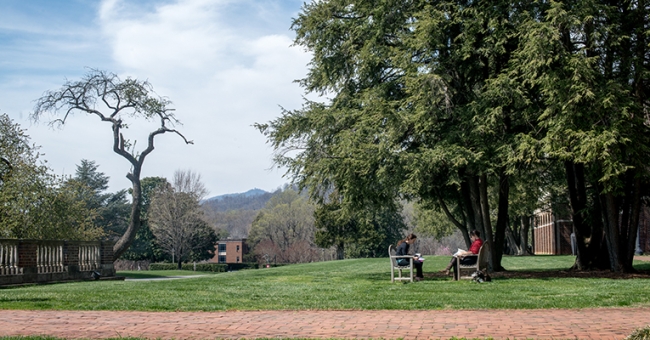 About 125 accepted applicants sent deposits to Sweet Briar College by a May 1 deadline, falling short of an administration goal in the first admissions season since a scrubbed attempt last year to close the all-female liberal arts college.
New leaders at Sweet Briar had initially targeted as many as 250 students for its incoming freshman class before settling on a goal of 200. The college's administration has yet to give up on that goal, saying it plans to accept deposits through the end of June. Leaders are also seeking to turn attention to the number of applications received -- 1,390, a record, up from the low 900s in recent years -- as showing increased interest in the college.
Additional students sending deposits in the next two months are possible, experts said. But many think it unlikely Sweet Briar will be able to meaningfully close the gap between in-hand deposits and its stated goals. Meanwhile, other indicators of the college's health are mixed. It has avoided drawing down its endowment this year to fund operations. Yet the president tapped last year to lead its reboot recently announced he will retire in the summer of 2017.
So while Sweet Briar has to some extent climbed back from its near closure, the college still has much to do to assure its long-term survival.
Recruiting has been a challenge after operations were essentially shut down last year, President Phillip Stone said. Sweet Briar's former board moved to close the college in March 2015, citing difficulties persuading students to come to a women's liberal arts college in a rural area of Virginia, rising discount rates on tuition and enrollments falling despite efforts to increase applications.
Alumnae fought the move, eventually winning a deal to keep the college open that was announced by Virginia's attorney general in late June 2015. The deal included alumnae agreeing to raise $12 million to keep the college running in the 2015-16 year, and also freed $16 million from restricted funds in Sweet Briar's endowment to go toward operations. In addition, it brought in new trustees, clearing the way for Stone to take over as president.
The near closure hit Sweet Briar's enrollment, which dropped from 561 in 2014-15 to 245 in 2015-16 as students transferred. The current freshman class numbers 24.
Against that backdrop, Stone called his goal of 200 freshmen this year ambitious. Yet he maintains the college can still meet that goal, even after the May deadline by which students were to have submitted $500 deposits passed. Sweet Briar is being flexible with deadlines and aggressively trying to persuade students to come to campus, Stone said. If the college does not bring in 200 incoming students, it will focus on boosting next year's recruiting class.
The time for a pivot toward next year won't come until after June, Stone said.
"It may be that we do need to give ourselves a little more time than we were willing to at the beginning," Stone said. "I'll make that analysis after we see how many students come."
Fewer than 10 percent of committed students are legacy students -- the children and grandchildren of alumnae. That's consistent with previous years, according to Stone. Sweet Briar accepted more than 800 of this year's 1,390 applicants. Fewer than half of accepted students came from Virginia, although the state was still the most common home for accepted students.
Sweet Briar's move to extend deadlines and offer admissions flexibility is a familiar tactic, said Bill Hall, founder and president of Applied Policy Research, an education consulting firm for midmarket institutions. Only the most selective liberal arts institutions consistently hold to a firm deadline, he said.
Still, others believe it is unlikely an institution of Sweet Briar's size can overcome a 75-student gap during the summer melt period -- what college admissions officers call the months when some decide not to enroll at colleges to which they've already committed.
"That's a long way to try to come back from," said David Strauss, a principal at Art & Science Group, a Baltimore-based consulting strategy firm. "No one is going to make up from that much over the course of a summer."
Art & Science Group performed research for Sweet Briar's former Board of Directors in 2014 and 2015 before the decision to close. The work ended when the board moved to close the college. Strauss agreed not to discuss specifics of its research, other than to say that Sweet Briar could have made changes that would have required time, money and political capital that did not appear to be available to the board at the time.
"The marketplace would seem to have been demanding significant changes," he said. "More broadly, institutions in its kind of location and institutions of its sort are generally challenged."
Underlying the questions about whether Sweet Briar will draw students next year is a debate over whether it is changing enough to keep up with the trends. Some see the college as taking steps to explore new programs and attract international students, while others believe its current leaders are influenced too much by memories of the past.
The college is looking into adding to its current graduate programs in education and teaching, said Teresa Pike Tomlinson, a 1987 graduate who is the mayor of Columbus, Ga., and chairs Sweet Briar's board. It also wants to build on computer science and engineering degrees with more science, technology, engineering and mathematics. The college in March added a women's leadership program for Chinese students that leaders think could bring more than 20 students to campus in coming years.
"You'll see us pushing more on those fronts, looking at graduate programs, looking at how we can partner with other colleges and universities," Tomlinson said.
But Alice Brown, former president of the Appalachian College Association, said in an email that she is not optimistic about the college's direction. She sees Sweet Briar as focusing too much on liberal arts and personal student-faculty relationships rather than changing its strategies.
"While the efforts of the alumnae to raise the image of the college and money to support it are admirable, the fact that the board is composed primarily of alumnae whose vision of the college is colored by their memories of what it was in previous decades does not bode well for a realistic look at its future," Brown said.
Sarah Clement, an administrative judge in Washington, D.C., and a Sweet Briar alumna who chaired a Saving Sweet Briar effort that legally challenged the college's plans to close, sees things differently. Alumnae rallied to save the college last year and remain highly engaged, she said, arguing they are pursuing a new model of alumnae engagement not tried at other colleges.
Alumnae support has been critical to Sweet Briar's operations this year. More than 50 percent of revenue came from fund-raising in 2015-16. Alumnae raised the required $12 million in three months last summer to keep the college open. The college has raised $7 million toward another goal of $10 million by June 30.
Clement thinks it will be important to find foundational support so alumnae aren't being asked to raise $20-30 million per year to keep the college operating. Alumnae will continue to volunteer at high rates, but the college needs to focus on money and students, she said. She thinks the goal of 200 incoming students year is still achievable.
"I don't think it's overly ambitious," Clement said. "I think the college needs 800 students to be sustainable, and in recent years, efforts at marketing, recruiting, enrollment weren't made to the degree they were needed to be made."
Money will be a critical point at Sweet Briar, which has an endowment of $77.4 million. The college's budget for this year called for using $3.5 million from the endowment, down from $11 million the year before. Stone said that with two months to go in the fiscal year, the college had yet to spend anything from its endowment fund -- although a draw will be needed by the end of the year. Stone did not predict the exact size of the draw, only saying it will be less than 5 percent of the endowment. Sweet Briar will not have to spend any of the $16 million of restricted endowment funds freed in the deal to keep the college open, he said.
The college's expenses are running a few percentage points under its $29.5 million budget, Stone said. In the future, pressure on the revenue side could mount, however. The college is graduating 82 on May 14. Its discount rate for incoming students -- the amount that quoted tuition and fees are reduced for the average student -- will likely be between 60 and 70 percent, Stone said. That would keep with recent trends set by a 61.9 percent rate in 2014-15 and a 62.8 percent rate in 2013-14.
Further, the college faces higher costs for retirements and capital expenditures. After years without a capital budget, Sweet Briar set aside $500,000 in its 2015-16 budget for capital expenses. It will seek to increase the size of that allotment by $100,000 per year going forward, Stone said. Plus, in a change from the current year, Sweet Briar anticipates contributing to its pension plan under its upcoming budget.
Sweet Briar's faculty numbers roughly 75 today, down about 40 percent from before the attempt to close the college. The departures caused a spike in costs, as Sweet Briar was required to pay 60 percent of the salary of departing faculty members, for a total of about $5 million.
Now Stone plans to hire back some departed faculty members, although he said he would be conservative in doing so.
One other major issue to watch will be Stone's retirement. The president, 73, is a lawyer and former president of Bridgewater College, in Virginia. He boosted enrollment at that rural college by 78 percent in his first 10 years as its leader after taking over in 1994.
Stone plans to stay for another academic year as Sweet Briar's board appoints a selection committee and hires a search firm to find a replacement to start July 1, 2017. His retirement date will give him one more year to put Sweet Briar on solid footing before a new leader sets a long-term vision for the future, he said.
"We are more and more confident that we will be here in perpetuity," Stone said. "We've done the steps that could be taken this year."
Evaluating the college's current status has to take into account its recent history, said Richard Staisloff, founder and president of rpkGroup, a higher education growth-strategy consulting firm. Applications are up all over the country, so the number of applications a college receives is not a good indicator of its health, he said. Even if deposits do miss administration goals, turnaround plans take a minimum of two years to develop and execute.
"While the deposit information is not what the leadership and the field would hope for at an institution like Sweet Briar, I think it would be too early to say that their change plan is not going to be successful," Staisloff said. "I think you have to really give it another year to really see if they're able to successfully turn around the institution."