You have /5 articles left.
Sign up for a free account or log in.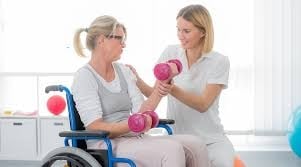 Community colleges across the country are examining possible new requirements for occupational therapy assistants to get more education, which could result in the elimination of occupational therapy programs on their campuses.
In August, the Accreditation Council for Occupational Therapy Education mandated an increase in entry-level degree requirements for the profession by 2027. For occupational therapists that means an increase in the degree requirement from a master's degree to a doctorate. For occupational therapy assistants, the standard will move from an associate degree to a bachelor's degree.
The move would mean community colleges with occupational therapy assistant programs will have to offer four-year degrees or find other alternatives to satisfy the requirement. However, the critical response from some colleges subsequently led the accreditation council to temporarily suspend the mandate in order to hold forums and gather more input on possible effects of the changes.
In a written statement, the association's Board of Directors wrote that increasing the occupational therapy assistant education requirements "will appropriately adjust the differentiation in education and identifies a single point of entry into the profession, leading to more well-defined roles for the occupational therapist and the occupational therapy assistant."
The change doesn't affect current occupational therapists or assistants, or even students, for the next 10 years.
At Grand Rapids Community College in Michigan, where about 25 students enroll annually in the institution's occupational therapy assistant program, officials are against increasing the education requirements.
"If the industry was telling us or if our stakeholders were telling us there need to be additional standards that require additional time and that means a pay increase when our graduates go into the work force, then that makes sense," said Amy Koning, the college's dean of work-force development. "But when we're hearing from industry partners that that is not what they're asking for, then that makes you pause and take a step back."
Koning said that not only is the college hearing from employers that additional degrees aren't required, but that even if an assistant entered the field with a bachelor's degree, they most likely wouldn't be paid more money than those with an associate degree.
The median pay for an occupational therapy assistant was approximately $56,000 a year in 2016, according to federal labor statistics. Federal statistics also project the number of jobs in the field will increase significantly within the next 10 years.
Mike Hansen, chairman of the Community College Baccalaureate Association, said the move by the council to increase education standards is a decision he expects many different allied health programs will make as technology advances in those career fields. Hansen is also president of the Michigan Community College Association.
"We saw it happen in nursing," he said. "Many hospital and health-care organizations require a bachelor's of science in nursing as the entry-level requirement now."
The debate over credential inflation and increasing education requirements flared up earlier this year when a new regulation in the District of Columbia increased entry-level credential requirements for child-care center directors to at least a bachelor's degree and to an associate degree for lead teachers, home-care providers and assistant teachers.
However, Hansen said, community colleges that have traditionally addressed the needs of these career fields should be able to respond.
"If we can offer bachelor's degree to those students, we can save them an awful lot of time, money and aggravation," Hansen said. "Many states are allowing community colleges to confer these bachelor degrees in occupational and applied and technical areas, like occupational therapy."
But other states, like Michigan, are opposed to two-year institutions offering bachelor's degrees, even in areas where they don't offer those programs, he said.
For now, Koning said, her college wants to convey to the accreditor what they've heard from the industry and how this change may create a financial burden for students.
"We definitely feel the council has heard us and we're appreciative of the fact that they're willing to take a step back and garner more stakeholder input," Koning said.
The accreditor will delay making changes while it holds public hearings and distributes a survey next year. It plans to review the feedback and make a decision on the mandate next August.