You have /5 articles left.
Sign up for a free account or log in.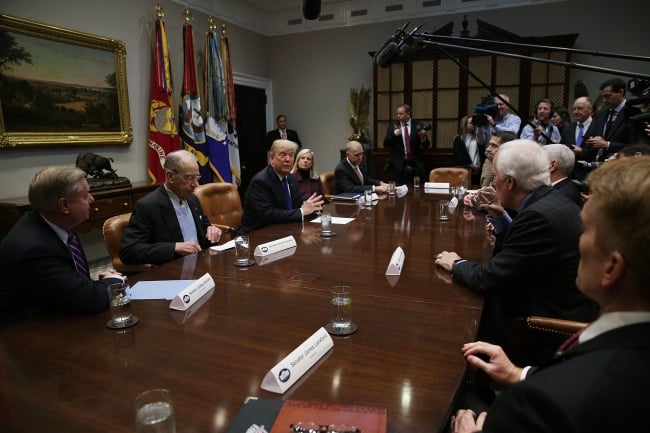 WASHINGTON -- Seth Cotlar, a professor of history at Willamette University in Oregon, isn't a historian of conservatism (or a conservative). But around 2010, as the Tea Party raged, he felt increasingly alarmed by some students' tendency to dismiss conservatives as ignorant racist who, in his paraphrasing, "just aren't as smart as me yet."
So he began teaching a course on the history of conservatism, to engage one small corner of the overwhelmingly liberal Willamette universe in informed political debate. Cotlar's duty wasn't to change minds, he said, just to open them to what conservatism actually is: "a politically robust, complicated phenomenon."
Now, Cotlar said here Thursday at the American Historical Association's annual meeting, President Trump has complicated all that.
Like 'Someone Sat on the Remote'
Donald Trump's election "totally has thrown into disarray my understanding of American history," Cotlar said during a well-attended panel on teaching conservatism in the age of Trump. "The last 200-plus years of American history have been like a series of West Wing episodes and then [last] November, someone sat on the remote and now we're watching a marathon of Curb Your Enthusiasm."
Describing Trump as caffeine-crazed and hyperactive, rather than the "slow, steady hand" typically associated with conservatism, Cotlar said the president's rhetoric and policy positions not only defy conservative principles and political norms but also pose urgent pedagogical questions.
"How do we think about and engage with conservative Trump voters?" Cotlar asked. "What does it mean to empathize with people who advocate white nationalism?"
Perhaps most importantly, should undergraduates -- particularly those in groups marginalized by Trump -- still be asked to "understand empathically" an ideology he claims? Cotlar said no, adding that it was unethical.
Other panelists shared their own challenges with teaching conservatism in the age of Trump.
Joshua A. Lynn, a lecturer in history at Yale University, last taught his seminar on The Long History of American Conservatism just after Trump's election (he'll teach it again this month). At the time, he experimented with political neutrality in the classroom, sharing historical political arguments with students but not his own views.
There were advantages: some conservative students reported that they felt more comfortable in class than they might have otherwise, and some liberal students said they enjoyed more open debate as a result. But Lynn said he might have taken for granted that a text -- particularly a racist one -- always speaks for itself.
Case in point: John C. Calhoun, a 19th-century statesman, vice president and avowed proponent of slavery who, coincidentally, was the subject of a simultaneous campuswide debate at Yale last year (the university eventually decided to rededicate a residential college that long bore his name). Lynn said he assumed students would know by reading Calhoun's words that he was racist. But some in the class wanted to hear their professor say it, he recalled, and to generally be more "normative." 
Lynn's overall take on neutrality in the classroom, at least in the age of Trump, is that it's not a philosophy. Rather, he said, it's a teaching tool to be deployed strategically, with limits.
Michelle Nickerson, an associate professor of history at Loyola University in Chicago, is currently updating her course on rebels and reformers in American history for next fall. In an attempt to address Trumpism, she said, she needs to make the notion of populism -- one that's often cited to explain Trump's appeal -- a bigger part of the course. In particular, Nickerson wants her students to understand how populism shapes conservatism.
That said, Nickerson said she needed to amend the common definition of populism -- resistance to dominance by the privilege elite on the right or left -- to include xenophobia, racism, conspiricism and a disdain for academic liberals and the media, among other traits.
"In my classroom I haven't adequately shown the extent to which, as a way of seeing the world, this populism bleeds all over the place in American politics, especially in conservative movement politics," she said. "Is populism maybe not so freakish in American history? Even if it's only now a demagogue has only managed to ride it to the White House?"
Breaking the Mold?
As to how Trumpism fits into conservatism and vice versa, Lynn was less flummoxed than some of his fellow panelists. American conservatism always has had an "eclectic cast," he said, from John Quincy Adams to ex-Breitbart provocateur Milo Yiannopoulos. In fact, he said, such complicated characters present students the opportunity to historicize them, or otherwise do the work of history (responsibly, of course).
"The definition of conservatism and the designation of who is conservative have always been contested," with seemingly everyone from 1850s white supremacist Democrats to Abraham Lincoln to "Never Trumpers" claiming the moniker over time, he said. "Adding the debate over Trump's conservatism to the mix does not destabilize American conservatism as an historical category. Because it has never been a stable category."
Lynn said he's even experimented with asking his students to consider whether someone like W. E. B. Du Bois was conservative, since the civil rights leader was also an "elitist critic of modernity who rejected bourgeois individualism and materialism" and "often sounds like other cranky conservatives in the Gilded Age."
Given the newness of Trump to a group of historical thinkers, the panel offered more questions -- albeit thoughtful ones -- than answers. Cotlar said that as he begins to teach the new iteration of his conservatism course this month, he'll ask his students to think about a handful of key questions, all of which have contemporary and historical answers. They include why conservatives oppose big government, how conservatism should be understood in the context of white supremacism, how conservatism dovetails with populism and how conservatism may be a cultural revolt against modernity.
Panelist Benjamin Waterhouse, an associate professor of history at the University of North Carolina at Chapel Hill who teaches economic history, said his line of inquiry is admittedly less politically fraught than others. But he said it may be more helpful to think of conservatism as an "impulse," a "disposition" or a "perspective on the world" than anything else. 
As for Trump, Waterhouse said he is not a conservative in "any meaningful way. He is also not a liberal, or a populist or traditionalist or even an especially good fascist. ...Preciously because he is so intellectually and ideologically vacuous, his various hangers-on and enablers and sycophants can project all manner of identity onto him." That makes Trump a good example for students of how traditional definitions of conservatism fail, he added.
Asking the Right Questions
Trump also teaches students that the question is not whether conservatism is racist but how "racism operates in a society and how different political agendas can be accelerated through the use of racism," Waterhouse said. "It's a much more enlightening way to understand what's going on."
A lively question-and-answer period revealed some audience anxiety about teaching in general in the age of Trump.
One audience member teaching off the tenure track expressed concern about how talking about Trump could jeopardize one's job. An assistant professor in a conservative state said she generally felt uncomfortable talking about Trump. And a tenured professor from the University of Nebraska at Lincoln -- which is being targeted by state lawmakers after a politically charged on-campus incident involving a conservative student -- said such threats are now tangible.
Waterhouse advised all present to defend facts and academic freedom -- their own and others' -- however they can.
"They might come for me, but they're not coming for me first," he said. "We who have a measure of protection and privilege really need to stop operating from a position of weakness."