You have /5 articles left.
Sign up for a free account or log in.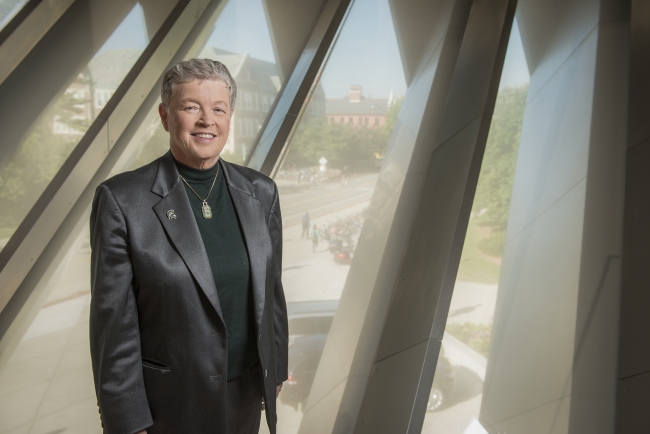 Michigan State University
Lou Anna Simon could have the option of collecting her full presidential salary for two years, plus perks, after resigning as president of Michigan State University in the wake of the Larry Nassar sexual abuse scandal.
Simon's employment contract gives her the option of returning to the faculty after she steps down as university president. She would be entitled to a one-year research leave, in which she would be paid her full presidential base salary of $750,000. After returning to the faculty, she would then be paid another year at her full presidential salary.
Thereafter, her pay would dip to 75 percent of her presidential base salary, or about $563,000. It would be subject to annual review, salary increases and fringe benefits, according to her employment contract.
Simon announced late Wednesday that she was resigning from Michigan State after she faced fierce criticism for the university's handling of the Nassar scandal. In her resignation letter, she apologized to victims and said she loves Michigan State.
"As tragedies are politicized, blame is inevitable," Simon wrote. "As president, it is only natural that I am the focus of this anger. I understand, and that is why I have limited my personal statements. Throughout my career, I have worked very hard to put Team MSU first. Throughout my career, I have consistently and persistently spoken and worked on behalf of Team MSU. I have tried to make it not about me. I urge those who have supported my work to understand that I cannot make it about me now. Therefore, I am tendering my resignation as president according to the terms of my employment agreement."
Details about the transition will be announced as soon as possible, according to a statement from Board of Trustees chair Brian Breslin. The board will be working through those details for the rest of the week, it said.
Nonetheless, Simon remained a central figure in news coverage throughout the day, and the terms of her departure were included in scrutiny.
Michigan State provided a copy of Simon's most recent employment agreement Thursday. Inside Higher Ed also requested a copy of any severance agreement the president is signing, but the university did not send such a document. A spokesman did not provide comment, and it is not clear whether Simon will sign an additional severance agreement.
Simon's contract clearly outlines terms in which she can be terminated or resign. The board can vote to terminate her with 60 days' written notice. She can also resign by giving 60 days' notice. The terms are notable among presidential contracts, which often run for a set number of years.
After Simon's service as president, she is given the option to return to the Michigan State faculty along with all fringe benefits an officer of the university would receive. The contract also calls for her to receive an office in a "mutually agreeable university building, along with appropriate secretarial services, computer and technology equipment, technical support, a telephone and other necessary office tools."
She is also guaranteed certain lifetime benefits for her and her spouse. They include two all-events parking passes, two tickets to home football games in the university's Spartan Club, two tickets to home women's basketball games, the option to purchase up to four season tickets for men's basketball games, tickets for postseason games for several sports -- including football -- and tickets for on-campus performances on terms normally offered to university leaders. She is also to hold the title of president emeritus.
The postemployment benefits would likely make Simon, whose field of study is higher education, Michigan State's highest-compensated faculty member. C. Konrad Gelbke, university distinguished professor of physics at the National Superconducting Cyclotron Laboratory, was the university's highest-paid faculty member in 2016, according to data compiled by MLive. He earned $433,440. University documents do not appear to show any faculty members earning substantially more in 2017.
Full professors at Michigan State earned an average of $150,100 annually, according to an American Association of University Professors annual report.
Simon, who has been at Michigan State in various capacities for more than 40 years, was appointed a distinguished professor at the university in 2017. She was first appointed a professor of educational administration in 1984.
Still, critics of large compensation packages for former college presidents -- so-called platinum parachutes -- argued she will be able to earn more than twice the salary of other top professors in Michigan State's College of Education. Between the first two years of her postpresidential appointment, she will be able to earn $1.5 million, said James Finkelstein, a professor emeritus of public policy at George Mason University who studies presidential compensation.
"But that's just the money," he said. "There are things we've never seen, or maybe only seen once before in a presidential contract."
It's common for presidents to receive lifetime benefits associated with emeritus status, Finkelstein said. They would include email accounts, library access and even discounted tickets to performances or sporting events. Less common are perks like lifetime technology support.
The compensation package raises questions, Finkelstein said.
"While I've read these statements saying what a successful president she's been, and I don't think there's any doubt that she's done a lot for the institution, I also believe that a university president is like the captain of a ship," he said. "When you have a president who is ensnared in some of these huge scandals for which the university is going to have years, in all likelihood, of legal battles and potential liability ahead of it, should the president of the university receive these kinds of benefits?"
Many who have sat in the president's chair would answer that question with a resounding yes. Backers argue presidents are placed in a fishbowl on campus and asked to do a job that is sometimes impossible. It can be argued that presidents deserve to be well compensated in return for all they give up and working constant long hours. And contracts often do peg postpresidential salaries as a percentage of amounts earned in the role.
Additionally, research shows that tenure for college and university presidents is less than six years, shorter than the tenure for CEOs in the private sector. And the case of Simon, ousted from her presidency even though she has said she did not have firsthand knowledge of the Nassar case, shows that a president's job can quickly go from seeming safe to being gone.
In such a climate, it can be argued presidents need a parachute. Yet many would say that a tenured job at a standard rate of faculty pay would be enough of one.
So Simon's postpresidency plans may be important in the ongoing discussion about the college presidency moving toward a chief executive officer model.
"I think this is going to be one of the real tests of whether or not university presidents really want to continue to be seen as CEOs and have all the benefits," Finkelstein said. "If they're willing to accept the benefits, they have to be willing to accept the risks."
Also worth noting is that Simon's presidential salary is not out of line for leaders at nearby major public universities. University of Michigan president Mark Schlissel had a base salary of $795,675 in 2016, and Purdue University's president, Mitch Daniels, earned $728,569.
Meanwhile, Michigan State's handling of allegations against Nassar in the years before he was fired continue to draw scrutiny. On Thursday, several Michigan lawmakers demanded unredacted copies of police reports and other investigations into Nassar for several years starting in 2014. The university has already asked the state attorney general to review the situation, and it faces a National Collegiate Athletic Association probe. Additionally, about 150 of Nassar's victims have brought civil lawsuits against the university.