You have /5 articles left.
Sign up for a free account or log in.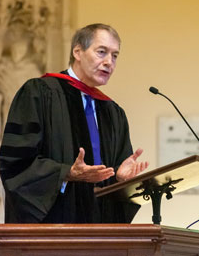 In November, The Washington Post reported that numerous women alleged that journalist Charlie Rose harassed them. The reports included groping, unwanted kissing and more. Rose acknowledged "inappropriate behavior" and said that he "deeply" apologized.
In the weeks following the Post article, Rose's career essentially fell apart, as he lost jobs and speaking engagements. Several universities -- including Arizona State University, Fordham University and the University of Kansas -- that had honored Rose in various ways revoked those honors. While many universities revoked honors for Bill Cosby after allegations surfaced that he had sexually assaulted and harassed dozens of women, they generally acted only well after the accusations became public. In the case of Rose, whose behavior toward women became public amid the Me Too movement, universities acted quickly.
One university -- the University of the South, known as Sewanee -- has in the last week been engulfed in a debate over its 2016 honorary degree to Rose. At Sewanee, the university's board rejected a call by students to revoke the degree, a decision that upset some students. The controversy escalated as students questioned a letter sent by Sewanee's leaders to the students who led the effort to rescind the degree. The letter offered a theological explanation for the decision, but students accused the leaders of minimizing the issue of sexual harassment.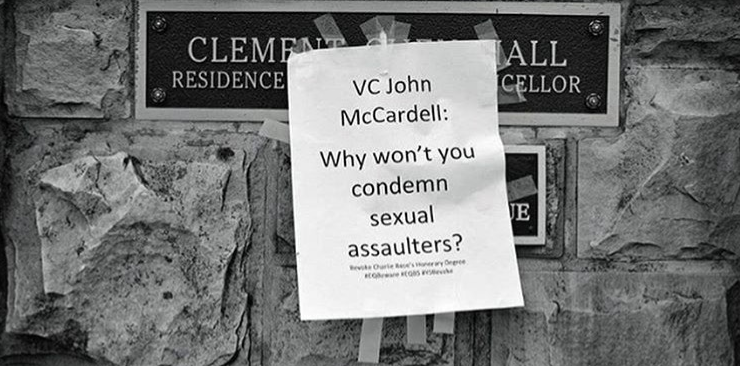 Then some students anonymously put up posters all over the campus addressed to John McCardell, the vice chancellor (the equivalent of president). "VC John McCardell: Why won't you condemn sexual assaulters?" read many of the posters, including one placed on McCardell's campus home. The posters, which were quickly removed, stunned many on the campus, who see civility as a cherished, all too rare value in higher education today.
A rally is being planned for later this week, and there are no signs that the debate is about to die down.
Theology and the Letter
Sewanee is owned by 28 dioceses of the Episcopal Church, and the board meeting at which the Rose degree was discussed included three Episcopal bishops and three Episcopal priests. In an interview, McCardell said the letter was an attempt to convey the thinking, not of every individual on the board, but the view that emerged, which was influenced by board members' faith.
The letter praised the two student representatives to the board for bringing up the issue and offering board members their perspective. The portion of the letter that has angered many students focused on theological ideas:
"Respectfully, we submit that we should look to our own Honor Code for a tradition that combines both the academic and the ecclesiastical. In its essence, we do not condone perverse behavior. We want to be clear that we have stood, and always will stand, against sexual harassment of women or men. At the same time, we do not believe it is our place to condemn the individual. In fact, we think there is grave danger were we to go down that path. We impose a penalty where appropriate, but we also offer forgiveness. That said, it would be easy to condemn Mr. Rose and rescind the honorary degree. It is harder not to do so. The opportunity to forgive should always be taken. Condemnation has no place here," the letter said.
The letter went on to say, "Clarification comes in the question 'Is there a hierarchy of sin?' Quickly followed by 'Are we all not sinners?' Therein lies the ecumenical rub. If we condemn a person then who among us sinners should not also be condemned?"
The letter so angered students that many of the posters put up on campus featured those paragraphs.
Who Should Forgive?
Claire Brickson is a senior at Sewanee, one of the two student representatives to the board to whom the letter was addressed. (Brickson and the other student representative were permitted to present their request on the Rose degree to the board, but they were not allowed to participate in the board's deliberations.)
In an interview, Brickson said the letter displayed a lack of appreciation for the position of the students -- and the harm done to the women Rose harassed. "We are not the ones who can forgive Mr. Rose," she said. "We're not the ones who he harassed. It is not our position to offer forgiveness."
The culture associated with sexual assault and sexual harassment is a national problem, she said, and it is a problem at Sewanee. "This is not just about Charlie Rose," she said, but about the university having had the chance to make a statement about the problems of sexual harassment by taking back an honor for someone who mistreated many women in his career. "The university has failed," she said.
As to the anonymous posters on campus, Brickson said she did not favor the personal attacks on McCardell, but "I understand" why some students felt the need to put up the posters. Many take the board's decision as a sign that it does not care about these issues, she said.
Others have noted that the university has an honor code through which it punishes students for various infractions, with penalties including suspension.
Richard Pryor III, a student, published an essay Monday in The Sewanee Purple in which he challenged the theological underpinnings of the leaders' letter. He said that he accepts that all people are sinners, but that Rose's conduct -- using his power against women time and again, over a period of many years -- put him in a different category.
"By not revoking Charlie Rose's honorary degree, you have told these strong survivors that you don't care about the fact that he hurt them. You have shown every person on this campus that if you're powerful enough or well-connected enough, you can sexually assault others without repercussion," Pryor wrote. "This is the message you are sending, and you will stand on the wrong side of history."
'Adding a Feather'
McCardell, in an interview, disputed the idea that there was inconsistency between the university's stance on the honorary degree and its honor code. Unlike honor codes at some other colleges that can be used to expel students, Sewanee's has suspension -- with the possibility of returning -- as its strongest punishment. Those found to violate the honor code have the choice to "be welcomed back," he said.
Further, he said that the honor code only allows for punishment of those who have had due process -- something that the college cannot offer Rose in a meaningful way. In fact, McCardell said, Sewanee has never revoked a degree -- honorary or otherwise -- in its history. "We have no procedure or process for revoking a degree," he said.
Rose has been punished, just not by Sewanee, he said. "It's hard to say that he has not been censured in the court of public opinion," he said. "His career is over."
McCardell also asked whether revoking the degree would accomplish anything.
Doing so would be "to add a feather to a thousand-pound weight," he said. The focus of students would be better directed at the campus. "These students are concerned about what we are doing about the climate on campus," he said. "The morning after we have revoked Charlie Rose's degree, we may feel very good about ourselves, but what have we done on campus?"
As for the posters directed at him, McCardell said, "I've got a thick skin. I've seen this stuff and worse. I am more disappointed than hurt."
But he said he was concerned about the tactic. "I think anonymous postings of a personal nature -- leave aside entirely who is being named -- are inappropriate and are fundamental violations of the rules of civil behavior," McCardell said. "How does one respond to anonymous charges? Where is the diversity that we claim to possess and to celebrate when such things as this are posted? Where are the voices saying, 'This goes too far?'"
Duke and Hopkins
Sewanee is not the only institution to have awarded Rose an honorary degree and not to have revoked it.
Duke University in December announced that it would not revoke an honorary degree it awarded to Rose (who is an alumnus). The university said it had never revoked an honorary degree and that the board had discussed the issue. However, at the same time, Duke announced that its DeWitt Wallace Center for Media and Democracy was revoking an award it had given Rose, given that the Post articles showed that "he used his status to prey on women who worked for him."
One of the few institutions that has not revoked its honorary degree for Cosby is Johns Hopkins University, where some students are pushing the university to do so.
A statement from the university said, "Johns Hopkins University remains deeply troubled by the reports and allegations regarding Bill Cosby. As stated previously, Johns Hopkins has a set of values we seek to uphold and we continue to closely monitor all developments related to this matter. We exercise great care and deliberation in awarding an honorary degree and would do so in the event of revoking one."