You have /5 articles left.
Sign up for a free account or log in.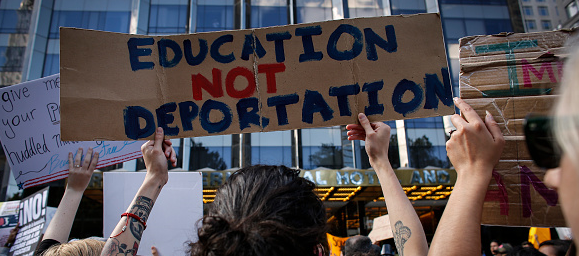 Today was supposed to be a last-ditch deadline for Congress to act if it wanted to keep the protections provided by the Deferred Action for Childhood Arrivals program in place. Two nationwide court injunctions blocking the Trump administration from ending DACA are temporarily keeping much of the program alive, but with no legislative solution in sight, uncertainty about the long-term prospects for the hundreds of thousands of young undocumented immigrants known as Dreamers who have benefited from the program continues.
To recap: DACA, established by former president Obama in 2012, offers temporary protection against deportation and also provides work authorization to a subset of young undocumented immigrants, including many current or former college students, who were brought to the U.S. as children. In September, the Trump administration announced plans to gradually end the program, arguing that the establishment of DACA represented an unconstitutional overreach of Obama's executive power, a conclusion many legal scholars disagree with.
While it would not terminate existing grants of DACA status, which is valid for two years, the Trump administration said in September it would not accept renewal requests for individuals whose benefits were set to expire after March 5 -- today -- meaning that an ever-increasing number of DACA recipients would start to lose their protections and work authorization as early as tomorrow. Trump at the time said that Congress had six months to act to, in his words, "legalize DACA."
It has not yet done so. Democrats in Congress forced two brief government shutdowns over the issue, but Congress subsequently passed a two-year budget bill that included many Democratic priorities, but no solution on Dreamers. The Senate subsequently voted on three different bills to codify protections for Dreamers. All of the bills failed.
President Trump's own stance has also shifted. After initially indicating that he would sign whatever bill Congress brought him, Trump began to insist that legislation to protect Dreamers include concessions anathema to many Democrats in Congress, those being: $25 billion for a southern border wall, the elimination of the diversity visa lottery program and new restrictions on family-based immigration.
All of that brings us to today and the question of what colleges can do to assist students with DACA status during this prolonged period of uncertainty. Many college presidents and higher education groups have been active in lobbying for a path to permanent residency or citizenship for these students, and concerns about the possible deportations of Dreamers in the months immediately following Trump's election spurred many colleges to declare themselves "sanctuary campuses" or otherwise articulate commitments that they or their police forces would not voluntarily cooperate with immigration enforcement (while leaving open the possibility that they could be compelled to do so).
"I think we need to look in two different directions," said Dorothy Leland, chancellor of the University of California, Merced, which she said enrolls about 600 undocumented students, most of whom have DACA protections. "We need to continue to advocate and lobby for a permanent legislative solution, but we also need to think ahead about how can we best protect our students if that doesn't happen."
"The most important thing is if they lose their right to work, to find ways to supplement their financial aid packages without the use of state or federal dollars, so through private sources," Leland said. DACA recipients are not eligible for federal financial aid, and their eligibility for state aid varies.
"We've been looking for people who are willing to support our undocumented students. The limbo that our students are in also affects our potential donors in that they don't know what's going to happen or if the dollars will be needed. But I know that I have some folks ready to go should there not be a permanent legislative solution and the courts' decisions don't go our way," Leland said.
If it comes to deportations, Leland added that colleges will have "several other things to think about. First, funding for legal defense funds for our students and, secondly, how we may help them to complete their education in the country that they are now in … Many colleges and universities have student exchange relationships [with institutions in other countries]. So in those countries where our students end up, in the worst-case scenario if they were deported, how can we leverage those already existing relationships to help them complete their degrees?"
The Presidents' Alliance on Higher Education and Immigration, for which Leland sits on the steering committee, noted in a memo it sent to its members last week that the March 5 deadline still has real consequences for DACA recipients whose status was set to expire after today's date and who were unable to apply for renewal until after the first of the two court injunctions ordered in January. "That means that every day after March 5th, large numbers of DACA recipients whose status expires will no longer have protections against deportation and will lose their work authorizations unless or until their renewals are approved and they receive new documents," the memo states.
"In pragmatic, real terms, there are going to be numerous DACA recipients who are going to experience gaps in their work authorization, in knowing that they are protected from deportations," said Miriam Feldblum, the founding executive director of the alliance. In its recent memo, the alliance recommends that colleges consider a number of actions to support their students with DACA protections, including locating funds to help them pay the $495 fee to renew their DACA status, connecting them with legal resources and "sharing information regarding what happens if their work authorization lapses, including reviewing both the rights of employees and the responsibilities of the institution, and opportunities for non-employment based fellowship funding or other kinds of financial assistance on campus."
"I do think continuing support services around mental health, peer support, ally training, education for people on campus about what this means is all very important, too," said Feldblum, who's on sabbatical from her position as vice president for student affairs and dean of students at Pomona College. "But we don't want to forget that there are some new needs that are coming up around applying for DACA, around really thinking even more so than in the past about legal resources, making sure that your campus is ready to understand what it means when a student or others have a gap in their work authorization."
Feldblum acknowledged that there are limitations to what a college can do, and that it will vary across institutions. "What I hear from students often is, 'what we want to know is what you can do; just share with us that information. So is there some financial assistance and if so what does that look like what do we need to do?' And I think students also well understand when colleges and universities can't do more. So what I think what colleges and universities can do is try to be as clear with information as possible with their impacted populations."
Catie McCorry-Andalis, the associate vice president and dean of students at the University of Texas at El Paso, which is located on the U.S.-Mexico border, leads that university's DACA response team. She said the advice they're giving to DACA recipients is threefold. "First and foremost, continue going to school. There's no reason for them not to continue to go to school. They can absolutely still do that, and they are."
"Second of all, take advantage of the resources we have on campus," like the counseling center, McCorry-Andalis said. "Three, the other part of it is understanding their rights and continuing to know that there are services to support them, not only here on campus but in our community." She added that UTEP has a lot of resources in place to assist students who are struggling financially, including a food pantry. The academic advising office also employs social workers who help students with financial issues. Though these services are not specific to students with DACA status, they're ones they can take advantage of.
"As far as options if they can't work, we're still trying to sort that out," McCorry-Andalis said. "I know some campuses have had conversations about additional scholarships to offset that. We're working through all of that, but there's so many unknowns it's hard to even come up with a plan."
"Right now the best that we can do is [tell students], 'you currently have DACA status, it hasn't been rescinded yet, do all you can to complete your studies,'" said Lenore P. Rodicio, the executive vice president and provost of Miami Dade College, which has about 400 DACA students enrolled, about 100 of whom are projected to graduate this spring. "On our end we've been doing a lot of advocacy with our legislators to open their eyes into supporting the students and finding a permanent solution for them."
"If, heaven forbid, the program is terminated, then at that point we would work with the students to help connect them with resources to help resolve their individual situations. We'll do what we can to help support them in that transition, but hopefully our legislators will find a permanent solution to help these students," Rodicio said.
Boe Mendewala, a fourth-year Ph.D. student studying physics at Merced, recently traveled to Washington with Leland to lobby for a permanent solution for DACA recipients such as herself.
"There was a lot of support in D.C. for a solution, but it seems to be just not going through. Everyone we talked to seems to support it, but it's just not getting done for whatever reason," she said. "It's frustrating and it's scary for a lot of people, especially people whose DACA is set to expire soon."
Mendewala, who came to the U.S. from India when she was 5 years old, said her DACA status is set to expire in April 2019. Her goal is to graduate next spring and find a job in a national lab or in industry. She studies properties of materials used in solar energy technologies.
"With an April expiration date on my DACA, if I'm not able to renew that or if I have no way to continue with a work permit, then I may not be able to finish the program, and even if I do finish the program, I'll have a Ph.D. and I won't be able to use it for any kind of job, because I won't have a work permit," she said.
Asked what colleges can do, Mendewala said, "I'm really lucky to be at a school that is very supportive of its DACA population, but obviously not every school is like that. I guess what I would want other universities to do is to follow the example of University of California, Merced, and to take the time to listen to these students because they feel like they're not being heard anywhere else, especially by the government and their communities. Listen to their concerns and, if you can, give them assurances that the campus will be a safe place where they don't have to worry about deportation, that the campus will be supportive either financially if they lose their status or work permit or will provide legal services or psychological services, the kinds of services that students who are living in these really tough, uncertain times will need."