You have /5 articles left.
Sign up for a free account or log in.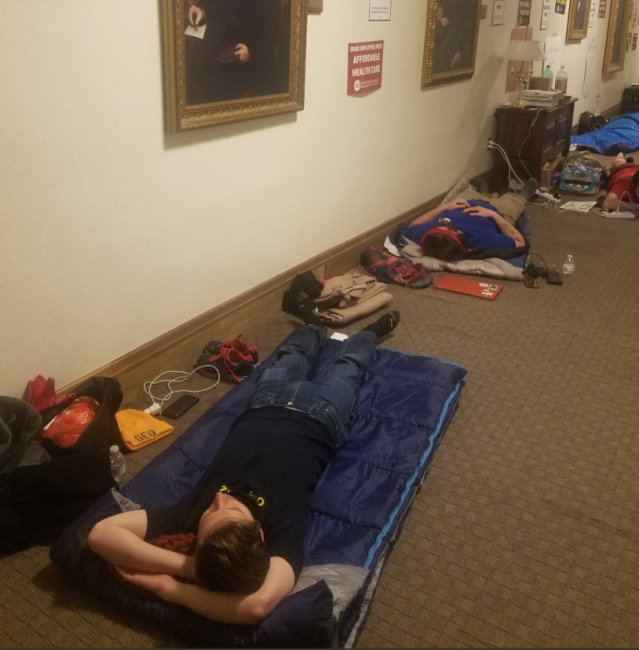 Nearly two weeks after going on strike over protracted contract negotiations, graduate student workers at the University of Illinois at Urbana-Champaign reached a tentative agreement with their administration Thursday.
The new proposal, which members of the Graduate Employee Organization will continue to vote on Friday, includes several key provisions that stalled negations prior to the strike -- perhaps most significantly, guaranteed tuition waivers for teaching and graduate assistants enrolled and in good standing. The university previously wanted to reserve the right to determine and modify tuition waiver designations.
The new agreement also includes a $50 payment for teaching assistants who get their appointment letters late and wage increases for the first three years of the five-year contract: 4.5 percent in the first year and 2 percent in each of the second and third years.
Insurance premium coverage would also jump to 87 percent, from 80 percent currently. There's a proposed 25 percent coverage for one dependent -- the first time any dependent coverage has been part of a deal for the graduate employees.
Ashli Anda, a spokesperson for the union, which is affiliated with the American Federation of Teachers, said students achieved their aims because they "were and continue to be highly organized." Given that graduate students have been working without a new contract and bargaining for a year, she said, "we had extensive time to educate ourselves and others about labor law, something many of us had never expected we'd know so much about."
Anda, a Ph.D. candidate in philosophy, said members had a say in strike actions and strategies and committees worked hard to encourage participation each day.
Mary Grace Hébert, a Ph.D. candidate in communications on campus, said the strike was "successful because graduate employees worked nonstop to make it happen. It was really hard work."
The union had a dedicated team of strike captains, building coordinators and picket captains, she said. Social media and outreach to departments on campus with historically low union participation also helped.
In addition to stopping teaching, many students also halted their research or postponed course work, putting "all our energy toward making the strike successful," Hébert said.
By the end of the strike graduate students had taken to occupying and even sleeping in the campus chancellor's and University of Illinois System's president's offices.
Noting that Illinois was among the many institutions to speak out against an ultimately unsuccessful GOP proposal to tax graduate tuition waivers last year, Hébert said she was "disappointed" to see tuition waivers at stake in negotiations.
"While waivers are nonmonetary income, they are part of our compensation," she said. "Without guaranteed waivers, many graduate employees would not be able to attend UIUC because of the cost." Out-of-state and international students, who make up a major share of the graduate employee population, would have been hit the hardest, she said, adding that she wouldn't have been able to come to Illinois from out of state without a waiver.
"Like many of my colleagues, I would have taken a different offer," she said. "Guaranteed tuition waivers must remain a standard of graduate education, and our strike was an attempt to preserve that standard at UIUC and beyond."
Many faculty members offered support for the graduate students on social media and elsewhere during the strike.
Robin Kaler, a university spokesperson, declined to answer specific questions about the agreement, citing the ongoing ratification vote. The university is "very happy," however, she said. Between 67 and 173 graduate students went on strike for each day of the action, according to university estimates, leaving scores of classes canceled or moved.