You have /5 articles left.
Sign up for a free account or log in.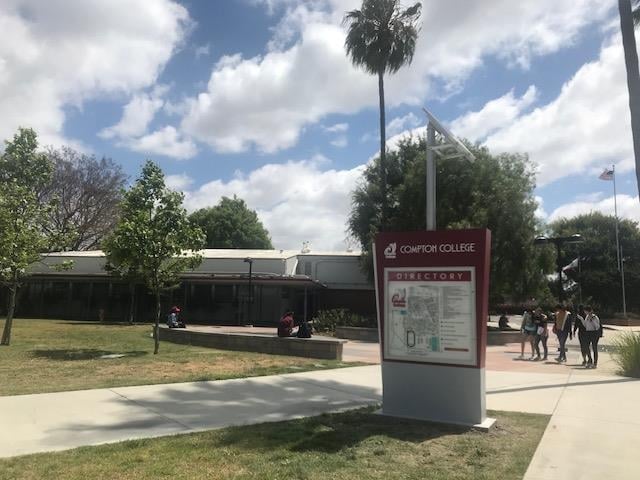 COMPTON, Calif. -- The athletic field at Compton College is a freshly manicured, lush green with new stadium lights hovering above.
It's late spring in California, and as the community college's soccer team practices, the sun is shining on a field that carries the maroon and silver lettering of the Compton Tartars. This is typical for any college, especially one with a team that nearly won its conference championship last year.
But it's an achievement at Compton -- the first public college in California to ever lose its accreditation.
For nearly 12 years, the college that was one of the first two-year institutions in the state could not continue to operate on its own. Beleaguered by a corrupt board and financial insolvency, Compton was stripped of its accreditation by the Accrediting Commission for Community and Junior Colleges in 2005, and the state Legislature subsequently stripped the Board of Trustees of power. To maintain programs for the college's students, control of Compton's operations and services were taken over by neighboring El Camino College, and Compton became El Camino College Compton Center.
"From 1997 to 2004, I thought, 'This place has problems,'" said Paul Flor, a professor of political science at Compton College and former Academic Senate president, who started working at the institution in 1997. "Was I one of those people who thought it'd be better remaining under El Camino? At one time, yes, I thought that. But that was the easy route."
But over those 12 years, Compton has gradually been rebuilding its brand and sweeping out the problems that led to the accreditation loss. Some changes, such as tuition-free agreements with local high schools to enroll their graduates and also improve enrollment at Compton, have been monumental. And others have been small, like keeping the Compton name on the college's buildings, fields and apparel.
Then last year the college's administration, staff and students saw their efforts pay off -- ACCJC granted Compton its accreditation for seven years.
"When we had our accreditation visit last March, I felt good about the report, but some of our employees cried," said Keith Curry, president of the college. "Some people have more history here than I do. You could see the validation that we did something good … people thought we were dead."
'It's a Love Story'
Faculty members and community members point to Keith Curry as one of the main reasons behind Compton's comeback.
Now president, Curry prior to the restored accreditation last year was the campus's provost under the El Camino partnership.
Compton didn't choose Curry, but he chose the college, Flor said, adding that it's an important distinction to how he describes a "transformational leader."
"It's a love story," Curry said, describing his relationship with the college. "As an educational leader, I'm never afraid, and I have good faculty and staff who care about student success. I'm from here. I've been approached with other job offers, but at the end of the day this is where I'm from."
Under Curry's leadership -- and without accreditation -- the college successfully got local voters to approve a $100 million facilities referendum in 2014 to improve the campus's 1950s-era buildings and started new programs in cosmetology, heating ventilation and air-conditioning, as well as a transfer program for honor students. Compton also started early-college partnerships with local high schools, added new athletic programs and created a program to help formerly incarcerated students.
And over the course of seven years the college reduced the number of audit irregularities, from 26 in 2010 to zero in 2017.
More recently, beyond the accreditation achievement and the Board of Trustees' power being restored last year, Moody's upgraded the college's credit rating.
When it comes to student outcomes, in the last five years the number of students receiving a degree or certificate has doubled, despite declining enrollment -- in 2013, the college awarded 380 degrees and certificates, while in 2017 the college awarded 574 degrees and certificates. The college still has a long way to go in improving completion, however, with a 12 percent federal graduation rate.
"Compton College is an important institution to the community," said Nicole Jones, the current board president, who was appointed to her position in 2016, adding that there was strong support from the community to keep the college going. "Bonds were passed … that speaks volumes of the community's support for Compton. That the property owners were willing to vote and say yes to fund and support activities in Compton."
Jones was appointed to the board when the college was still under a special trustee and the elected board had no power. She'll face her first election this year.
"This is the first time this had happened for a college, to lose accreditation and control and come back," she said. "I think people thought it was never coming back, but people in the community were very much fighting for it and still do."
But that support wasn't ubiquitous.
"No other community college in the state of California has been treated like Compton college has," said State Assemblyman Mike Gipson, a Democrat in the state Legislature, who represents Compton, Carson and Gardena. Gipson has been one of the area lawmakers voicing support for Compton over the years and helping to secure $11.3 million in state funding to help the college rebuild its enrollment.
Flor, the political science professor, said one of the problems the college has had to contend with is the misperceptions of the city of Compton in general, particularly how they play in the media, and how that has reflected on the college during the accreditation crisis.
When City Colleges of San Francisco faced the potential of losing its accreditation, eyeballs turned to what had happened in Compton. And observers and supporters in Compton couldn't help comparing the reaction to the much larger CCSF potentially losing accreditation to what had occurred years earlier.
"We focused on our recovery and stayed out of the CCSF situation," Curry said. "But I was in disbelief of people in support of CCSF who didn't stand up for Compton. People thought that our institution was corrupt and thought what happened to Compton should have happened to Compton."
Curry said he remained focused on getting Compton back in good standing with ACCJC, even as faculty groups, the state's unions and even members of Congress like Representative Nancy Pelosi questioned the commission's stance on the San Francisco college.
"They created a whole new designation for CCSF, but for us, we were revoked," he said.
If Compton had another name or another location, there may have been more support for the college, Flor said. Some of the arguments against CCSF losing accreditation were connected to its significantly larger size, as well. The San Francisco college enrolled about 90,000 students in 2012.
"Everyone came out in support of San Francisco," he said. "If we were in North Long Beach or called Dominguez Hills Community College or a different community college, we would've had almost unanimous support. But this misconception is fueled by other sources that Compton is Compton. Straight Outta Compton. If we can get rid of the baby and the bathwater, that's fine."
That perception also impacted the relationship between El Camino and Compton when it first began.
A Unique Partnership
At about 12,000 students enrolled, Compton is a relatively small college south of Los Angeles, compared to its neighbors at El Camino, Long Beach City, Cerritos or East Los Angeles Colleges. More than 85 percent of students are black and/or Hispanic, and most of them are under the age of 24.
Despite being less than eight miles apart, Compton and El Camino couldn't be more different: El Camino, with about 32,000 students, has a 67 percent black and Latino population.
"Look at our demographics, and it is night and day," Flor said. "We were considered the inferior campus, just the Center. In every respect, we were considered the stepchild."
Although the college lost its accreditation for financial and governance issues by its leadership, the loss impacted the perception of academic quality and instruction at the college.
"The community heard Compton lost accreditation, and people made assumptions that it was because of the quality of instruction," Flor said, adding that it was the faculty that initially alerted ACCJC to the college's problems.
But many of the innovations and reforms that are just now taking place at two-year colleges across the country, like guided pathways and math academies, were being developed by Compton faculty before the accreditation was revoked, Flor said.
There was also some resentment from faculty about El Camino taking over the college's operations. Faculty members during that time had to reapply for their positions, and some programs were eliminated because they didn't match the ones El Camino offered.
Flor said some faculty members did leave and others were forced out. He also remembers being called about potentially being laid off from his position.
"We could've gone anywhere else, but there is a certain care and a certain type of attention our students need," he said. "We're not there to find the bigger paycheck. Other institutions can pay more, but we're there to make a difference."
Challenges Ahead
Next year Compton will have completely separated from El Camino College and will, once again, stand on its own as a separate institution.
But the challenges the college is facing will only intensify.
For instance, enrollment is expected to decline once Compton and El Camino separate, partially because of the misperceptions that continue to surround the college's brand.
"A lot of students are petitioning for graduation this year and wondering if next year we'll still be El Camino College, because they still want a diploma that says El Camino College," Flor said. "They don't want a diploma that says Compton College. We still have to rebrand. We have to get a reputation out there that says Compton College diplomas are just as respected and equal as others."
Then there is the state's move to performance funding, which the California Legislature is in final negotiations over. Sixty percent of state funding to colleges would be based on total enrollment. Compton, however, would be held harmless for five years to encourage the college to become more self-sustaining in the aftermath of the accreditation crisis.
"The only reason Compton is one of the smallest [community colleges in the district] is because of enrollment," said Gipson, the state lawmaker. "We have an opportunity right now to boost it back up and to a point where it won't have to be the smallest. We'll be able to compete with all the other colleges."
But the new performance-funding formula may benefit the college, too, and it has Curry's support in acknowledging that some students face higher barriers than others. Under the new formula, 40 percent of state support would be based on student success measures and enrolling low-income students.
The college also wants to tackle poverty head-on with current proposals to construct a 540-bed residential hall on campus, an issue Curry said he's been pushing for at least the past seven months. A survey commissioned by the Los Angeles Community College District's Board of Trustees found one in every five of the district's 230,000 students is homeless, and nearly two-thirds are food insecure.
"We're in a push to make changes for our students, and I want to be part of the change in California Community Colleges by improving Compton," Curry said.