You have /5 articles left.
Sign up for a free account or log in.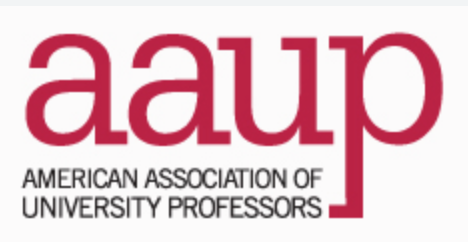 The American Association of University Professors on Saturday voted to censure the University of Nebraska at Lincoln for alleged violations of academic freedom in a politically loaded case involving an adjunct lecturer.
A Symbolic Punishment
The voice vote, taken at AAUP's annual meeting in Washington, was decisive and probably unsurprising: Nebraska's censure seemed likely last month, when the AAUP issued an investigative report on the now locally infamous Courtney Lawton suspension. In that report, the association concluded that the university bowed to political pressure in removing Lawton, a former adjunct instructor of English and current graduate student, from the classroom after she flipped off an undergraduate student activist.
The August incident happened as the undergraduate was campaigning on campus for Turning Point USA, the self-described grassroots conservative organization behind the Professor Watchlist website, which many professors say distorts their views and threatens academic freedom.
In widely shared student video, Lawton calls the undergraduate a "neo-fascist Becky" who "wants to destroy public schools, public universities, hates DACA kids," and puts up her middle finger.
At first, Nebraska removed Lawton from the classroom citing security concerns. But as Republican state lawmakers began to speak out against Lawton and demand "accountability" with regard to the campus political climate, Nebraska said she would not teach again.
Based on AAUP's report, administrators now say that Lawton was permanently suspended from teaching because she physically blocked access to the student activist's table. But Lawton and others who witnessed the incident deny that. Nebraska reportedly says it has a second security video that captures that part of the dispute, but it did not share that video with AAUP.
Stephen Ramsay, Susan J. Rosowski Associate Professor of English at Nebraska, attended the annual meeting and spoke in favor of censure prior to the vote. Identifying himself as the representative for the university's AAUP advocacy chapter, Ramsay said that this year "has been a very difficult one for my institution."
Yet he said he agreed with the "disquieting" conclusion of AAUP's report, that there is "little doubt that political pressure played a significant role in the Lawton case; in one sense, it is at the very heart of it." He encouraged those presenting to vote for censure.
Nebraska has previously criticized AAUP's report as inaccurate. Deb Fiddelke, a university spokesperson, said in a statement after the vote that AAUP erred in asserting at the meeting that Lawton was not afforded a hearing prior to her suspension.
"It's shocking the AAUP would base its actions on such conflicting statements and glaring inaccuracies," Fiddelke said.
AAUP's report says that Lawton initially agreed to a suspension from teaching, but only because she believed it was for her own safety as her case began to attract attention.
Lifting Sanction and Censure
At its meeting, AAUP also lifted symbolic sanctions or censures from two other institutions.
The University of Iowa saw the removal of a sanction imposed in 2016, over concerns about a failure of shared governance in the presidential search that ended in the hiring of Bruce Harreld. AAUP found in 2015 that the Iowa Board of Regents disbanded a faculty committee involved in the search to gain control over it.
Faculty members at Iowa previously criticized the sanction, saying the campus shouldn't be blamed for the board's actions -- even if Harreld was unpopular.
The university referred requests for comment about the vote to Russell Ganim, a professor of world languages on campus and the current Faculty Senate president.
"We are delighted by the news of the sanction removal," he said in a statement, describing a now-strong "partnership" between the senate, board and local AAUP chapter. "We believe to have established a model of collaboration that will benefit shared governance at [the university] not just now but in the future."
With AAUP leaders saying they had addressed concerns that resulted in the censure of Stillman College's administration, the association voted to take that institution off the censure list, too.
Stillman landed on the list in 2009 over concerns about the termination of Ekow O. Hayford, a longtime tenured professor of business. At the time, AAUP found that Hayford was fired without due process after he publicly criticized the president of the college, a historically black institution in Alabama. The college maintained that Hayford had violated a Faculty Handbook prohibition against spreading "malicious gossip."
AAUP said Saturday that Stillman's new administration had accepted its annual suggestions about bringing its faculty standards more into line with the norms of academic freedom.
Stillman did not immediately respond to a request for comment about the vote.
More from Academic Freedom