You have /5 articles left.
Sign up for a free account or log in.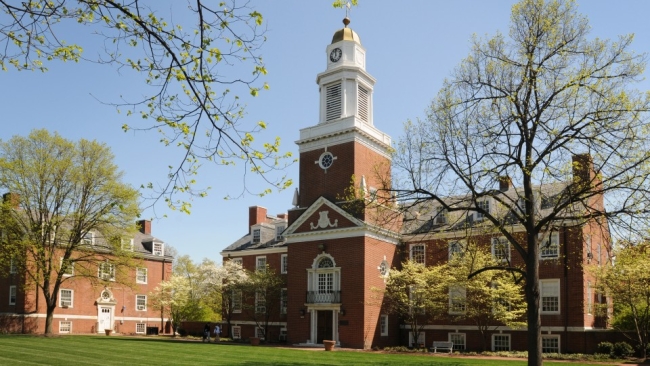 Westminster Choir College
The controversial sale of Westminster Choir College took another step forward Thursday, with Rider University trustees signing a purchase and sale agreement calling for the choir college in Princeton, N.J., to be transferred to a new owner by July 2019.
Under the agreement, Westminster -- which has been part of Rider since a merger in the early 1990s -- will be transferred to entities set up by a company based in China, Kaiwen Education. Kaiwen agreed in February to buy Westminster for $40 million and operate it as a nonprofit. That agreement ratcheted up concerns from already unhappy faculty members and alumni who worried the for-profit buyer does not have the experience or commitment needed to operate a top-tier music college.
The Growing Role of
Mergers in Higher Ed
Inside Higher Ed's new special
report on mergers and consolidations
is must reading for campus leaders.
The study contains journalistic
analysis, data and practical
guidance for college leaders, and
is available for purchase here.
Several details released Thursday about the newly signed purchase agreement are related to faculty and alumni concerns. But parties opposed to the sale, including some who are suing to block it, remained staunchly opposed to the deal, which cannot close until the lawsuits are resolved. So the situation will continue to play out in the courts.
The new agreement includes a commitment from the buyer to operate Westminster at its current campus for at least 10 years. It also says the buyer will "substantially maintain" current academic offerings for at least five years.
Additionally, Kaiwen will offer "employment and comparable benefits" to Westminster's full-time faculty, "priority adjuncts" and full- and part-time staff members. A total of 33 full-time faculty members, 26 priority and preferred adjuncts, and 50 administrators and support staff will be offered employment. The buyer also committed to continuing student aid.
Kaiwen agreed to spend $16 million over a five-year period after the deal closes for working capital and capital expenditures. The $40 million purchase price is subject to adjustments before the deal closes.
"This contract sets the foundation for a process that creates opportunities for Westminster to evolve into a renewed institution with a strong future," Robert S. Schimek, who chairs Rider's Board of Trustees, said in a statement. "This includes plans to broaden and expand Westminster far beyond what Rider is able to do, and attract more international students to the Choir College, Conservatory and Continuing Education."
The new agreement left groups opposed to the sale unmoved. The Rider chapter of the American Association of University Professors blasted Thursday's agreement, questioning whether the buyer intends to run the choir college beyond the newly agreed-upon five-year mark and arguing that the sale price appears to be in flux and at risk of heading downward.
"All available evidence, including a detailed analysis by Rider Business College faculty, demonstrates that Kaiwen's finances are precarious," said Joel Phillips, professor of composition and music theory at the college and AAUP spokesperson, in a statement. "Taken together with its complete lack of experience in higher education it's hard to imagine a less suitable partner to invest in and continue Westminster Choir College's legacy."
The AAUP plans to continue to oppose the deal.
Rider moved in 2017 to sell Westminster after faculty members, students and alumni resisted the idea of relocating the choir college from its longtime campus in Princeton to Rider's main campus seven miles away in Lawrenceville, N.J. Rider leaders pursued changes because they felt the need to improve their budget situation and inject cash into the university.
The planned sale has already prompted multiple lawsuits. Princeton Theological Seminary sued in New Jersey Superior Court, arguing that the proposed sale would not comply with the original intent of the donor who gave land for Westminster's Princeton campus and that the donor wanted the campus to go to the seminary if the choir college didn't fulfill its obligations. Students, parents, donors and alumni are also suing the university in federal court.
Rider is trying to "steal the bounty" of a charitable gift it received 30 years ago, said Bruce Afran, a lawyer for the Westminster Foundation, one of the groups suing Rider in federal court. The courts and New Jersey's attorney general are unlikely to allow the sale to go forward, Afran argued.
"It actually makes the lawsuit more compelling than ever," Afran said of the new sale agreement. "There is a century-old school that now is living with a five-year life span under this proposal."
Kaiwen has established a nonprofit corporation in New Jersey, Westminster Choir College Acquisition Corp., to operate the college after the sale. The acquisition corporation will change its name to Westminster Choir College after the deal is complete.
Two for-profit companies tracing their ownership to Kaiwen are also involved in the deal: Beijing Wenhuaxuexin Education Investment Limited Co., a wholly owned subsidiary of Kaiwen Education, and Princeton Westminster International LLC, a subsidiary of Beijing Wenhuaxuexin Education. They would operate two branches of Westminster, the Westminster Conservatory and Westminster Continuing Education.
For the next year, Rider plans to continue running Westminster, the conservatory and the continuing education operation. The university plans to coordinate student recruitment with Kaiwen.
"Kaiwen Education's mission is to sustain and grow Westminster Choir College's reputation as a world-class institution, while maintaining it as an artistically pre-eminent, academically rigorous and fiscally sound institution," said Gregory G. Dell'Omo, Rider's president, in a statement. "It is our hope that the entire Westminster community can come together to help bring this process to a successful conclusion so the legacy of Westminster can carry on far into the future."
Rider chose Kaiwen to acquire Westminster after reaching out to 281 different parties. It received 13 formal proposals of interest and five proposals that included interest in keeping Westminster in Princeton.
No educational institutions from the United States expressed interest in running Westminster in Princeton, according to Rider. One U.S. educational institution was interested in moving Westminster to its campus but decided against moving forward after a due-diligence period.