You have /5 articles left.
Sign up for a free account or log in.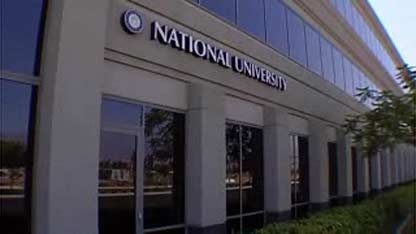 There is a growing demand for graduate degree holders in the work force, and officials at National University System are looking to meet it.
The nonprofit system announced Tuesday that it plans to acquire the for-profit Northcentral University, which specializes in master's and doctoral-level online education.
"This is very mission-driven for us when we think about affordable, accessible, quality education to the masses," Michael Cunningham, chancellor of the National University System, said in an interview with Inside Higher Ed. "Our mission is about giving folks an opportunity to increase their station in life and to meet them where they need to be met at a cost affordable to them and their family."
Northcentral serves about 10,000 students and would become the San Diego-based National system's fourth affiliate institution. The system has more than 45,000 students globally. Northcentral offers 19 doctoral and 20 master's degree programs.
Cunningham said acquiring Northcentral would help the system meet the needs of working adults who want graduate degrees.
Officials within the private system, which oversees National University, John F. Kennedy University, and City University of Seattle, did not disclose the purchase price. The acquisition is subject to regulatory and accreditor approval.
Cunningham said system officials surveyed alumni, researched market trends and learned there was a demand for graduate programs that provide students the flexibility to work and maintain other responsibilities while taking classes.
According to the Council of Graduate Schools, the number of applications for admission to American graduate institutions increased 1.2 percent between 2015 and 2016. First-time graduate enrollment also increased 1.9 percent during the same period.
Graduate enrollment has particularly increased in the education field, and there have been increases in graduate degrees awarded in health sciences. For instance, first-time graduate enrollment in education increased by 2.3 percent at the master's degree level and 3 percent at the doctoral level between 2015 and 2016.
Another reason National University System wants to increase its footprint in online graduate education is that studies by Georgetown University's Center on Education and the Workforce and other institutions point out that by 2020, six million job vacancies will require a graduate degree.
"When you look at market-relevant jobs that will be in demand, many require a master's degree or doctoral degree in computer science and health care," Cunningham said. "How do you tackle that as a society in a meaningful way and make sure America is competitive in the marketplace and the world?"
Cunningham said one of the reasons Northcentral appealed to the system was its one-to-one online learning model. The online institution pairs one faculty member to one student as a way of providing individualized teaching.
"They also have a great faculty and staff who all have doctorates and remain experts in their fields," he said. "They've been a really good actor in the for-profit space. We looked at a lot of for-profits and nonprofits, and there were no lawsuits against them. No student complaints. They're very ethical, regulatory compliant and that was really exciting to us."
The deal between National and Northcentral means that, once approved, Northcentral would immediately become a nonprofit. Cunningham said there are no plans to change staffing levels at Northcentral and that the current leadership will stay in place.
National's conversion of Northcentral into a nonprofit follows a recent trend of for-profit institutions undergoing a status change. Grand Canyon University, a Christian for-profit institution, is the most recent college to successfully convert into a nonprofit. Last year, for-profit Kaplan University was acquired by Purdue University. Bridgepoint Education is currently seeking to convert Ashford University into a nonprofit. Bridgepoint received approval to merge two of its institutions from its regional accreditor, the WASC Senior College and University Commission, on Tuesday. WASC is also the accreditor for National University System. (Editor's note: This paragraph was corrected to make clear that Bridgepoint's conversion application is still pending with WSCUC.) 
There has been some criticism of these conversions, however. Robert Shireman, a senior fellow at the Century Foundation and a former Obama administration official, has been critical of for-profit conversions when they don't explicitly separate control of the institution from owners who have a financial interest.
"National University is an entrepreneurial nonprofit that is frequently mistaken as a for-profit because, like many for-profit chains, it has largely focused on the adult market and has distributed locations without a home campus of traditional-age students," Shireman said in an email. "But the school has not had a history of predatory recruiting, high default rates, or large numbers of fraud complaints, suggesting that its nonprofit control has prevented the worst excesses that are common at for-profits."
But National's plans to acquire Northcentral don't just highlight the for-profit conversion trend -- they point to the increasing competition to provide online master's and doctoral programs, said Neil Lefkowitz, a lawyer with the firm Loeb & Loeb LLP, who specializes in mergers and acquisitions.
"If you look at the number of new master's and doctoral programs coming online, it's a staggering number of programs and an increasingly competitive world for master's degree programs," he said.
And in that competitive graduate program market space, it makes sense for for-profit institutions that offer these programs to want to shed the negative perception that comes with being a for-profit institution, Lefkowitz said.
"People are going to look at price point for one thing and brand for another, so it's good to be branded as well as possible," he said. "[National is] facing larger not-for-profit competitors, and this is kind of an interesting system model. It's not just a conversion to a not-for-profit, but it's growth of a nonprofit university system."