You have /5 articles left.
Sign up for a free account or log in.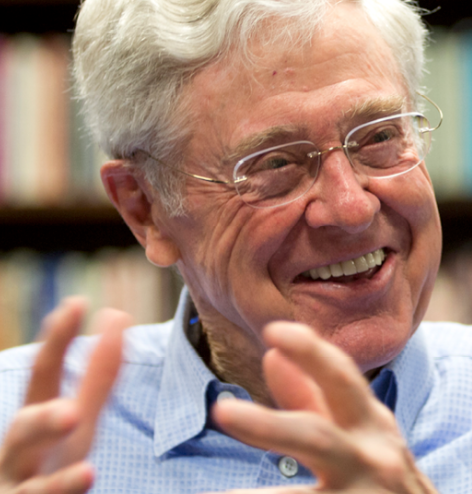 The Charles Koch Foundation plans to make public its future multiyear agreements with college and universities. The change comes after years of criticism from faculty members and students that Koch grants on some campuses deviated from academic norms, and that it was impossible to find out what gift terms were at other institutions. Concerns have centered on grant transparency, as well as specific terms that could lead to undue donor influence in faculty matters, research or the curriculum.
A now-defunct 2008 agreement between Koch and Florida State University, for example, gave the foundation a role in reviewing faculty candidates. Most recently, in May, Angel Cabrera, president of George Mason University, informed professors that he'd learned of "a number of gift agreements that were accepted by the university between 2003 and 2011 and raise questions concerning donor influence in academic matters."
Those gifts, in support of faculty positions in economics, "granted donors some participation in faculty selection and evaluation," said Cabrera, who became president in 2012. Most of the grants had since expired, but most involved Koch.
Cabrera's announcement came as a campus student group was fighting -- ultimately unsuccessfully -- to gain access to private university foundation donor agreements with Koch. The group, Transparent GMU, essentially alleged that donors, including Koch, were using a private fund-raising foundation to skirt open-records laws for public institutions such as George Mason. A Virginia court said that it was the place of the Legislature, not the courts, to change relevant transparency laws, however.
The Koch Foundation has consistently said that it abandoned faculty vetting provisions relatively early on and suggested that Florida State was an outlier, claims that especially came into question with the release of the George Mason agreements. But the foundation has stopped short of making its agreements public, until now.
The Wall Street Journal first reported on the policy shift. Tonya Mullins, a spokesperson for Koch, confirmed the change on Tuesday. "Especially in the past several years, we've seen more and more universities and scholars reaching out. And we've been happy to respond with increased support," Mullins said via email.
Anticipating more proposals in the coming academic year, she added, "we saw an opportunity to be more explicit about the principles that have always guided our giving and helped set a standard for what responsible and impactful university philanthropy looks like."
Koch plans to share online "all major university agreements" that are multiyear, Mullins said. Scholars working on annual projects don't receive agreements, but rather letters accompanying the support.
Mullins also shared a new open letter from the notoriously private billionaire foundation chairman, Charles Koch, who, along with his brother David, supports a host of antiregulatory political causes. The letter outlines Koch's interest in giving to academe -- an interest that is apparently growing. The foundation gave nearly $49 million to more than 250 colleges and universities in 2016, a 47 percent increase over what it gave in 2015, according to a review of tax records by the Associated Press.
"We have all heard troubling stories about controversial speakers being shouted down or even disinvited from college campuses," Koch wrote in his letter. "But the story capturing fewer headlines is the strong demand from within the academy to support more programs and opportunities that expand open inquiry and a rigorous exchange of ideas that are essential for universities to be engines of learning, science, and the resulting discovery."
That "is the essence of a university and a big reason why, through my philanthropy, I have supported higher education so enthusiastically for more than 50 years," starting with student scholarships, he said. "It's also why I'm more committed than ever to supporting the courageous, far-sighted scholars who are grappling with our country's toughest challenges and who are working hard to help more people realize their potential."
Describing the kind of work his foundation supports as that which "contributes to an understanding of how best to achieve a society of equal rights and mutual benefit, where people succeed by helping others," Koch said, "we focus on programs that fill a need, have a real-world impact, and foster what I call a three-dimensional education. By that I mean programs that enable students to identify their innate abilities, turn them into valued skills, and apply them in ways that contribute in society."
Specific areas of interest include criminal justice, economics and entrepreneurship, technology and innovation, foreign policy, "open inquiry," and the humanities.
The foundation current supports 1,000 faculty members and counting.
"As demand for our support for students, professors, scholars, and universities continues to grow, I've been happy to increase my giving and I expect to continue to do so," Koch said. "The common thread in my support is the recognition that when people collaborate to understand and remove injustice we all benefit."
The foundation also has made public its giving standards, including that "faculty call the shots" and "schools provide the academic environment."
"We structure our gifts to support the vision of a faculty member or principal investigator and ensure her academic independence," reads the principles document. "We're excited to support hundreds of schools ranging from small liberal arts colleges to state research universities to Ivy League schools. Each grant we make follows the school's standard procedures when it comes to hiring, curriculum, peer review and other policies."
Seemingly addressing allegations that Koch favors research favorable to its ideological orientation -- or, more crudely, that it seeks to launder a political agenda through academic research -- the new principles document says, "We evaluate proposals on criteria that include relevance, research rigor, applicant excellence in the field of study, contribution to undergraduate and/or graduate student experience, stakeholder and institutional support, and the potential future growth of the work."
To demonstrate Koch's commitment to such ideals, it says it will "Detail our application process and explain what we don't fund when it falls outside our vision to give grantees a better understanding of how we work."
Perhaps the foundation's biggest critic regarding its involvement in academe is UnKoch My Campus. Ralph Wilson, a spokesperson for the organization, said Tuesday that "Koch is not providing clarity" unless it releases all past agreements as well as future ones, in addition to other documents about academic programs.
Anything less is "simply executing a strategic pivot to distract from the ways in which past and current donor agreements continue to violate academic principles and policies on potentially hundreds of campuses, and they are proposing that they be allowed to continue leveraging that influence for private gain."
Connor Gibson, a researcher with Greenpeace who is affiliated with the UnKoch My Campus, said the announcement does "nothing to address existing concerns."
If the foundation doesn't want to publish its existing and previous contracts, he said, "then it continues to hide the conditions upon which many of these private professorships were created, even entire programs and departments."
Regarding past contracts, Mullins said "many" already are public, "and we welcome that." Moving forward, "we'll share with schools the expectation that agreements will be published when news of the supported projects are announced," she added.
Eric Austin, an associate professor of political science and a faculty senator at Montana State University who voted against a proposed Koch-funded campus economics center this spring, said Koch's move was a step in the right direction, but not far enough.
Austin said he wanted hard facts and figures about how many proposals Koch grants and rejects and why, to back up its stated adherence to academic norms.
"I don't have any concern about individual researchers making choices to pursue choices that allow them to advance their research agendas," he said. "But if [Koch is] funding grants with a particular end they want to achieve, that's a very different thing."
Like many other professors in recent years, Austin also expressed a more general concern about the growing footprint of an ideologically driven private funder in academe, coupled with dramatically reduced public funding.
"Those two trends in conjunction -- that's really problematic."