You have /5 articles left.
Sign up for a free account or log in.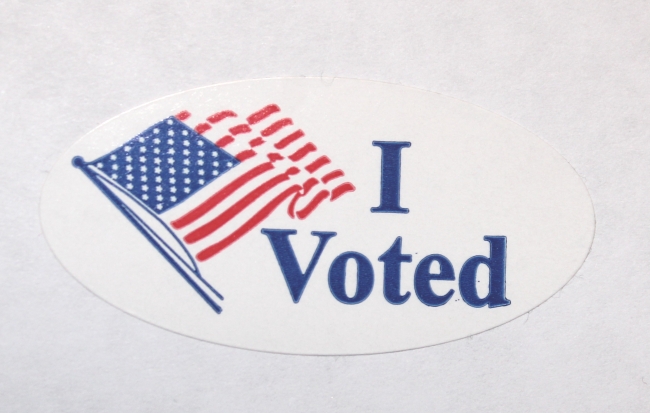 With fewer than 100 days until the highly anticipated midterm elections, and political activists and college administrators attempting to galvanize students across the country to go to the polls, the GOP-controlled government in New Hampshire did something unusual.
Governor Chris Sununu signed a law last month that required part-time residents to switch to permanent status if they want to vote, making it harder for students to participate. Democrats derided the move as a "poll tax" and a way to suppress the student vote, which is already the lowest among voters of any age in part because of barriers students face in registering.
While various civic advocacy groups and institutions are already targeting and trying to invigorate college students to vote, this election cycle is awash in hyperpartisanship and appears to have infused these groups with new energy. At the same time, some politicians on the right, such as those in New Hampshire, appear to be more aggressively trying to restrict the voting rights of college students, who tend to swing left politically. According to the Pew Research Center, 58 percent of 18- to 25-year-olds identified as Democrats or leaned Democrat.
Some lawmakers also are attempting to cast doubt on the legitimacy of the voting process by asserting, often without proof, that it's marred by fraud. College students -- at least those that are politically engaged -- are taking notice.
"In my demographic, there's excitement about the election for nonpartisan reasons or partisan reasons," said Maya Patel, a rising junior at the University of Texas at Austin and vice president of the nonpartisan student advocacy group TX Votes. "A lot more people are talking about the election and are at least interested in voting."
The task of getting students to the polls can be particularly challenging. Data from Tufts University, which oversees the largest study of student voting in the country, showed that only 18 percent of college students voted in the 2014 midterm election.
But President Trump was not in office four years ago. His controversy-prone administration has increased student interest in voting rights and various policy changes implemented by his federal agency heads, said Mike Burns, national director for the Campus Vote Project, a nonpartisan offshoot of the Fair Elections Legal Network.
The issue of voting rights, in particular, has started to trickle into the student psyche, in part because of the repeated but largely unsubstantiated allegations by Republicans about fraud in the voting process, and increased efforts by some states to restrict or curtail voting, Burns said.
Trump has gone on Twitter tirades about "widespread" voter fraud and even established a short-lived commission to look into it that disbanded without any evidence to validate the president's claims.
Meanwhile, a federal judge in Florida ruled last month that the state's prohibition of early-voting centers on college campuses was an unconstitutional and deliberate attempt to discriminate against student voters.
"This was a direct assault on student voting and shows just how far Florida's government will go to keep some groups from the polls," U.S. senator Bill Nelson, a Florida Democrat, wrote on Twitter. "We need to make it easier to vote -- not harder."
A little less than two years ago, critics and advocacy groups accused Paul LePage, Maine's Republican governor, of trying to intimidate voters when posters distributed by his office appeared on the campus of Bates College falsely informing students that they needed to establish state residency in order to vote.
In response to these various efforts to repress student voters, students and other activists started turning out to campaign for candidates who support protecting voting rights, said Austin Laufersweiler, a spokesman for Let America Vote, a progressive group founded by former Missouri secretary of state Jason Kander, a Democrat.
"I would say it's affecting them specifically now," Laufersweiler said of student voter suppression. "Traditionally it's been people of color, working voters, low-income voters, groups that have been disenfranchised, but now it's expanding more into the realm of young people."
Advocates say the attempts to thwart student voters are compounded by the fact that the student themselves are often confused by the process of registering to vote because they are either doing so for the first time, outside their home state, or without much guidance.
Additionally, state laws vary on deadlines for registering to vote and whether voters need identification.
In Wisconsin, for instance, students can use their university IDs to vote, but the ID needs to have their signature on it and the date it was issued, as well as an expiration date no later than two years after the date of issuance. Burns said few college-issued IDs meet those requirements, which prompted his group to work with the Wisconsin higher education system to try to remove the onerous hurdles.
Tennessee accepts all government-issued IDs -- but not a student ID. Texas also does not accept student IDs for voting, nor does it offer same-day voter registration, so students need to register by a certain deadline only a month or so into the academic year, Patel said. For students new to the state, it was easy to miss the cutoff, she said.
For their part, Republican state lawmakers say they are merely trying to reduce election fraud by instituting these voter ID laws. Some of these politicians also take a dim view of colleges actively encouraging, and registering, students to vote, and consider such activities partisan in nature.
At Hood College, a private institution in Maryland, both the College Democrats and College Republicans are involved in the efforts to register students of all political persuasions, said Luke Staley, vice president of the Hood College Republicans. Those pushing voter registration are already politically attuned, Staley said. He said he has never seen any pressure by Republicans to suppress the college vote in Maryland, a deep-blue state -- in fact, GOP lawmakers have been supportive, he said. But he said he recognized the potential problems with the law passed in New Hampshire.
Staley said the 2016 election inspired increased activism on the left in general, not just on college campuses -- which are overwhelmingly more peaceful than the media usually portrays -- but he anticipates high turnout among college students, regardless of political party.
"I think that with the most recent election being as media-heavy as it was, we will see a positive turnout," he said.
An easy remedy for the stumbling blocks student face is involving the institutions, said Dan A. Lewis, director of the Center for Civic Engagement at Northwestern University.
Northwestern has registered more than 90 percent of its student body to vote and is one of the most successful institutions in the country at doing so, according to data from Tufts University's National Study of Learning, Voting and Engagement (NSLVE), in which more than 1,000 campuses participated. The study data can provide college administrators with detailed breakdowns of the number of students who registered to vote and who actually voted. Institutions use this data as a springboard for determining how best to engage students and get them to vote.
Northwestern's efforts were successful because the institution took on an active role in registering students to vote, said Lewis, who described the university's strategy as a nonpartisan "magic bullet."
Lewis said Northwestern has worked with other campuses around Illinois -- mostly four-year colleges and universities, both public and private -- to help them boost their voter registration numbers. College administrators need to figure out what works best for registering students -- where to set up registration tables, for instance, or whether to incorporate registration activities in student orientation events, he said. At Stanford University, where many students own bikes, administrators gave students the option to register to vote at the same time they registered their bikes, he said.
Lewis said Northwestern also trains people to help register others to vote. The process is time-consuming and requires learning different state laws, but it's not impossible, Lewis said.
"I'm extremely optimistic," he said. "For young people, turnout tends to be low generally, but there's obviously interest on both sides when it comes to the Trump administration. I anticipate there'll be a big uptick among college students generally in terms of voting."
A major point in the recommendations on student voting by the Institute for Democracy and Higher Education, also located at Tufts, is that senior leadership be heavily involved in voter registration and civic engagement efforts.
A Harvard University poll on students' political opinions indicates that students largely trust their college administrators on these matters -- 61 percent reported trusting officials most or all of the time.
Nicole Taylor, a former intern with the Campus Vote Project who is entering her senior year at Hamilton College, in New York, said she could not have pushed for new voting initiatives on campus as successfully without working with administrators. Even something as simple as the president's office sending out an email about a voter registration drive could drastically boost attendance at an event, Taylor said.
When she first arrived at Hamilton, Taylor noticed a sense of apathy among students who didn't feel their vote would count for much, but she said the mood on campus has changed since the 2016 election.
"People are energized," she said.
The Tufts data reflect this. Though not a perfect indicator, since turnout tends to be higher in presidential elections, the data show that student turnout rose by about three percentage points from the 2012 election to the 2016 election, from roughly 45 percent of students voting to 48 percent.
The authors of the Tufts University study also recommended that college administrators establish a permanent campus coalition "for improving the campus climate for student political learning, discourse, equity, agency and participation in democracy."
Sometimes, these initiatives tend to fizzle out or are inconsistent, said Burns, of the Campus Vote Project. But a new push is underway -- the 14 universities in the Big Ten Conference, some of the most prominent and influential institutions in the country, in September unveiled the Big Ten Voting Challenge, a competition to register the most students by the midterms.
In Congress, Senator Cory Booker, a New Jersey Democrat, and Congressman Raja Krishnamoorthi, an Illinois Democrat, introduced a bill earlier this year that would require institutions to email students twice a year before voter registration deadlines with links to voter registration information and to designate a "campus voter coordinator" to answer questions.
Another national initiative, the ALL IN Campus Democracy Challenge, also awards institutions certain designations after they develop a plan for civic engagement and meet those goals.
"Some institutional leaders may be reluctant to wade into political waters," Nancy Thomas, director of the Tufts institute, wrote in a letter prefacing its report. "It is important to remember that 'political' and 'partisan' are not interchangeable terms, and we're advocating for nonpartisan engagement. We do ask, however, that institutional leaders demonstrate an unwavering commitment to democratic ideals and structures and take a stand against undemocratic forces globally and in American society. Being for democracy is not and should not be a partisan matter."