You have /5 articles left.
Sign up for a free account or log in.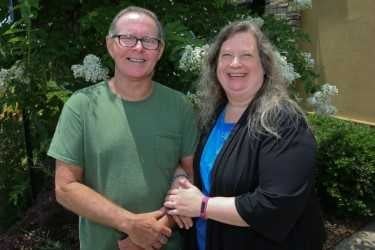 Volunteer State Community College
In the weeks after Tennessee started accepting applications for its tuition-free program for adult students last February, Kim Bare and her family began having discussions about going to college.
Her husband, Jim, had gone to college on and off over the years but never completed. The same was true for their daughter, Jessica Austin, and son-in-law, Michael Austin. Despite wanting to go to college, Kim was never able to go because of family and work responsibilities.
Although there were many conversations about going to college, Michael Austin made the first move: applying for the tuition-free program called Tennessee Reconnect at Volunteer State Community College.
"After Michael did his application, he was telling us how easy it was," said Kim Bare, 51, of Hickman, Tenn. "We had all been talking and my kids had been encouraging me."
So the Bares and their daughter decided to visit Vol State and check out the program.
By the time they finished meeting with college officials, all three had applied for the Reconnect program. They will be starting classes together next week.
"Vol State is making such strides in accommodating nontraditional students," said Kim Bare, who will be taking online classes as a pre-law major while her husband majors in history. "I'm excited to see how it plays out."
The Bares and the Austins are just four of the tens of thousands of adults in the state that have signed on to the Reconnect program in just a few months.
State officials had initially anticipated 8,000 adult learners to apply for the program, which expanded the popular tuition-free Tennessee Promise. But a week before the start of the new college semester, more than 30,000 adults had applied for the scholarship according to state education officials.
Tennessee is one of only a handful of states that has a tuition-free program for older adults.
"It's surpassing all expectations," said Mike Krause, executive director of the Tennessee Higher Education Commission. "Now we need to make sure all adults enter campus environments this week and next week ready to succeed."
While many two-year institutions across the country are seeing enrollment declines, the coming influx of adults on Tennessee's community and technical college campuses means all of the institutions will see double-digit increases in students attending, Krause said.
While the number of applications for the program has been surprising to Tennessee officials, far fewer adult students may actually enroll.
Heidi Leming, vice chancellor for student success with the Tennessee Board of Regents, said the number of students who do enroll in courses may decrease to about 9,000 as many of the applicants decide not to attend college this fall.
Vol State originally anticipated receiving about 600 new applicants. Instead, the college received some 1,020 new Tennessee Reconnect applicants, including Kim Bare and her family. The college has nearly 1,500 Reconnect applicants in all, including more than 400 continuing adult students who qualify for the program.
"We've been thinking and preparing for this since Tennessee Reconnect was announced," Vol State president Jerry Faulkner said. "We scheduled additional evening classes, some weekend classes and online classes."
Faulkner said the college saw a significant number of students wanted courses online. Statewide, 24 percent of Reconnect applicants preferred online classes, according to state data.
The Bare family live about an hour from Vol State, so taking courses online was the best option, Kim Bare said.
"We took a class on how to take an online class," she said. "[The instructor] was over-the-top helpful … that's the way it's been every time we've gone to Vol State."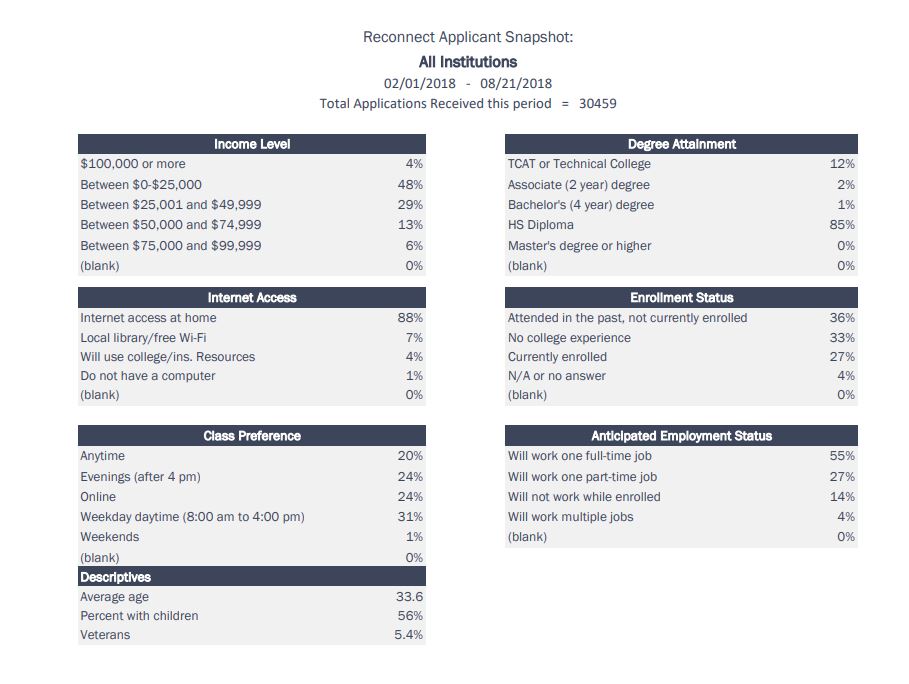 Vol State also established an office dedicated to adult learners and veterans' affairs, and Faulkner said they recently hired a completion coach to work out of that office to specifically advise nontraditional students.
Although the Bares and Austins have been to college before, none of them has a degree. They are part of the 36 percent of applicants statewide who have some college experience. Kim and Jim Bare have two other sons, who each attended Vol State at different times, and one son earned an associate degree from the college.
"We have been told now for at least a couple of years that there are 900,000 Tennesseans with some postsecondary education and no credential," Faulkner said. "So we knew there was a large pool of potential students there."
Of the more than 30,000 applicants, 85 percent have a high school diploma as their highest education credential. And only 14 percent of applicants said they would not work while enrolled in college.
Kim Bare, for example, began working as a legal secretary immediately after high school and has worked as a legal assistant and office manager for the last 20 years. That experience is one of the reasons she plans to study law and continue working. Her husband, who is 65, will also continue to work as a high school custodian while attending college.
Bare said they've received a lot of support from work colleagues about the decision to go to college.
"Jim had the best time showing off his student ID to the people at work," she said.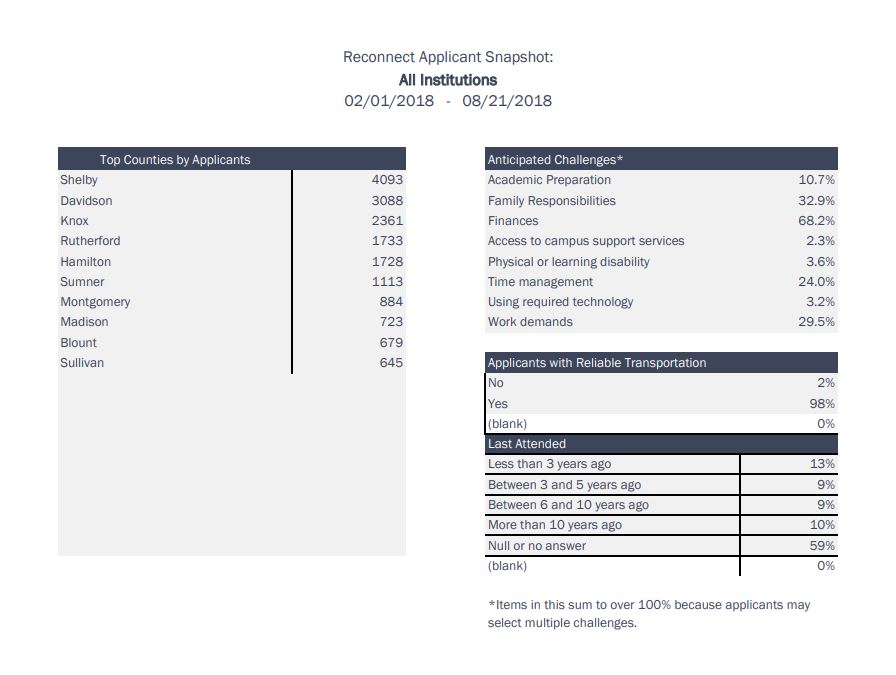 She said she and her husband live "paycheck to paycheck" and can't afford to stop working. They're not alone; about 68 percent of program applicants said they anticipated having financial difficulties while going to college.
"I couldn't even dish out $1,000 to go back part-time," Bare said, referring to her decision not to go to college prior to the Reconnect program. While the program covers tuition and fees, it does not cover textbooks. Bare said she and Jim spent $380 total on ebooks and charged it on their credit card.
"I know $380 isn't much to some people," she said. "But even a couple of hundred dollars make a difference toward paying the light bill or not."
And while the college can expand classes and provide new resources to accommodate these adult learners, Faulkner said he anticipates more money will have to come directly from the state.
Because Tennessee is a performance-based funding state, the colleges won't see an increase in the money they receive from the state until they show positive outcomes for adult students.
"But I do anticipate, as the trend continues, we may need to look to the state for capital appropriations for renovation," Faulkner said.
Reconnect, just like its Promise counterpart, is a last-dollar scholarship, which means the state does not pay for tuition expenses until students use up all their federal financial aid.
Krause, of the higher education commission, said the state will be watching the ratio of Pell Grant funding versus state aid over the year to gauge how to move forward.
But the increases in enrollment will also help the colleges, since 50 percent of their revenue comes from tuition, he said. "We have to be realistic that there will be capacity issues, and we have to face those head-on."
In the meantime, adult students will use Reconnect to get the education that will help them advance their careers, as Michael Austin and Kim Bare plan to do, or simply to get more education, which is what Jim Bare wants.
"It was never about if you go to college but always when will you go to college," Kim Bare said. "Everyone in our immediate family is in school one way or another … we tend to do things all together."