You have /5 articles left.
Sign up for a free account or log in.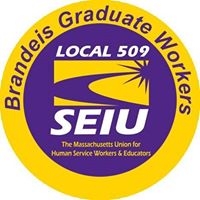 Brandeis University's graduate student workers reached a tentative contract with their administration, almost two years to the day after the National Labor Relations Board said graduate students at private institutions have the right to unionize.
The Brandeis agreement, if approved by union members later this month, will be the first contract for graduate students across the country whose union bids relied on that 2016 NLRB decision.
"We are pleased to report that after one year of hard work, the bargaining teams have reached tentative agreement on a collective bargaining agreement that will soon be put to a ratification vote of bargaining unit members," Brandeis said in a statement.
The university offered no details about what the agreement entails, but the bargaining unit, which is affiliated with Service Employees International Union, has discussed some terms and even shared a copy of the contract on its website. It includes real gains.
The union said in a statement that the most pressing issue in organizing was student compensation. Students' other concerns included being more respected and supported as teachers.
The three-year deal increases teaching assistants' per-course pay by up to 56 percent over the period of the contract. Arts and sciences teaching assistants who now earn $3,200 per course will earn $3,720 by the contract's end, for example. Teaching fellows, who teach their own courses, now earn $3,350 per course but can expect to earn $5,000 per course within three years.
The contract also guarantees graduate student workers access to the same on-campus professional development opportunities offered to faculty members, academic freedom, various workplace protections and a say in institutional decision making about issues that concern them via standing committees.

Caps on workloads also are included, to 14 hours per week for teaching fellows and 10 hours for TAs. Graduate students are now guaranteed access to teaching materials needed for a course, such a textbooks and supplies. Previously, some students reported having to buy their own.
Regarding benefits, the contract includes assurances of improved access to mental health care.
Dominick Knowles, graduate assistant in English, noted union support from undergraduates, calling the solidarity between graduate and undergraduate students "astounding." 

Regarding the new contract, Knowles said in a statement that "all the people in my department can actually pay for heat. Our basic material conditions will improve, and that will improve our academic work and our ability to teach."
Borrowing a phrase from adjunct faculty organizing campaigns, Kalee Hall, another graduate student in English, said that graduate students' "teaching conditions are [undergraduates'] learning conditions. We want to be paid fairly for the jobs we do and the resources we need to do the job."

 Noting that the new contract includes workplace dispute resolution mechanisms and related protections, Hall said, "We're the ones who are on the ground and see the students each and every day. It's important to be able to safely deal with conflicts in the workplace, both on behalf of our students and ourselves. This contract allows you to address conflict in the workplace without being retaliated against."
Beyond Brandeis
Just a few contracts between graduate students and private institutions predate the 2016 NLRB decision, which pertained to student workers at Columbia University who wished to form a union affiliated with the United Auto Workers. And while some other administrations are currently bargaining with graduate students who have held successful union elections since 2016, things look increasingly bleak for pro-union students on other campuses -- including Columbia. That's because a number of institutions have refused to bargain with their graduate students, and the Trump-era NLRB appears to be much less hospitable to graduate student unions than its 2016 iteration.
Historically, the board has gone back and forth as to whether graduate students who teach and assist with research are just students or are also employees with the right to engage in collective bargaining. And not wanting to risk another NLRB reversal on its current position, graduate students at Boston College, the University of Chicago and Yale University have withdrawn their union petitions and started public pressure campaigns for voluntary recognition.
Those seem to be a long shot, given the institutions' stated opposition to graduate student unions. Georgetown University and Brown University already have agreed to contract negotiations outside NLRB channels, however.
American University, the New School and Tufts University are currently negotiating with their respective graduate student unions. Negotiations are scheduled at Harvard University.
In addition to Columbia, Loyola University of Chicago and the University of Chicago have refused to negotiate with unions following union elections.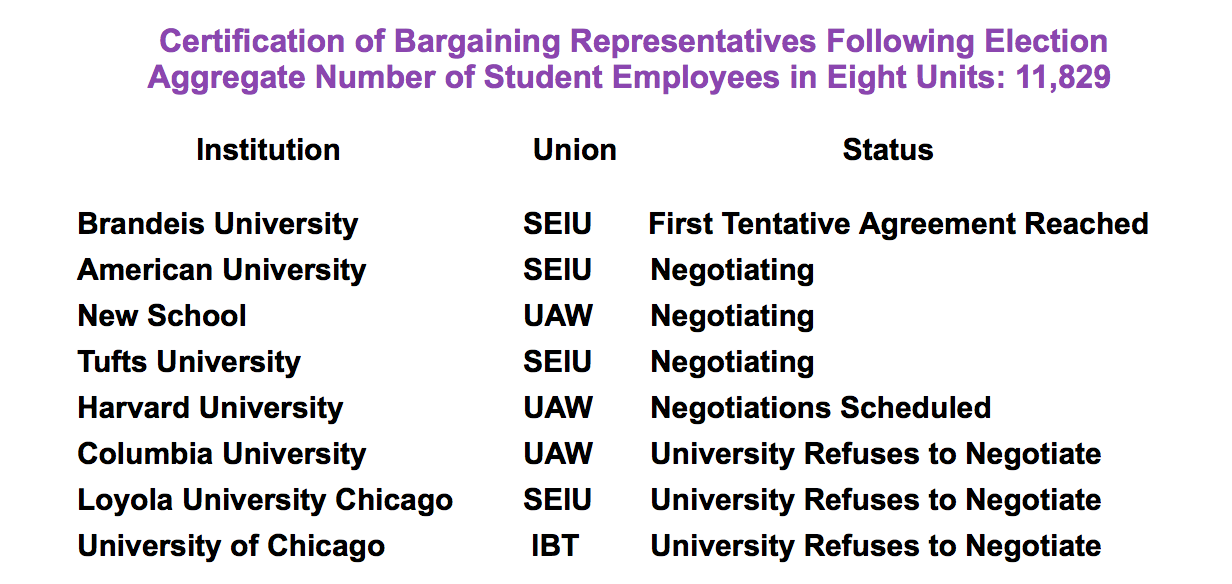 Source: National Center for the Study of Collective Bargaining in Higher Education and the Professions
Signaling uncertainty about widespread support for a union, students at the University of Pennsylvania withdrew their union bid prior to any election, however, as did their counterparts at George Washington University. And petitions were withdrawn after elections at Cornell University, Duke University, Washington University in St. Louis and in the physics department at Yale University, which was engaged in a "microunit" strategy.
The NLRB's 2016 decision also opened the door for undergraduate student employee unions. But a bid for a housing advisers' union at Reed College was withdrawn following unit certification, and a bid for a similar union at George Washington University was withdrawn before any election.
New York University inked a contract with United Auto Workers-affiliated students in 2015, based on voluntary union recognition. The Communications Workers of America has an agreement with the State University of New York Research Foundation, a private entity that employs research assistants. Similarly, the Professional Staff Congress at the City University of New York has negotiated contracts for bargaining units that include graduate students at the CUNY Research Foundation, according to information from CUNY's National Center for the Study of Collective Bargaining in Higher Education and the Professions at Hunter College.
Those agreements existed before the NLRB's major 2016 decision that graduate students -- and, more sweepingly, all students -- at private institutions are in fact employees with the right to bargain collectively.