You have /5 articles left.
Sign up for a free account or log in.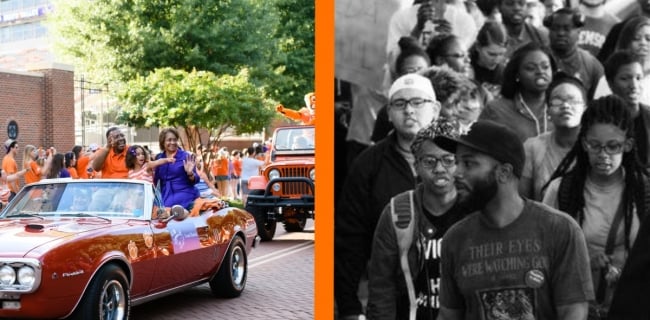 The First Friday Parade marks the beginning of the academic year -- and football season -- at Clemson University. This year's parade theme, "The Stripes That Make a Tiger," was chosen to highlight Clemson's commitment to diversity and inclusion, but some students and former faculty say it conveys the opposite: that Clemson's commitment to diversity and inclusion is only superficial.
To the critics, Clemson is taking a theme used to promote minority activism and using it to suggest that all is well.
"The parade theme is not tethered to anything tangible that can be called 'diversity' or 'inclusion' other than the appearance of such," A. D. Carson, a former graduate student at Clemson, wrote in a blog post. "It even undermines itself, as it is borrowed from previous students and alumni, unattributed, and claims 'the Clemson family is not complete without the diverse experiences and contributions of students and alumni.'"
Khayla Williams, a senior computer science student at Clemson, was one of the students who sent emails to administrators to point out the similarities between the parade theme and "See the Stripes," the name of a poem by Carson, which later became the title of a student-led movement for institutional change that culminated in a nine-day sit-in two years ago.
Phillip Sikes, communications director for student affairs, told Williams in an email that he wasn't aware of the poem or the movement but that "it certainly seems as though this did influence this year's parade theme." Another student reached out to Almeda Jacks, vice president for student affairs.
"Please know the the [sic] Central Spirit Committee (all students) came up with this theme embracing inclusive excellence on our campus as we celebrate diversity. I know for a fact the chair of that student organization and their advisor who joined us in January did not know or discuss with the committee the works of A. D. Carson," Jacks wrote. "I also know the suggestion of the theme came from a person of color. The committee wanted to celebrate and embrace diversity and 'The Stripes that Make a Tiger' was selected by the student organization. I hope we can all do just that, celebrate our differences."
Jacks is the same administrator who had five students -- dubbed the Clemson Five -- arrested during the 2016 sit-in at Sikes Hall, where the administrative offices are housed. Williams was one of those students. So was Carson, who is now a professor at the University of Virginia.
"Something about Clemson's use of the language and concept behind the See the Stripes campaign in a self-congratulatory parade wasn't sitting quite right," Carson wrote. "It seems that the diversity they will be celebrating comes at the cost of erasing the 'diverse experiences and contributions of' the recent students and alumni from whom they have plagiarized their theme."
For Williams, the lack of credit given to Carson and other students who advocate for greater diversity and inclusion rubbed her the wrong way.
"No one's upset about the theme, no one's upset about the fact that you want to do this. What we're upset about is that you're acting like you came up with the idea without giving credit to the people who have been putting in the work for years," she said.
The Central Spirit Committee, the student organization that came up with the theme, addressed the decision in a statement on Twitter.
"As students, we wanted to incorporate a theme that embodies a value important to our university and campus. While the connection to Dr. A. D. Carson's 'See the Stripes' campaign was unintentional, this year's parade theme exemplifies the good work he and others have done to raise awareness to the importance of inclusive excellence on our campus," the committee wrote.
The university did not say which, if any, administrators signed off on the theme.
This isn't the first time Carson's work has been used for university marketing. When his dissertation, a 34-track rap album, went viral, the university issued a press release about his work, including the track "See the Stripes."
"Because of the format of the dissertation, it made a lot of news and … Clemson was more than willing to accept the praise of being the place where this happened, and the project speaks about these particular issues" of diversity and inclusion, Carson said. "It raises questions about knowledge production at universities, but when we get to the particular issue of what Clemson is doing, they don't acknowledge that."
The sit-in outside Sikes Hall ended when university president James Clements responded to student demands with a series of action items to improve diversity and inclusion at Clemson, including promises to increase the underrepresented student population and to double the number of faculty of color by 2025. Recent federal data show that the Clemson student body is 83 percent white and the university employs few faculty of color. Clemson did not provide exact numbers, but the university noted that the number of African American faculty members has increased by 35 percent in the last five years. Data from the National Center for Education Statistics shows that the total number of black/African American faculty at Clemson jumped from 36 to 48 between 2012 and 2016. Black/African American faculty make up about four percent of the total full-time instructional staff at Clemson.
At least four faculty members of color have left the university since Clements's 2016 promise. Chenjerai Kumanyika was among them; he is now a professor at Rutgers University. He noted that, like many colleges, Clemson seems to be more concerned with appearing diverse than making substantive changes to actually be more inclusive and diverse.
"Clemson was really concerned in branding themselves in a certain way, and using that branding to avoid more fundamental transformations," he said. "Clemson has no problem putting black people on its brochures or its website."
Joe Galbraith, associate vice president of strategic communications, did not say whether he or others had read Carson's blog post, but he issued the following statement in response to criticism about the university's approach to diversity and inclusion.
"Clemson continues to work every day to create an inclusive environment for students, faculty and staff, and dedicates significant resources to this work," Galbraith said in an email. "Clemson's Division of Inclusion and Equity is dedicated to inclusive excellence, and has a number of programs established to advance Clemson as a leading university in inclusive excellence. Additionally, Clemson's Council for Diversity and Inclusion, comprised of students, faculty, staff, and community leaders, carries out the goals and objectives outlined in the ClemsonForward strategic plan to embrace and promote an inclusive environment for higher learning."
Williams said that administrators scheduled a meeting on Sept. 17 to update students on the diversity and inclusion initiatives in place. She doesn't know what will be discussed but said that there have been few visible changes on campus in the last two years.
"I still walk into classrooms and have tenured professors telling me that I should just shut up and be grateful for the opportunity to be here," she said.
Both Carson and Kumanyika wish that universities, including Clemson, would work harder to make lasting, structural changes to improve diversity and inclusion and address racist histories.
"I get why politicians don't want to do it, even though it's wrong there, or why businesses don't want to do it, even though it's wrong there, but the university? It should be a leader," Kumanyika said.