You have /5 articles left.
Sign up for a free account or log in.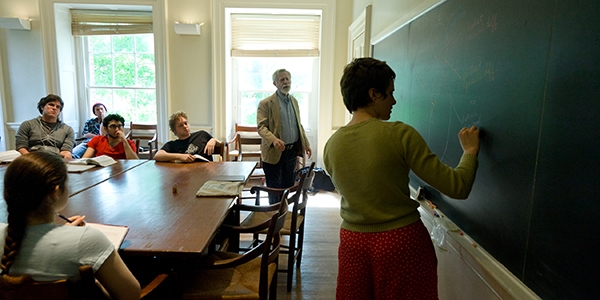 When St. John's College became the latest higher ed institution to announce a tuition reset this week, it may have seemed to be simply joining the fray of private liberal arts colleges ostensibly reducing the costs of attendance.
Rather than joining the trend that some critics dismiss as a misleading pricing gimmick, however, St. John's administrators insisted they were bucking the trend by making the college more affordable and accessible -- not in theory, but in actual practice.
They say the price cut to $35,000 from $52,000 will result in a hefty loss of revenue that the college -- which has campuses in Santa Fe, N.M., and Annapolis, Md. -- plans to make up with a $300 million fund-raising campaign. Unlike many colleges that have reset their tuition, significant numbers of St. John's students will actually see a meaningful reduction in what they pay, with donations designed to fill the resulting gap in revenue.
"Yes, there will be a loss in revenue from student-derived revenue," said Mark Roosevelt, college-wide president of St. John's College and president of the Santa Fe campus. He added that the college received approximately 70 percent of its budget from student-derived revenue in the past but by 2017 the percentage had fallen to less than 40 percent from student-derived revenue.
"We believe the days when students and families could pay exorbitant tuition prices are gone and they aren't coming back—nor should they—and we are placing philanthropy at the center of our financial model rather than student-derived revenue to ensure we remain strong financially as a college," he said. 
Roosevelt said they are moving the college away from a so-called "prestige pricing and a tuition-centered model" and adopting a new "philanthropy-centered model" that will reduce annual tuition for undergraduate students beginning in the 2019-20 academic year. College officials say the true cost of providing a St. John's education would require a $60,000 tuition.
"This got to a tipping point," said Roosevelt. "Private colleges have increased their tuition 157 percent in the past two decades, which is three times the rate of inflation. So you think are we going to go to $60,000, then $70,000, then $80,000? It just didn't feel right for it to keep growing. You've got to find balance. I don't know if we found it but it just felt right. We still recognize that $35,000 is still a lot of money and if that's too much for some families we have generous, need-based scholarships. But we hope that people see the space between $35,000 and $52,000 as a very big space."
He said even St. John's alumni think the college is expensive. A recent survey of alumni found that 73 percent said the college's tuition was "too high" and 77 percent said they could not afford to send their child there at the current price of $52,000, he said.
Roosevelt also hopes the college sets an example for other institutions considering tuition resets by adding "a little oomph to the question of prestige pricing and creating a little more momentum for other colleges considering making changes."
He noted recent announcements of new pricing models by Wells College, in New York. and Oglethorpe University, in Georgia.
"I think it's the beginning of some movement," he said.
Some education pricing experts are skeptical of tuition resets and say they generally don't work because most institutions use them to attract more students to raise the overall amount of tuition they collect, not to cut the net price of what students and their families typically pay after colleges lower the sticker price by offering grants and scholarships. The impact of resets on actual tuition bills is blunted by corresponding reductions in financial aid offered by the colleges; few students are typically paying anywhere near the listed price.
At St. John's, 99 percent of the freshmen class are receiving either merit scholarships or need-based financial aid from the college, according to data provided by the college. Seventy-seven percent of them are receiving need-based financial aid from the college. In all, the 2018 freshman class received $8,058,553 in scholarships and 89 percent of it was need-based aid. What's more, 69 percent of incoming freshman in the 2018-2019 academic year received a tuition discount and 24 percent of incoming freshman were recipients of Pell Grants, a need-based subsidy provided by the federal government. 
The new funding model being used by St. John's, the third oldest college in the country and a unique and prestigious institution with small classes, no-frills campuses, and a curriculum focused exclusively on the so-called "Great Books," is different. Administrators say it places "extended philanthropy at the center of the model."
St. John's capital campaign, which has already raised $183 million in commitments, is expected to double the college's endowment by 2023 and help it better meet the needs of future students, according to the announcement.
Bill Hall, founder and president of Applied Policy Research Inc., an enrollment and pricing advising firm, said he was impressed by St. John's decision.
"The important thing here is the outright price cut," he said. "If you don't make the explicit assumption that you're going to other sources than tuition, I don't think you're being realistic. It's a solid commitment that is going to shift the responsibility from families to the donors."