You have /5 articles left.
Sign up for a free account or log in.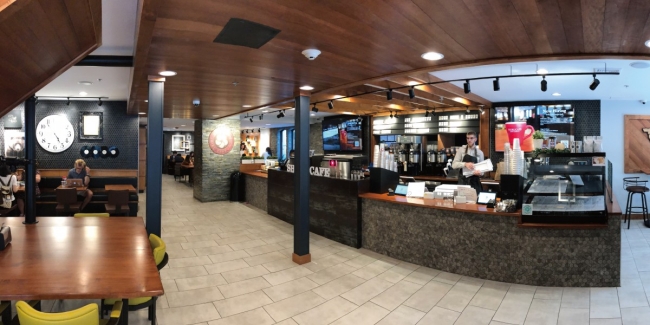 A small but growing café chain is strategically opening locations near Ivy League universities and other top campuses, offering an irresistible bargain or, depending on your point of view, an unconscionable one.
The cashless Shiru cafés give out handmade coffee and tea drinks for free. In exchange, students flash a university ID and, in the bargain, hand over a small cache of personal information: name, age, email address, interests, major and graduation year, among other details. They also agree to be contacted by Shiru's corporate sponsors, who underwrite all those cappuccinos, matcha lattes and iced Americanos.
Customers may also provide a rundown of their IT skills, previous internships and an indication of the size of company they might be interested in working for.
Starbucks, meet LinkedIn … with extra foam.
The chain's first U.S. location, near Brown University, is usually packed, junior Alexi Kim told Inside Higher Ed.
Kim (a daughter of Inside Higher Ed blogger Joshua Kim) said many Brown students believe that "Free stuff is just better," adding, "I don't get the feeling from my classmates that they're trying to reduce their data footprint."
Writing four months after the opening of the Providence café, The Boston Globe called Shiru "both a vendor of drinks and an intermediary connecting corporate recruiters to the youngest members of the American intelligentsia."
Faculty and staff members also have access to the place, with $1 drinks.
Keith Maher, the chain's U.S. general manager, told Inside Higher Ed that Shiru cafés are "welcoming extensions of the university campus" that provide career information and opportunities to connect with their sponsors. They also "support each company's university recruiting strategies for internships and careers after graduation."
He said the chain "takes students' privacy very seriously and does not share this information with any third parties or directly with our sponsor companies." Sponsors, Maher said, receive "aggregate information about our customers such as the total number of daily visitors to the café or specifics on the number of students within a certain academic concentration."
The real exchange of personal information, he said, comes when students talk to recruiters or other executives in "face-to-face meet-ups" at the cafés.
So far, the Providence location "has exceeded our expectations," he said. Shiru estimates that more than 75 percent of Brown students will be registered with the café this semester. More than 600 customers pass through the café each day.
Shiru plans to launch locations this month near Yale University and Amherst College, with locations near Harvard and Princeton Universities coming later this fall -- and more to come after that, Maher said.
Founded in Kyoto in 2013, Shiru operates 17 cafés near Japanese universities and another four at universities in India, with three more in the works there.
The chain boasts more than 200 sponsors in Asia, Maher said, with negotiations for potential sponsors in the United States.
Amelia Vance, director of education privacy for the Future of Privacy Forum, a Washington-based think tank focused on consumer privacy, said she was alarmed by Shiru's business model. "It's been a longtime discussion in the privacy community about whether privacy should be something that you have to pay for," she said. Shiru's model suggests that the chain sees no problem discriminating against students who can't afford that large hazelnut latte and would willingly pay for it with less privacy.
Not all students have been so happy to hand over personal information in exchange for a spot of tea or a shot of espresso. In May, two Brown students, noting that patrons in Shiru's Japan locations comprised 40 percent of JP Morgan Japan's new hires, urged classmates to boycott the café and reject its corporate sponsors, "whose principles are frequently at odds with those of our community." They said JP Morgan "engaged in deceitful financial practices which likely contributed to the 2008 financial crisis and then became the only large financial institution to make a profit during the crisis."
Maher said the chain has "a wide variety of companies and industries" represented in the cafés. "As we are currently beginning negotiations with potential sponsors here in the U.S., our goal is to make the best partnerships between the university community, the sponsors and Shiru Café."
Despite the boycott attempt, Shiru seems to have established itself as a popular place to socialize and study. Kim, the Brown junior, said she didn't set foot in the new café when it first opened, thinking it seemed a bit dystopian and "a little too good to be true."
She eventually warmed up to it, persuaded that she was handing over information that was already in the public domain. But she admits that she lied on the application, not quite sure "what I was buying into at the time."
A political science major, Kim told Shiru she was studying agriculture. A few classmates who study computer science, and are perhaps most susceptible to corporate recruiting, did the same thing, she said. Suddenly, it seemed, Brown had an abundance of future agronomists.
She's not a coffee drinker, so Kim doesn't spend much time at the place. But it's usually packed, she said -- a few friends go three times a day. And none has been questioned about the accuracy of personal details they provided.
"If they really wanted that information, they could go on LinkedIn," she said.
Vance, the privacy advocate, said Shiru's seemingly benign data collection may not be so benign. She noted a 2009 study in which Carnegie Mellon researchers found that providing two simple bits of information -- one's birthday and birth state -- was enough to guess the subject's Social Security number "with great accuracy."
"Very sensitive information can be gleaned out of what seems to be very innocuous information," she said.
As an experiment, Vance registered her old college email address on Shiru's site. It quickly asked her what coding languages she knew. That, she said, suggests that café​ patrons could be ripe for solicitations from coding boot camps, whose offerings can be expensive, even as their completion rates in many cases are low.
The strategy of extracting personal information directly from students is not accidental, she said. It bypasses what could be legal restrictions on asking for similar information from colleges and universities.
Vance also cautioned that the café's sponsorships may not always be limited to job recruiters. Previous research, she said, has found that LinkedIn profiles can predict personality traits, including whether a user is likely to challenge the price of a product such as a new car. Match that with a major that doesn't prioritize negotiation -- let's say, agronomy -- and the end product could be "predatory advertising targeted at people who are least likely to make smart decisions in response to those ads," she said.
Kim said she and her friends so far haven't been approached by recruiters. Nor have café staff inquired about their career plans or presented other offers.
But she has also studied cybersecurity and said she's reluctant to use the Providence café's free Wi-Fi. It isn't all that powerful, for one thing, so few patrons use it while in the café. But she added, "If they wanted to do something, and if they wanted more data, that's how they'd do it."