You have /5 articles left.
Sign up for a free account or log in.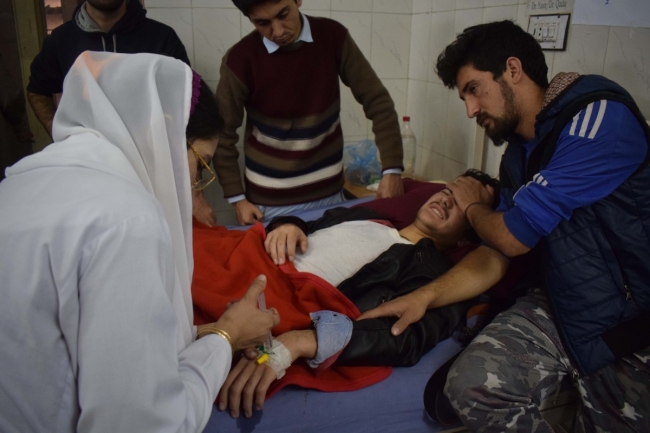 A new report identifies 294 reported "attacks" on students, scholars or higher education institutions in 47 countries between Sept. 1, 2017, and Aug. 31 of this year.
"The incidents covered by this report are only a small portion of all incidents involving attacks on higher education over the previous year," says the report from Scholars at Risk, an organization that monitors academic freedom violations worldwide and also arranges for temporary positions for threatened scholars. "Nevertheless, they are sufficient evidence of a global crisis of attacks on scholars, students, and other members of the higher education community requiring a robust, global response."
Among the attacks documented in the "Free to Think 2018" report -- the latest in an annual series of reports from SAR's Academic Freedom Monitoring Project -- are 79 violent attacks against campuses or "higher education communities" across 27 countries, resulting in at least 77 deaths. These include violent attacks by gunmen or bombers targeting campuses in four countries -- Afghanistan, Kenya, Nigeria and Pakistan -- as well as targeted attacks on scholars or students in Bangladesh, India, Pakistan, Turkey and Yemen.
SAR also documented 41 instances of state or private security forces using violence against student protesters, including eight cases in which students were killed.
Other categories of attacks on higher education discussed in the report include cases of imprisonment or prosecution of scholars "in apparent retaliation for their scholarly work or expression," instances in which scholars were dismissed or students expelled in connection with their academic speech or conduct, and restrictions on academic travel, which were reported in nine different countries.
The travel restrictions, which are among the less extreme types of attacks on higher education profiled in the report, include seemingly targeted ones barring the exit or entry or ordering the deportation of individual scholars or students, instances of which were reported in Cameroon, China, Hong Kong, Israel and Russia.
In addition, several countries have taken broad actions limiting the movement of certain scholars. India blocked participants of Pakistani origin from participating in an Asian studies conference in New Delhi. Tajikistan just repealed a regulation that would have required scholars and students traveling outside the country for academic or other official university purposes to obtain advance permission from the Ministry of Education and Science and submit a report on their travels upon their return. And Turkey has barred thousands of higher education personnel from international travel as part of a broader set of punitive measures against individuals accused of supporting a cleric the Turkish government blames for a 2016 coup attempt (more on Turkey below).
In addition, the report discusses reported difficulties foreign faculty members have faced in obtaining visas from Israel to teach at universities in the West Bank, and notes that in June the U.S. Supreme Court upheld President Trump's travel ban restricting entry to the U.S. for nationals of seven mostly Muslim-majority countries.
While much of the report focuses on violent attacks, arrests or detentions of scholars and other severe infringements on academic and personal freedoms in authoritarian or conflict-ridden nations, this year's report also includes a section discussing partisan political tensions on U.S. campuses, including pressures from external groups that have held controversial events on campuses and what the report describes as the "political targeting of campus speech."
"Also in the United States, provocative off-campus groups and individuals have chosen colleges and universities as the sites of controversial speeches and rallies that frequently result in confrontations," the report states. "In several cases, these confrontations became violent, endangering students, faculty, and others. Political actors seeking to expose alleged bias among scholars and students have taken a variety of public measures, including the creation of online watchlists, surreptitious audio and video recording, and advancing restrictive and potentially overbroad legislation, all of which have prompted concerns about a shrinking campus space for free, open inquiry and debate."
"It's not a coincidence that where there are tensions in society and combat over what the future of a society should be like that we see those tensions manifest within university communities," said Robert Quinn, executive director of the Scholars at Risk Network.
"The pressures we see on U.S. campuses are less physically severe, thankfully, than they are in Pakistan," Quinn continued, "but fundamentally the dynamic underneath it is the same -- the attempt to delegitimize certain ideas, to delegitimize certain conduct" -- that conduct being "the legitimacy of asking questions and demanding better answers."
Specific countries and issues of concern discussed in the SAR report include:
An increase on reported attacks on higher education in Iran, including a crackdown on student protests leading to the arrest and imprisonment of students and professors on charges related to "propaganda against the regime," "action against national security" or "spreading false information." The report also discusses cases of long-term detentions of both Iranian- and foreign-based scholars or students on espionage or other national security-related charges.
The detention of students and scholars of the Uighur ethnic minority group by Chinese authorities in so-called re-education camps. Hundreds of thousands of Uighurs have reportedly been held in the camps in China's northwestern Xinjiang region. "What we have is an ethnicity-based attack on an entire community and not surprisingly the university space is very much caught up in that," Quinn said.
Violence against student protesters in Nicaragua, where protests against the authoritarian government of President Daniel Ortega began in April. Citing numbers from United Nations human rights experts, the SAR report says that police violence against protesters in Nicaragua has been frequent and that "clashes between protesters and security forces have resulted in at least 317 people killed and at least 1,830 injured, including many students."
Ongoing threats to academic freedom in Turkey, where there were widespread dismissals and prosecutions of scholars and higher education administrators following the 2016 coup attempt. The report says that during the 2017-18 reporting period "SAR reported imprisonments, prosecutions, and criminal investigations targeting hundreds of university scholars, students, and staff across Turkey. In the majority of these cases, the scholars and students have been accused, often based on unclear or undisclosed evidence, of affiliations with a movement led by the Muslim cleric Fethullah Gülen," the Islamic cleric whom Turkish officials accuse of orchestrating the 2016 coup attempt. Gülen has denied involvement.
Threats to the autonomy or continuing operation of institutions in Central Europe or Russia. These include threats to Central European University, which remains locked in a standoff with the Hungarian government over its long-term future in the country. The report also discusses the case of the European University at St. Petersburg, which in August regained its teaching license after slightly more than a year without a license, and the Moscow School of Social and Economic Sciences, which in June had its accreditation revoked.