You have /5 articles left.
Sign up for a free account or log in.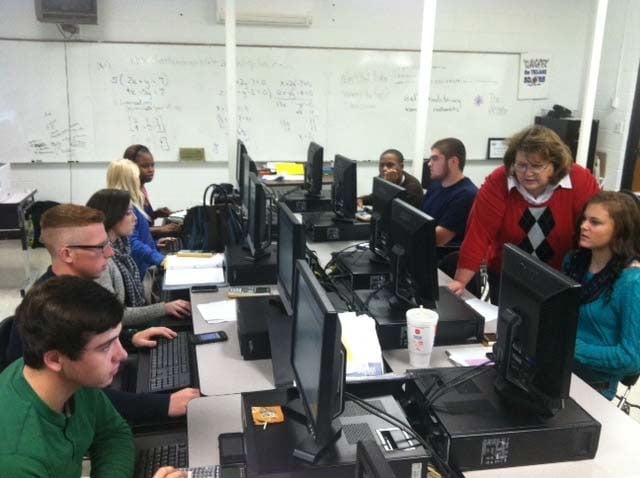 Tennessee's unique approach to preparing students for college by requiring them to take remedial math classes in high schools instead of college doesn't lead to improved math skills, according to a study released today by Harvard University's Center for Education Policy Research.
The researchers who have been studying the Tennessee Seamless Alignment and Integrated Learning Support program (SAILS) also found that it did not increase the likelihood of students passing college math once they were enrolled in the course.
"By moving the remedial course requirements to high school, the SAILS program increased the proportion of community college entrants taking college-level math, but only about half of students passed the course," said Thomas Kane, faculty director of the center. "At least those students weren't delayed by taking a remedial course, but the SAILS course didn't improve students' success in math."
Tennessee launched the SAILS program in 2012 as an alternative to traditional college remediation. High school juniors are placed in remedial courses based on their ACT score. Students in a SAILS-participating high schools who scored below a 19 on the ACT math exam could take their remedial math course in the senior year of high school. Those students who completed the course were then exempted from taking remedial math when they enrolled in a state community college.
The Harvard researchers determined that during the first year in community college, SAILS students were 29 percentage points more likely to enroll in college math. About half of the students who enrolled passed the course. However, the passing rates for SAILS graduates were not higher than for students with similar ACT scores who scored just above a 19 on the ACT math and were not required to take a remedial course, Kane said.
The study results indicate that state education officials and college administrators should reconsider whether remediation in any form, such as prerequisite or corequisite courses, should be required, he said. Corequisite remediation allows a student to enroll in college-level courses and also receive additional academic supports.
"The sad truth is despite the ubiquity of remediation requirements, higher education has very little evidence that remediation improves students' reading or math skills," Kane said. "In states like Tennessee that made community college free for recent high school graduates, the remediation requirements may be the primary barrier remaining."
About 40 percent of community college students enroll in at least one remedial course. But only 34 percent of two-year college students in remediation receive a degree or certificate within six years, according to the National Center for Education Statistics.
Tennessee colleges and universities stopped offering stand-alone remediation in 2015 and moved toward corequisite as the model for helping students improve in math and English. Some other studies have already shown remediation success in Tennessee since the change. And a number of other states have followed suit, with Texas requiring colleges to use corequisite in 2017 and California passing a bill last year to do the same.
Kane said the Harvard study found that once corequisite remediation was introduced, the SAILS program had no impact on students taking or passing college-level math in their first year. There was also no effect on the total number of credits students completed at the end of their second year.
Angela Boatman, an assistant professor of public policy and higher education at Peabody College at Vanderbilt University, and one of the researchers who worked on the study, said corequisite remediation and the SAILS program are very similar because they eliminate the need for traditional remediation. The biggest difference is in the timing, because the corequisite support is offered at the same time as the college-level class.
"In the end, the advantage to the Tennessee model is moving remediation from the community colleges back to high school, because in many places like Tennessee … they may have a four-year math requirement," Kane said. The four-year math requirement in high school means that there isn't any additional cost on the college to offer remediation because the students are already taking a math course in their 12th year.
Those reduced costs at the community college could be an opportunity for institutions to reallocate resources to other remedial models that have shown more success in raising degree completion rates, Kane said. The researchers point to the City University of New York's Accelerated Study in Associate Programs (ASAP) and the program at Georgia State University.
An MDRC study of the ASAP initiative found that after three years, 40 percent of students in the program graduated, compared to 22 percent of students in a control group.
"We've been practicing remediation for decades and just now [are] getting good answers to who this is helping and how, and that needs to change going forward," Boatman said.
Mike Krause, executive director of the Tennessee Higher Education Commission, said the benefit of the SAILS program is that students don't have to take the corequisite course in the first place.
The Harvard study noted a positive aspect of the program -- SAILS students' perceptions of the usefulness of math improved. The study found that students in the SAILS program were 6.5 percentage points more likely to think their math content was useful, 10 percentage points more likely to indicate they were better prepared for college math and six percentage points more likely to say they were interested in math compared to their counterparts who passed the ACT threshold.
Krause said he was gratified to see that students perceptions of math were more positive.
"Looking at the report and saying in a corequisite environment SAILS didn't move the needle fails to make the point," he said. "Our goal is to keep students out of remediation."
Krause said the commission will review the report to see which findings will help improve remediation in the state.
"No doubt we'll continue expanding SAILS every year," he said. "In this world, when you're trying to move hard statistics, it requires every approach."