You have /5 articles left.
Sign up for a free account or log in.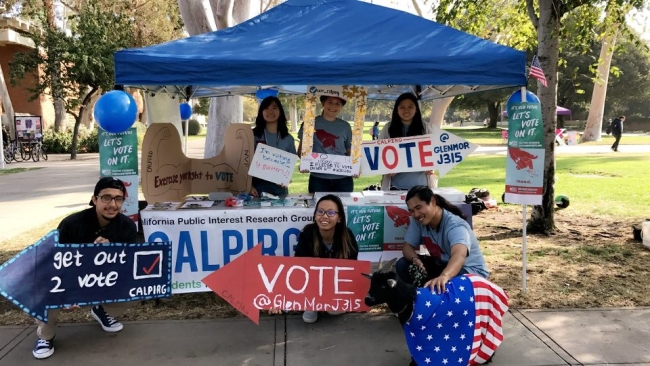 Leading into the pivotal midterm elections this week, political activists were confident that turnout among college students would far outpace previous years. Their predictions were apparently correct; exit poll data revealed a surge among college-age voters that also seemed to contribute to Democrats taking back control of the U.S. House of Representatives.
Preliminary projections put the number of young voters up by 10 percentage points since the previous midterm election in 2014. Experts predict the groundswell of energy among students, expressed at polling places across the country on Tuesday, will influence elections for decades to come. More politicians will take notice of this year's results and more aggressively try to court young voters, the experts said.
Even as some GOP lawmakers were accused of trying to squash student participation and floated unsubstantiated claims of voter fraud, the youth turnout far exceeded that of the previous midterm election. The Center for Information and Research on Civic Learning and Engagement, or CIRCLE, at Tufts University, projected that about 31 percent of young people age 18 to 29 voted in this election cycle, which is about 10 percentage points higher than in 2014.
That's the highest turnout rate in at least 25 years, according to CIRCLE. The United States Election Project, a well-known source on the electorate run by Michael P. McDonald, associate professor of political science at University of Florida, estimated that more than 113 million people voted in total, representing a 48 percent turnout rate. This would mark the first time in U.S. history that a midterm election exceeded 100 million voters.
Nonpartisan voters' rights groups and students themselves said the social and political polarization over the Trump presidency greatly boosted youth interest in the elections and led them to flock to the polls.
"Youth demonstrated newfound levels of engagement and enthusiasm that have historically been unusual in a midterm election," CIRCLE researchers said in a written analysis.
This engagement was documented at colleges and universities in battleground states across the country, where many voting precincts were located on college campuses.
In Florida, for instance, where there were highly competitive races for governor and the U.S. Senate -- where Republicans hold narrow leads amid disputes about the count -- students voted at much higher rates than previous years, according to the New Voters Project of the Student Public Interest Research Group.
The organization monitored polling places on college campuses in Florida and 10 other states.
At the campus precinct at Florida State University, 3,036 ballots were cast compared to 1,035 votes in 2014, the group said in a written statement. At the University of North Florida, 2,825 total ballots were cast in this year's election compared to 1,493 in 2014.
"When polls closed at Florida State University, the line was still over an hour long," Bronte Payne, organizing director for Florida PIRG Students, said in a statement. "We talked to voters, gave out snacks, and made sure everyone stayed in line."
Representatives from the group said turnout in California was so heavy that they worked with local officials to open additional polling places at the University of California, Santa Cruz, and UC Riverside, where one student apparently stood in line for three and half hours after polls officially closed.
One precinct at UC San Diego ran out of ballots.
"What the preliminary numbers from yesterday show us is that when we invest in helping students through the registration and voting process, it pays off," SPIRGS said in a press release Wednesday. "Big time."
College administrators and off-campus advocates have pushed students to vote in recent years by linking registration to orientation programs and other events, or allowing them to register to vote at the same time they're registering bikes or cars on campus. Students typically face barriers to voting because they are often doing so for the first time and on campuses where they may be unfamiliar with state laws. Some states require identification to vote, for example. And state officials have sometimes muddled the process by misinforming students about voting regulations or passing laws that voting rights advocates say intentionally make it more difficult for students with out-of-state addresses to register and vote. For instance, about two years ago, the Republican governor of Maine incorrectly informed college students they needed to establish state residency to vote. Voting rights activists say such tactics are almost exclusively used by Republicans who fear college students will vote for liberal candidates.
Young voters do tend to favor progressives, which was overwhelmingly the case in this election cycle. The Harvard Institute of Politics estimated that among the 14.7 million young people who voted in this election, about 67 percent of them preferred Democrats.
Voters younger than 30, which analysts believe comprised about 13 percent of the electorate in the midterm elections, were also credited as one of the key groups that helped Democrats win the House and made certain races -- namely the Texas Senate battle between Ted Cruz and Beto O'Rourke -- much more competitive than expected. Voters under 30 preferred O'Rourke to Cruz 71 percent to 29 percent, according to exit polls. And Cruz won by about two percentage points, an extraordinarily tight margin for deep-red Texas.
In Nevada, Democrats captured a Senate seat with a five-percentage-point win by Jacky Rosen. Among youth voters, which were an estimated 19 percent in the state, Rosen got 67 percent compared to Dean Heller's 30 percent, according to polling data.
Mark Gearan, director of the Harvard institute, said the influx of college students to the polls is unprecedented and can be attributed to a number of events, but most significantly the mass shooting at Marjory Stoneman Douglas High School in Parkland, Fla., which outraged young people and spurred them to become more politically active.
He said this generation of young people, motivated by gun violence and an increasingly widening political divide, has taken a keen interest in politics that he believes will continue. Gearan noted how youth voters significantly influenced some races and said politicians who previously did not make much effort to reach out to young voters will notice these results and adjust their campaign strategies.
"I think our elected leaders will be drawn to this," he said of the election results.
Activists are brainstorming how to keep students interested in politics even in nonelection years. Because it's documented that students are more interested in specific issues than in loyalty to political parties, keeping them engaged is a challenge for college administrators.
Mike Burns, national director for the Campus Vote Project, a nonpartisan offshoot of the Fair Elections Legal Network, said that on Election Day, his group sponsored parties on campuses to try to make the process more fun.
At James Madison University, music students sponsored an all-day concert Tuesday, and professors even canceled some classes, Burns said. He said this helps "build a culture of democratic engagement."
While long lines at polling places on college campuses and elsewhere might appear to be the result of successful political activism, Burns said it actuality represents a failure by the government to help facilitate voting.
"We're always going to be talking about how do we keep up this enthusiasm among first-time voters," Burns said. "How can we continue to learn lessons from that and improve?"